Anita Rajkumar is a third-year student completing a Health and Disease Specialist. She is the Community Service and Outreach Coordinator on the Campus Ministry Team at St. Michael's College. In addition, she is a Senior Mentor on the St. Michael's College Mentorship program. She enjoys reading and volunteering in her free time.  
---
When red- and green-coloured ornaments are displayed in store windows, holiday songs play on the radio, and Starbucks brings out their selection of winter drinks, you know it's the Christmas season.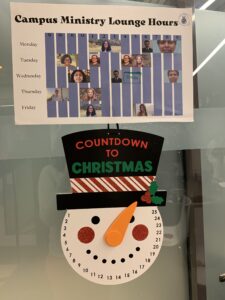 Christmas is defined as a period of joy and happiness that individuals look forward to during the winter season, as it is a time when families come together to make new memories while reminiscing about old traditions. The holiday provides a sense of belonging for individuals of diverse ethnic backgrounds, as it does not require religious knowledge to celebrate, but rather a good spirit. Living in a multicultural city like Toronto, we get one of the best Christmas experiences as it overlaps with traditions of a variety of religious and cultural events.  
The Christmas season traditionally begins at the start of Advent, but in western societies, commercialization pushes the date forward to the first week of November. Big box stores begin selling Christmas trees, ornaments, wreaths, and outdoor decorations early in the season to capture the attention of shoppers who would like to decorate their homes. Black Friday has been advertised as a day to purchase gifts for loved ones at a lower price, emphasizing the importance of gift exchange during the holiday season. Although religious views of Christmas do not focus on the concept of gift exchange, this gesture involves individuals expressing kindness and compassion to one another. When I purchase a gift for a family member or friend, I often think about the qualities of the person in order to find the most suitable gift. I purchase the gift to show my sense of gratitude towards the person, rather than expecting a gift in return, which is the true spirit of a holiday season that combines religious and secular views.
God gave humanity the ultimate gift, his son, the Saviour, Jesus Christ. On the Campus Ministry Team, we respond to God's vocation by collecting toiletries and non-perishable donations for homeless shelters within the GTA during the holiday season, allowing all students to participate in the act of giving regardless of their religious background.
The beauty of Christmas is that there are no mandatory traditions tied to the holiday, which makes it easy for people to adapt and invent new traditions. My family begins decorating the Christmas tree early in November, as we enjoy observing the bright lights and ornaments early in the season, which contrasts with those who begin decorating once the Advent season begins. Stockings hang off the fireplace while nutcrackers, snow globes, and garlands fill my household. Placing the wreath on my front door symbolizes my family's cultural identity and reminds me of how fortunate I am to live in a city that provides me with the freedom to participate in cultural events. Every year, my sister and I decorate gingerbread houses while watching classic Christmas movies like "Home Alone" and "Elf" on Christmas Eve. A tradition in my family that has been passed down for many generations includes making Sri Lankan Christmas cake, which is a decadent dessert that is made with candied fruits, nuts, rose water and brandy that must be made many weeks in advance to Christmas. Social gatherings are a central part of the holiday season so on Christmas day we exchange gifts and have a holiday meal with the extended family.
There are many opportunities to experience the Christmas season within the Greater Toronto Area. Every winter, the Distillery District is transformed into the Toronto Christmas Market, which provides an old-charm, European experience without leaving the country. The Cavalcade of Lights at Nathan Phillips Square is a must-see destination to experience the holiday lights, annual tree lighting ceremony, and go ice skating. Winterfest at Canada's Wonderland is a similar event that is becoming increasingly popular. The Hudson's Bay Holiday Windows at the Eaton Centre was a childhood favourite of mine, as it displayed Santa Claus and his elves preparing for Christmas. Unfortunately, the window displays have been updated since then, but it is still an iconic display. The annual Santa Claus Parade brings the community together onto the streets of Toronto, where people sing holiday carols and enjoy observing parade floats while collecting donations for a good cause. Recently, there have been parade floats with Chinese dragons and Indigenous symbols, representing the diverse communities within the city. These events provide a western perspective of the Christmas season that all individuals can engage in, despite their various denominations.
Here at the University of St. Michael's College, we embrace the religious and secular values of Christmas by hosting a variety of events students can participate in, which include gingerbread cookie decorating events, Christmas dinners, Christmas markets and a Mass at St. Basil's Parish. These events often support vulnerable communities within the city, allowing students to bring joy to people in need.
Ultimately, I believe Christmas in Toronto is more than a religious—or secular – moment but is a time for us to come together as a community, regardless, to celebrate the love we have for each other through selfless acts.
---
St. Mike's is accepting donations for Out of the Cold's Christmas Food Drive. Please bring your non-perishable food items to the donation box on the main floor of the Kelly Library and in the Campus Ministry Lounge (Brennan 101) any time between now and Dec. 16. Also a reminder that proceeds from the Christmas Market (Dec. 8) will go to this year's winter charities, St. Basil's Out of the Cold and Romero House. You can also make an online donation using this form: https://stmikes.utoronto.ca/christmas-drive-2022.
---
Read other InsightOut posts.