InsightOut: Connective Threads
Emma Hambly is a communications coordinator at the University of St. Michael's College. She has a B.A. in English Literature and Classics from McGill University, and an M.A. in Literatures of Modernity from Ryerson University. In her spare time, she sews, makes collages, designs zines, writes comics, and looks for more hobbies.
---
Connective Threads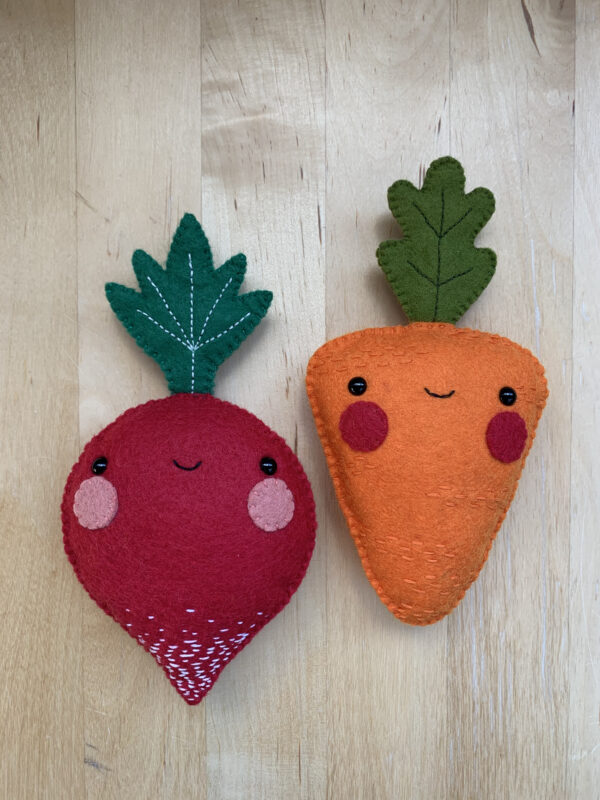 Push the needle through two layers of fabric, then loop the thread back through itself to make a neat little knot before continuing. It's a motion I've done thousands of times. But during quarantine it's taken on a new kind of meaning.
***
I'm lucky to be surrounded by very creative friends and family. It seems that most of them have taken the quarantine as an opportunity to take up old hobbies or delve further into their current projects.
One friend is writing again for the first time in years, and another is 52,000 words into her science-fiction novel. My mum is painting more frequently than she has since art school, and my dad is creating collages in the same sketchbook he left half-finished 20 years ago. My best friend is cross-stitching patterns with dainty florals and profanities. My partner is cooking and baking new recipes and continues to feed our temperamental sourdough starter.
As for me, I've been sewing. A lot.
Since quarantine started, I've been sewing gifts for friends and family and donations for strangers in need. I've hand-sewn 16 plushies, embroidered a beret, and made 60 face masks. Our small apartment is bursting at the seams with sewing supplies. My recent online purchases from small Canadian sellers include glass eyes, sheets of vegan leather, metallic felt, and a wonderfully soft faux fur called "minky." Right now, I'm working on a little bird for my aunt's birthday and a plague doctor doll because…well, I suppose that one doesn't need an explanation.
There's something enormously comforting about a simple task that gives you a sense of control during uncertain times. For me, sewing is a magical combination of enjoyable, relaxing, and creative, a form of self-expression that helps to counteract pandemic-era feelings of anxiety and powerlessness.
My mum, who is a talented seamstress, taught me how to hand-sew when I was six. And since then, the slow but sure process of turning a few pieces of fabric and some thread into a three-dimensional object with its own personality hasn't stopped enchanting me.
Quarantine may be filled with necessary constraints, but it has let me pursue my hobby unrestricted.
In the earlier days of the pandemic, I volunteered for Stitch4Corona, an initiative organized by U of T Engineering students to provide fabric masks to Torontonians in need of them, like seniors and the unhoused. With access to a sewing machine and basic skills, it felt like the least I could do. When I was able to expand my social bubble to include my parents, my mum offered to help.
Sitting at the dining room table on a rainy day, listening to the whir of the sewing machine, took me back to my childhood, watching my mum make my Halloween costumes. Year after year, she would create an impeccable, real version of whatever I had dreamed up: a furry tarantula with eight interconnected arms, a red rose with my face peeking out of the petals.
This time, though, we were working together. I sewed the fabric into its basic mask shape and stitched in the elastics. My mum gave each rectangle three neat pleats, and I finished the sewing, adding in the nose wires and leaving pockets for filters.
We switched, laughing, when we realized she had accidentally pleated all the masks so far upside-down, and I was much slower at topstitching. We found our rhythm and spent the afternoon turning a pile of fabric sheets, elastic, and wire into a thick stack of masks.
Before I could start my third round of sewing, Stitch4Corona announced that with COVID cases decreasing in the city, they were wrapping up their initiative. In the end, more than 600 volunteers sewed more than 14,000 masks.
I turned back to my lifelong hobby, sewing by hand.
When quarantine started, I felt caught up in the need to do some small thing to let my loved ones know I was thinking of them. So, I bought two pattern collections (32 designs in total), sent the images around to my friends and family, and asked them to pick their favourites. I'm about a third of the way through the list.
I'm worried about my grandmother's wellbeing and I haven't been able to spend quality time with her in months, but I'm glad to know she keeps the little raccoon I made her right next to her computer. My friends' faces lit up when they picked up their creations at our 6-feet-apart, masks-on barbecue.
It makes me happy to create something tangible for my friends and family when our connections these days are so digital. And I hope my silly plushies can bring them a smile in these strange, stressful days.
Time, effort, and connective threads. Put simply, sewing is the art of bringing things together. Sometimes, it can have that effect on people as well.
---
Read other InsightOut posts.