Each year, the Faculty of Theology marks the end of the winter semester with the Commissioning Mass, during which prayers are offered for all graduating students as they head out into the world to share what they have learned.
This year, Myungsook Kim, who will graduate with a Master of Theological Studies degree, offered a reflection. For the past 20 years, she has been teaching students with special needs in Catholic schools. Myungsook is a mother of two, and advocate for people who are physically and intellectually challenged, and an associate in the Felician Sisters Congregation. A former visual arts instructor at Gangneung-Wonju National University in South Korea, Myungsook immigrated to Canada at the age of 32.
---
Thank you, Student Life Committee, for allowing me to speak on behalf of graduates, even though I am far from the mainstream.
I have studied in the MTS program on a part-time basis for the last six years. I mostly took night classes because I have a full-time job during the day. Some people asked me why I was working myself this hard day and night. But for me, being a student at St. Michael's was filled with joyful moments. Let me briefly tell you why.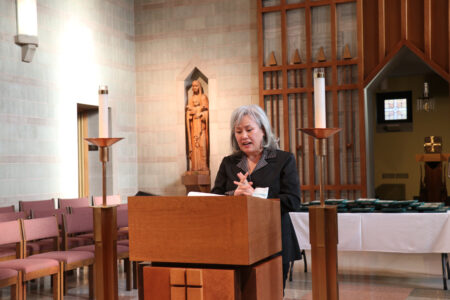 First, the snacks! Previous SLC president Josefine prepared snacks for night students. After a long day at work, I drove down to class from Mississauga in the middle of rush hour. The joy of sharing snacks among classmates before the class in the lounge made me feel full of love. Thank you, Josefine, and the whole SLC for your love and leadership.
Second, "Aha" moments. Every lecture, every reading has cultivated me to transform. Sometimes, my brain froze with new and true information. Thank you, all professors and librarians, for being for us real-life models of disciples walking in the company of Christ on the road to Emmaus. You all have shepherd the "Aha" moments with love and care.
Third, transforming into an angel. My ministry practicum at the Felician Sisters' house was special. It is home to 21 retired sisters enjoying their remaining lives while waiting for God's calling to be with Him. They called me an angel for helping them with their basic physical hygiene needs. Sometimes, I simply hold their hands while they are passing. I felt I was walking in the company of Christ as well, like a blessed angel.
Lastly, overcoming obstacles together. The pandemic arrived and we all had to rely on the Internet. The special COVID funding arranged by St. Michael's to help with pandemic expenses has provided us not only financial support but also the love of being cared for. Together, we all successfully thrived through our own unique way. 
Thus, on behalf of the Faculty of Theology BD graduates of 2022, I thank the entire community of St. Michael's for guiding us, for walking with us in the company of Christ, and for helping each of us to share our unique gifts.
Upon completing our degree, regardless of what our future holds, let us be sure to use our unique gifts that have transformed us here at St. Michael's Faculty of Theology. May we share God's compassion, truth and love as we continue to walk in the company of Christ.
---
Read other InsightOut posts.