Nick Olkovich is an Assistant Professor and holds the Marie Anne Blondin Chair in Catholic Theology at St. Mark's College in Vancouver. He completed three of his four degrees at the University of St. Michael's College where he met his wonderful partner Julia, a graduate of Christianity and Culture and the Faculty of Theology, in a course exploring the thought of Bernard Lonergan.
---
Nick and Julia's Victory Garden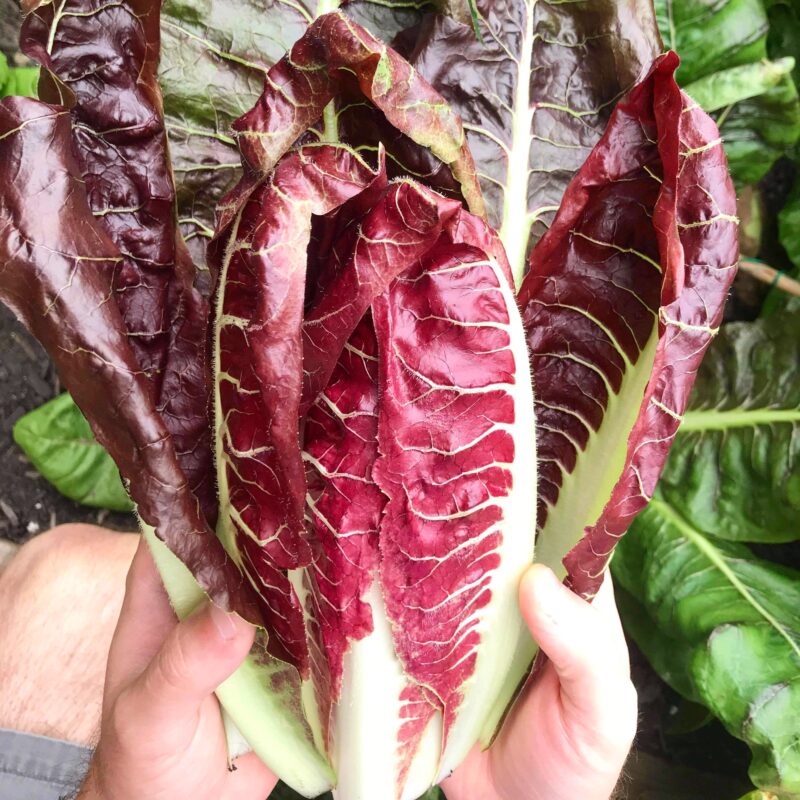 I'm sitting in my living room looking at what's likely to be the last tomato from the small garden we planted at St. Mark's College here in Vancouver. Shortly after everything shut down on March 16, 2020—and well before the ground was ready in Toronto—Julia and I found ourselves sowing seeds—two types of lettuce, arugula, radicchio and puntarelle—and planting tomato, eggplant, pepper and cucumber seedlings.
Anxiously awaiting signs of germination and growth, we'd close our laptops around 5 p.m. every second day and drive up to the College to check on our pandemic garden. Slowly but surely our seeds sprouted and their shoots began to look like miniature versions of themselves. Within weeks we were eating arugula while Toronto was still under a pile of snow. Yet, our tomatoes had barely grown; the cucumber seedlings kept dying; and I was convinced that my pepper plants were shrinking. I was frustrated. Anxiety over the pandemic combined with the pressure to work harder and accomplish more. I was hard on myself like I was hard on the garden.
As the lockdown wore on, workdays and then weeks began to blur into one another and yet time stood still in a different way when we'd call it quits, earlier and gradually with much less guilt, and head up to the College. We'd go when we were miserable or angry with each other. It was quiet and it helped. We'd go on the weekends sometimes when the sun was shining and it helped even more. Julia needed her steps and so we'd walk after pulling weeds and talk in ways that our pre-pandemic weekdays never seemed to allow.
As time went on our near daily trips became routine. We'd pack our tomato ties, our scissors, and big ziplock bags that I'd wash after each use. Soon we lost access to a hose and so we started bringing a watering can that one of us would fill six or seven times behind St. Mark's Parish whenever Fr. Rob wasn't hearing outdoor confessions. As summer finally started to arrive in Vancouver the garden became a hot spot of activity. We met neighbours who told us they liked our greens (thanks?); neighbours we traded stories and plants with; other gardeners on the UBC campus who envied the shade our lettuce got; neighbours' children and their pets. I began running into work colleagues, one who tended two of the College's four garden beds, and others who still had access to the main building. These chance encounters and the short conversations they prompted—so everyday and yet so oddly meaningful—broke up the monotony of daily Zoom calls and online happy hours. Soon enough the garden started to produce and everyone we ran into or visited got a bag of lettuce or clippings of chard. What had started out as a pet project had become a way to connect.
In the end, not everything worked out. The eggplant and peppers never grew. Most of the tomatoes will never ripen. But over time my frustration with the garden turned to acceptance and then celebration. Look at all the delicious things we got out of two overcrowded and partly shaded boxes. Over time I've grown to be easier on myself and to celebrate all the little ways Julia and I have grown over the past six months. None of it was expected. None of it was easy. All of it was grace.
---
Read other InsightOut posts.