Kathryn Elton joined the University of St. Michael's College in 2016, as Chief Advancement Officer, overseeing fundraising and alumni programming. One of the best parts of her work, she explains, is meeting and getting to know St. Mike's incredible alumni community.
---
Remembering Long-time St. Mike's Alumna Gloria (Chisholm) Buckley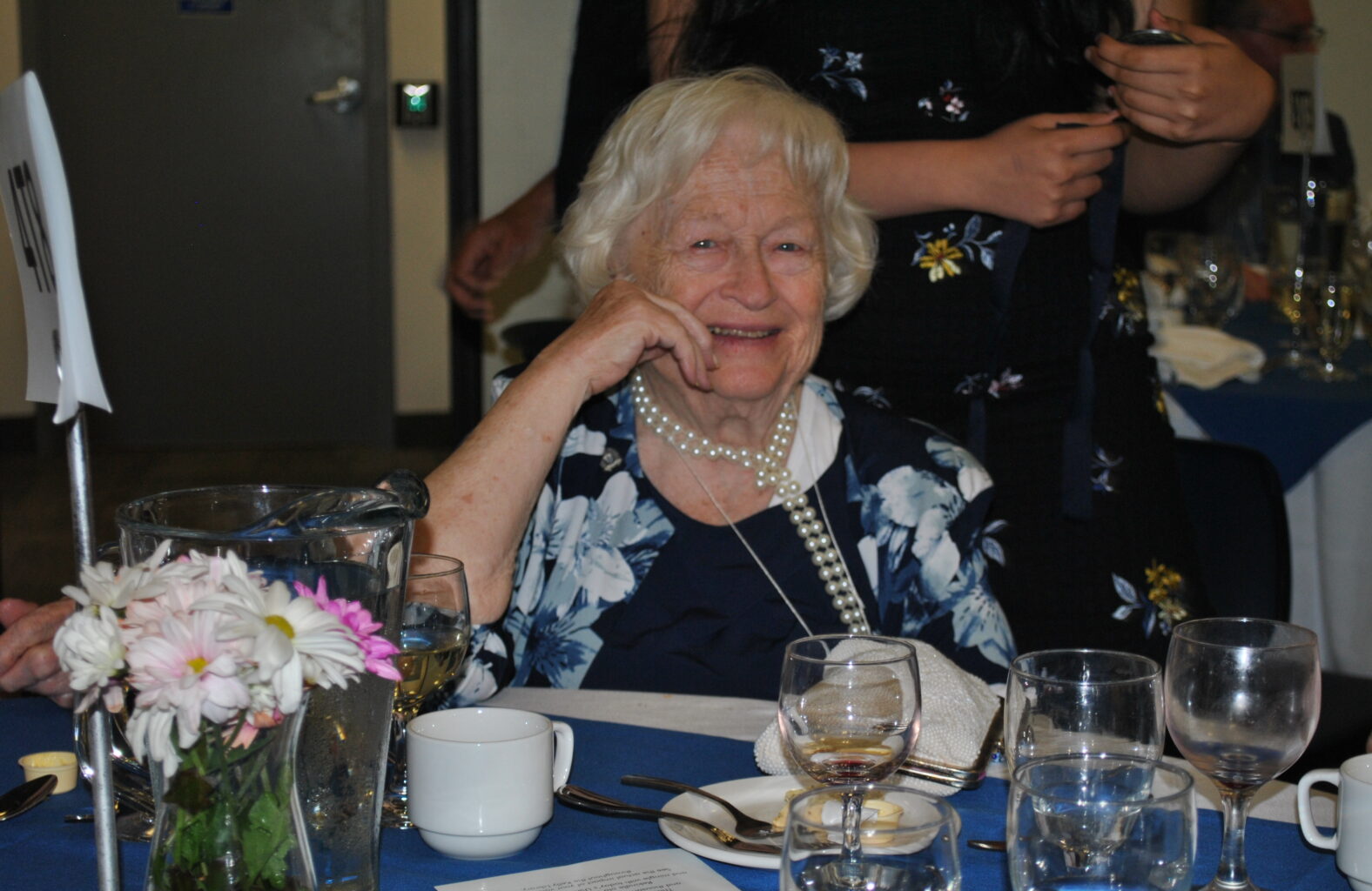 The University of St. Michael's College and University of Toronto communities lost a treasured friend with the passing of alumna Gloria (Chisholm) Buckley on January 25, 2021. Gloria, who graduated from St. Michael's College in 1948 with a Bachelor of Arts and Science, majoring in chemistry, was a beloved alumni volunteer leader. She was also a trailblazer who shone a path for women in science and returned her good fortune by serving others.
When Gloria was presented with St. Michael's Alway Award in 2014 she was celebrated as a "pioneering spirit, a scientist, working mom and community volunteer…at peace with both faith and science, a lifelong passion for knowledge, and thrilled by discovery. With a penchant for asking questions, a feminist before the movement began, a desire to contribute to saving lives, to fight for health and to understand the world at its most basic elements. She has lived up to the highest standards in numerous ways."
Gloria's accomplishments were extensive. She was:
a researcher at University of Toronto and at St. Michael's Hospital's Lipid Centre
a scientist in the private sector, including in bioscience and clinical chemistry specializing in cancer research
a member of the Christian Family Movement—helping peers with children cope with the pressures of life while raising families
a member of the Associates of the Sisters of St. Joseph for more than 25 years
one of the longest-serving members of the U of T Senior Alumni Association
the founder and leader of the organizing committee for University of St. Michael's College Alumni and Friends Annual Lenten Twilight Retreat
and
the longest-serving Board Member of the USMC Alumni Association.
Gloria was also the proud mother of sons Roger, Brian, and Phillip, all of whom attended St. Mike's.
She was a much-loved friend among the alumni community. St. Mike's alumna Marcella Tanzola remembers:
"I had the honour of knowing and working with Gloria for many years on the St. Michael's Alumni Board. With Father Bob Madden, we both helped to establish the Annual Twilight Lenten Retreat and worked closely over 25 years to make this a memorable and meaningful event. Gloria was a tireless worker and supporter of all alumni pursuits. For me she was a ready ear and good counsellor. We shared wonderful conversations during all those years and I learned what a remarkable woman she was as we exchanged our life experiences. Rest in a much deserved peace Gloria. I will miss you."
Miriam Kelly, another alumna and colleague, adds:
"The Basilian Fathers, the University of Toronto and the University of St. Michael's College, and the Annual Lenten Twilight Retreat will all be thankful for the many years Gloria gave to their many endeavours, sharing her wisdom, hospitality and sense of humour. Gloria will be much missed and remembered. Rest in Peace."
When I joined St. Mike's advancement and alumni programs team in 2016, all my new colleagues recommended that Gloria be one of the first alumni I should meet. She had a long-standing connection with St. Michael's, deep commitment to the university, and astute perspectives on our past and our future. She was also a frequent attendee at alumni meetings and events, and I soon learned why she was loved by my colleagues. Betty Noakes, a member of our advancement team who knew her for more than 10 years notes that "Gloria's kindness, knowledge, sage advice, and grace made the world a better place. She exemplified Goodness, Discipline and Knowledge. I will hold her in my heart, and miss her dearly, as will, I'm sure the community she has left behind."
The University of St. Michael's College is truly blessed by a loyal and committed alumni community, and I have a special place in my heart for Gloria. From our first meeting in fall, 2016 until our last conversation this past fall, when she was sharing ideas about St. Mike's vision for the future, I have felt extremely lucky to have known her, even just a little.
Thank you Gloria. God speed.
Gratefully, Kathryn.
Alumni who wish to share memories and tributes to Gloria are invited to send messages to: smc.alumniaffairs@utoronto.ca. We will collect them and send them to the family.
---
Read other InsightOut posts.