Martyn Jones is a content specialist in the Office of Communications. On a freelance basis, he also writes reported features, essays, and criticism for online and print outlets. Martyn and his wife Melanie's toddler, Fox Jonathan Jones, turns 18 months old on August 2.
---
The Difference Three Hours Makes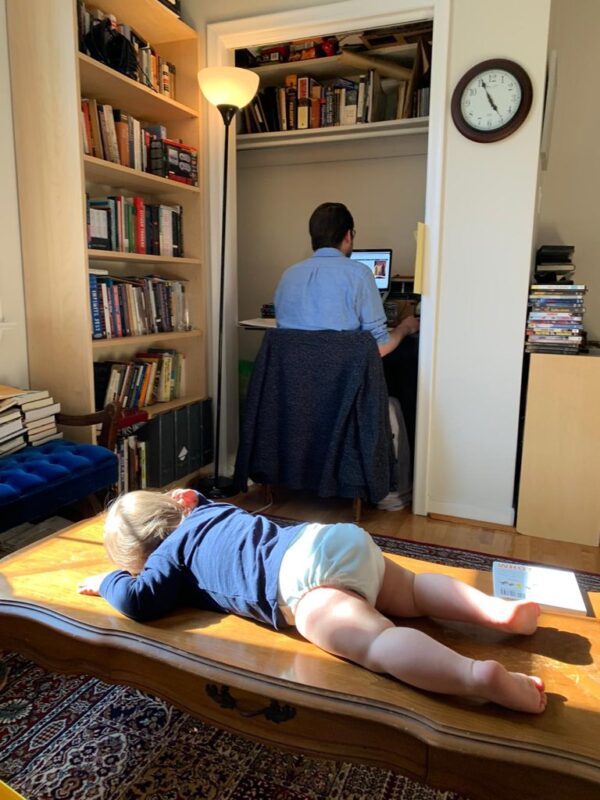 In the endless domestic present brought on by COVID-19, I sometimes find it difficult to remember that going to work once meant going in to work.
A few months ago, my wife and I would kiss our toddler goodbye, trudge through the snow to a bus stop, and wait to be carried into the city alongside thousands of fellow close-breathing commuters. It was far darker then, and both our bedtimes and alarms were earlier. In the mornings we'd wake the baby around 6:30 a.m., pass him back and forth to allow one another to get dressed and brush our teeth, and then hand him off to his grandparents around 8 a.m. for safekeeping for the day as we began our commute.
During my wife's maternity leave, I would often look down from my computer screen in my office to find a message from her that included a photo or video. These were digital records of Fox's progress: first words, first steps, first instances of bizarre behaviours that would become characteristic. When my wife returned to work, she would forward similar notes from her parents containing records of Fox's new experiences that we were both missing.
After work, we'd get home around 6 p.m., scramble to put Fox's dinner together, play with him if time allowed, and put him to bed by 7:30. Our total allotment of time with the boy was about three hours a day—most of it spent performing necessary tasks, and relatively little spent in reading, play, or exploration.
When remote work began for both of us in mid-March, we entered into a family bubble arrangement with my wife's parents, who continued to provide our toddler's primary care during the workday. For the last several months, we've worked with Fox always within hearing distance, either downstairs in our own home or in another room at his grandparents' house.
We are incredibly fortunate to be able to rely on our toddler's grandparents in this way. For so many younger families, the closure of childcare centres and schools forced parents to look after their children while also continuing to work full time. We were shielded from this grueling scenario. For us, the silver lining has made up almost the entire cloud.
Atul Gawande notes in his book Being Mortal that one of the major domestic shifts brought about by modernization is the move away from multigenerational homes. The past few months have given us glimpses of that abandoned paradigm: during a break between tasks, I can join Fox at the keyboard where his grandpa is preventing him from striking the keys too hard, or peel an orange while listening to the toddler perform his mimicry of reading out loud for his delighted grandma.
He is a wild and energetic boy; his arms already have a shape that evokes the naturally athletic teenager, and as they grow will gain mass while retaining their rough proportions. He occasionally gets away from his grandparents and pounds on our office door until it opens for him, at which point he might walk to my desk, look at me silently, throw back his head, and laugh. While he's interrupted his share of Teams meetings, my colleagues reassure me that his presence has always been welcome.
I have no truck with vulgar permutations of utilitarianism, the worst of which employ an actual calculus to determine the moral worth of an action, but I do find it useful to put a number to our experience: 270. This is a rough estimate of the number of hours my wife and I have gained back to spend with our boy during the portions of the day we would otherwise have spent commuting or having lunch at work. Our three-hour allotment has doubled for each workday, without even taking into account the random visits he pays us as we hunch over our computers.
Instead of receiving photos or videos through text or email, my mother-in-law can simply call me to come down, and I can be there to see my boy build a block tower or put on his own shoes. We haven't yet reached the point at which his long-term memories are able to take root in his mind, but I hope that he will carry this period of special nearness into the later parts of his childhood, and know without knowing that we were close by.
For all the uncertainty and hardship brought on by the pandemic, COVID-19 has also shown us how flexible the world can be when the heat of necessity causes it to bend. There will not be a return to an earlier status quo after the virus subsides or vaccines are developed: instead, a new world will emerge. I hope that our new arrangements will make future virtues of past necessities, and that it will be possible for more working parents to experience the difference three hours makes.
---
Read other InsightOut posts.