Hedieh Hashemi is a second-year undergraduate student studying Molecular Genetics and Microbiology. Hedieh was one of the orientation marshals in this past year's orientation, and she currently serves as the St. Michael's College Student Union (SMCSU)'s Vice President.
Applications are being accepted for the position of Orientation Coordinator until January 23.
---
The Summer I Found My Home Away from Home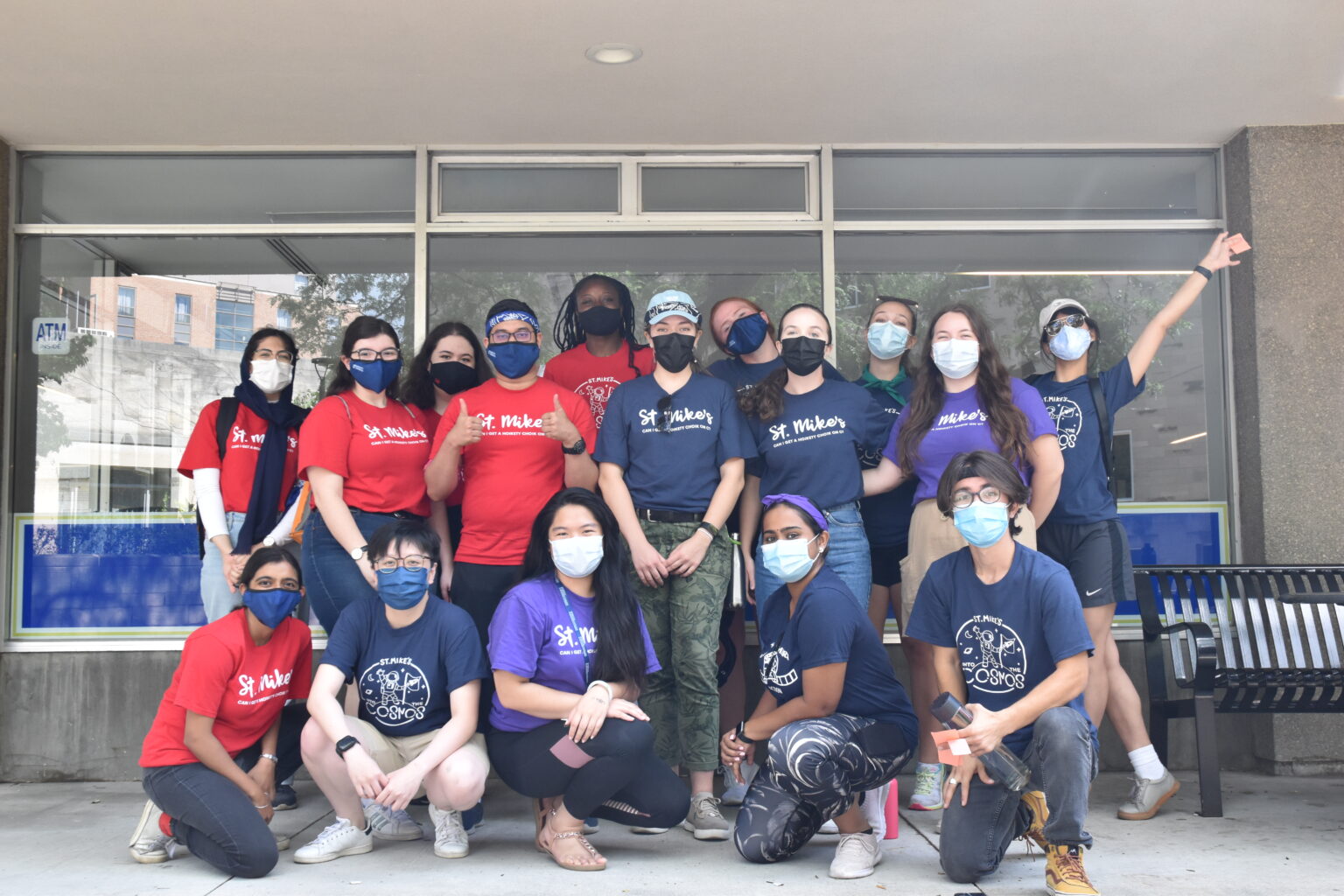 I was the most excited when I got my offer to be a marshal for Orientation 2021. Going through orientation again, this time as staff—how could it get any better? Things were exciting on paper, but as the first meeting came around, I felt nervous. Not knowing anyone on the team—and my not-too-good skills in making friends—added to the online format of everything, all making me doubt if I belonged there. It was hard to believe in myself and trust that I was making contributions to the team.
My overthinker brain, however, wasn't able to stop me. The good vibes in the meetings, and the excitement that came with every task related to orientation, kept me going. Patience and time cure a lot of things and they surely did work in my case. With every meeting, I got to know my teammates better, I learned that my efforts are appreciated, and the team was so supportive that soon enough I too started to feel confident.
Things got much more exciting as we got closer to Orientation Week—and the best news? We were going to have in-person events too!! Having missed an in-person orientation as a first year, I was so happy to have the opportunity to experience it. Spoiler alert: the in-person experience exceeded my expectations.
I'm not sure if it was because of everything being online for too long and me forgetting what things were like in real life but the environment around SMC was so nice! Every time a familiar face was passing by, there was a wave and a smiley face (technically smiley eyes—masks, you know?). People were so approachable, whether they were orientation staff, orientees, college staff, or the dons. Just a little "Hi!" could be a conversation starter—although I have to give some credit to my red marshal t-shirt too, which made me extra-brave to walk up to someone I'd never met before and start a conversation.
The week was full of fun events, but naturally at some points, things got rough, and there were nights when I got home tired and drained, thinking "I'm done". And nope, I wasn't. The next morning, at our daily 8:30 am meeting, seeing the faces of my teammates all full of enthusiasm, hearing affirmations from the Orientation Coordinators (OCs) first thing in the morning, and the team cheering each other on, all made me feel like I could keep doing this forever!
Throughout the day, there were so many small scoops of care here and there: the OCs checking in any time they were passing by, Emma (our Assistant Dean of Campus Life) always making sure the food suited everyone's dietary restrictions and that no one was excluded, us being asked to put in the group chat and let others know that we'd got home safely whenever we were leaving late at night.… How could I not appreciate my time spent at orientation?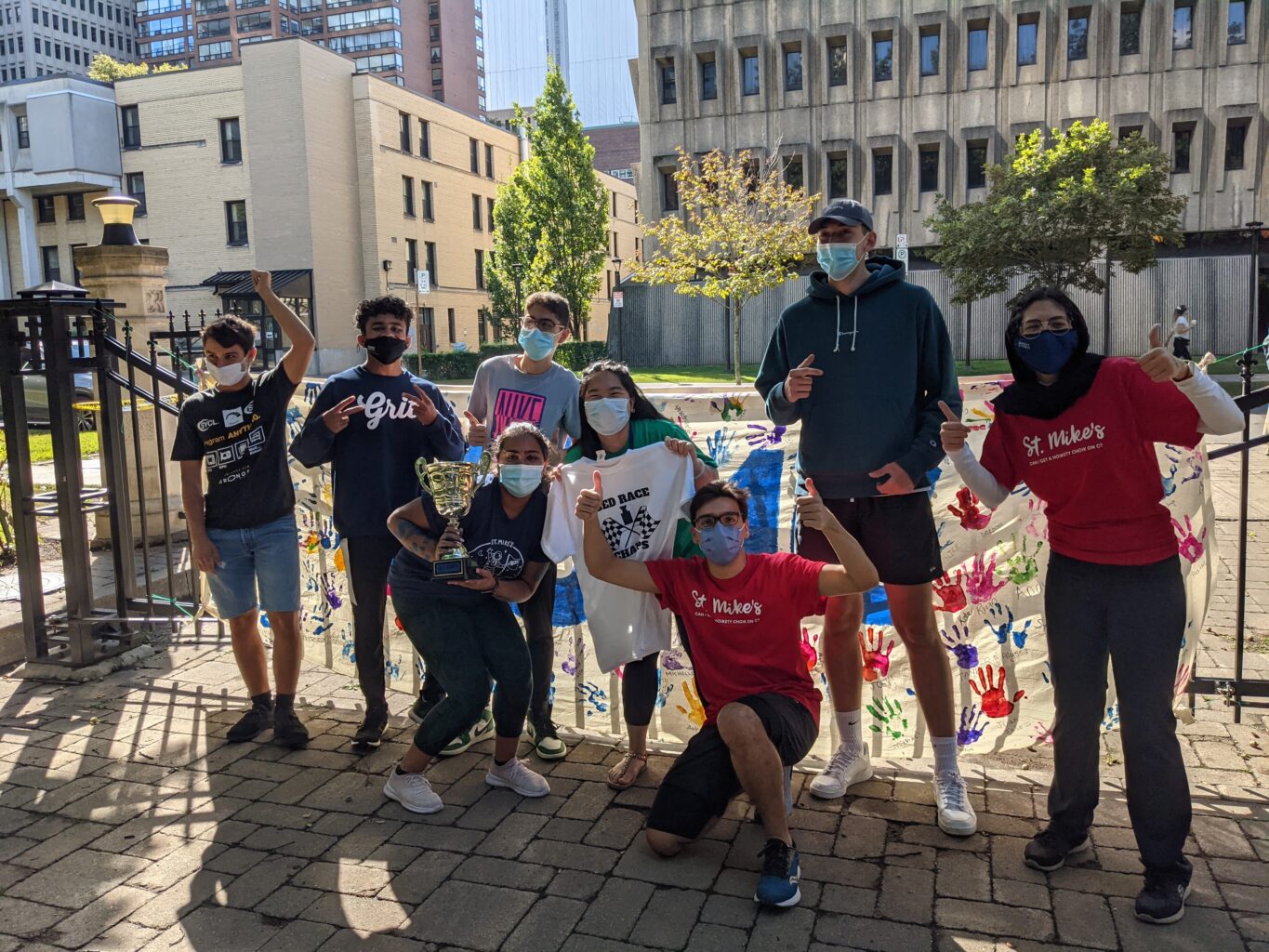 This orientation—which was my first-ever major in-person university experience—made me appreciate in-person interaction a lot more. I was reminded how it's all the simple things that bring us closer together; things like sitting together and eating together, carrying a box full of orientation T-shirts together, and even running together during bed races (yes, I did have the honour of running in the bed races—and no, my legs weren't ready for this after a year of staying at home).
This orientation also taught me that I am a fake upper-year, at least when it comes to the campus. During the week I was co-leading some of the campus tours, but did I have any clue what I was talking about? Please don't expect a yes from me. Good thing was, by the end of my third campus tour I knew all the details of the campus so well that Google Maps might have needed to consider retiring.
Thinking about the bigger picture, it's just fascinating how all of us came together and did all this work to welcome the new class into our community, and how we did everything we could—from giving tips and running workshops, to setting up campus tours and socials—to help our new class succeed. The passion for giving back to our SMC community made the whole process and all the efforts so much more meaningful.
And yeah, this is the story of me finding my SMC family and falling in love with this college we call our "home away from home," all thanks to Orientation 2021.
---
Please note: Orientation 2021 was a hybrid event with all in-person activities following appropriate safety measures.
Read other InsightOut posts.