Voices Honouring St. Mike's Fallen
The Soldiers' Memorial Slype is one of the most moving spots on the St. Michael's campus. The sandstone archway is found between Fisher House and More House and connects the campus quad to Queen's Park. Unfortunately, the pandemic has forced the cancellation of on-campus events this Remembrance Day, but our fallen are not forgotten.
Etched into the walls of the spare and understated war memorial are the names of more than 150 men from the St. Michael's College and St. Michael's College School, students and graduates, who died in World War I, World War II, and the Korean War.
Here are two of them.
---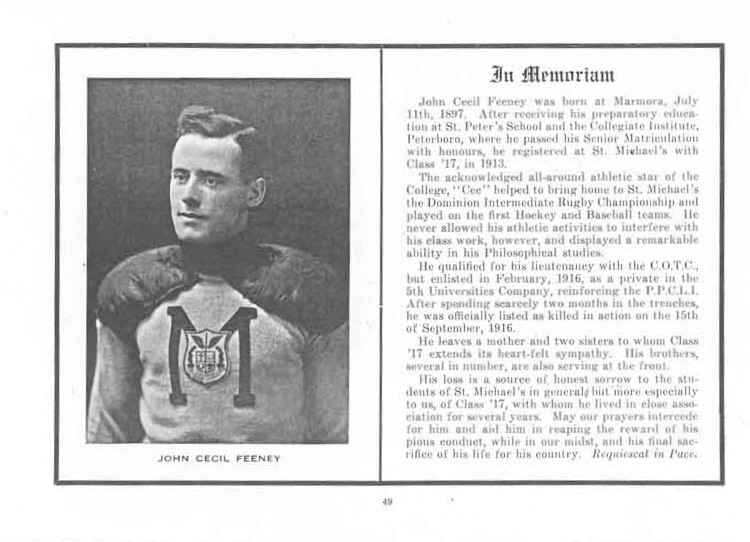 Private John Cecil Feeney was born in Marmora, On., in 1897 and enrolled at St. Michael's in 1913 to study Philosophy. The St. Michael's Yearbook of 1917 states that Cee, as he was known to his friends, played rugby, baseball and hockey and was "the acknowledged all-round athletic star of the College." The yearbook also notes, though, that his love of athletics notwithstanding, Feeney was a dedicated student who "displayed a remarkable ability in his Philosophical studies."
Although his time serving in the Canadian Officers Training Corps afforded him the rank of lieutenant, he enrolled as a private in the 5th Universities Company, which was part of the Princess Patricia's Canadian Light Infantry, in February of 1916. In July of that year he joined his battalion in France. Two months later, on September 15, he was killed in action in the battle of Courcelette and was buried there, far from his grieving mother and two sisters, and, as the yearbook notes, "several brothers … serving at the front." His name appears on the Vimy Memorial in Pas de Calais, France.
"His loss is a source of honest sorrow to the students of St. Michael's in general," his classmates wrote, "but more especially to us, the Class of '17, with whom he lived in close association for several years. May our prayers intercede for him and aid him in reaping the reward of his pious conduct, while in our midst, and his final sacrifice of his life for his country. Requiescat in Pace."
Feeney is also remembered in the University of Toronto Roll of Service, 1914–1918.
---
Flying Officer Lawrence Aloysius Doherty, the son of Thomas Arthur and Mary Doherty, was born on April 1, 1918 in Toronto. He was a member of the 414 Squadron of the Royal Canadian Air Force, enlisting in Hamilton in 1940.
While on a secret mission over the English Channel on June 6, 1943, he alerted fellow officer Rowan Hutchinson that he had spotted a trio of German planes—Folke-Wulf 1900s, according to the Canadian Virtual War Memorial—about to attack. His warning saved Flying Officer Hutchinson, but Doherty's plane was shot down over the Bay of Biscay.
The accompanying newspaper article below quotes Hutchinson as explaining that he was flying in the lead when Doherty radioed to say, "Look out, Hutch!" prompting Hutchinson to turn just in time to see his friend's plan crash into the water.
"Larry saved my life," Hutchinson explained.
Doherty, with no known grave, is remembered on the Runnymede Memorial in Surrey, England.
He is also honoured in the University of Toronto Memorial Book of 1939–1945.

---
They shall grow not old, as we that are left grow old;
Age shall not weary them, nor the years condemn.
At the going down of the sun and in the morning
We will remember them.
"For the Fallen," Laurence Binyon
1914
---
Read other InsightOut posts.