John Montefiore is a member of the graduating class of 2020. On Tuesday, June 2, 2020, he will be granted a Bachelor of Arts degree with a Double Minor in Education and Society and Human Geography.
---
Walking Away—and Coming Back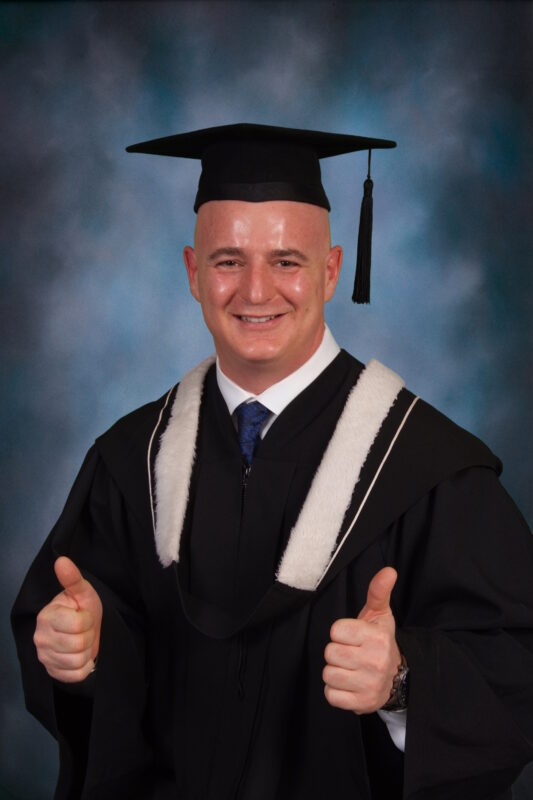 My relationship with St. Mike's goes back to 1995, when I first began my university career. I abandoned my pursuit of a university degree, however, after I was found I was unsuccessful in performing academically while also being a varsity athlete with the University of Toronto Varsity Blues football team. I walked away from both my academic and athletic dreams, primarily because I was unable to face and overcome the adversity and difficult position in which I had put myself.
Decades later, in the summer of 2018, I returned to the University of St. Michael's College to explore the possibility of returning to school to complete my university degree. The staff at the registrar's office were so helpful, accommodating, and supportive of me in my goal to complete my studies! A special thank-you goes out to Associate Registrar Miranda Cheng. She helped me plan my return and directly contributed to my success. I will be forever grateful to her and to the entire St. Mike's administrative staff for helping me erase decades of feelings of regret and disappointment.
Today, I am proud to be a graduate of the University of St. Michael's College. My feelings of pride, however, would have been delayed if not for the flexibility, actions, and commitment the entire University took to ensure that the academic year would not be lost due to COVID-19. All my professors went above and beyond to transition to a virtual format to help complete the winter term. Considering my own experience with adversity, seeing the University of Toronto react so positively in a time of crisis was inspiring. As such, I have decided the best way I can repay both St. Michael's and the University of Toronto for their efforts is to aspire to be the best version of myself in spite of being faced with challenges that may arise, and to "pay it forward" to anyone that can benefit from any assistance I can provide.
As for not having an in-person convocation, well, I do feel somewhat disappointed. More so for my family, who would have loved to experience a moment that I failed to deliver to them decades ago. But it is just the cherry on top of the sundae! As I reflect back on my academic journey, I am reminded that it was the journey itself, the knowledge gained, the friends I made, the personal growth, and my sense of accomplishment that was the ice cream, chocolate sprinkles, whipped cream and nuts that made up one delicious dessert. I am so grateful for being a part of the class of 2020, and will always remember graduating during the COVID-19 crisis. So, instead of using crisis as an excuse, I will use it as a reason, a reason to rise above it and do interesting things during these interesting times.
---
Read other InsightOut posts.