Ann Mathew is a Master of Divinity Student at the Regis St. Michael's Faculty of Theology. She is also an Inter-faith Coordinator with the St. Michael's College Campus Ministry at the University of Toronto.  
---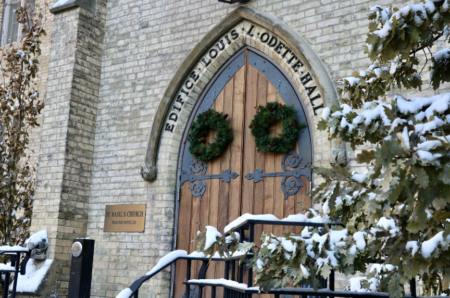 During the Lenten Season, many Christians "give up" certain foods, beverages, and habits. This is also practised during the Advent Season but not on the same scale as during Lent. In fact, I did not even know that one had the option to abstain from certain interests during Advent because it was not until my arrival in Canada that I experienced the season of Advent as it is celebrated here. Growing up, it seemed that Lent was the prime time that led us to Easter celebrations while Advent was overshadowed by Christmas because anything past Halloween meant Christmas. 
A dear friend, however, introduced me to the act of giving up something during Advent, just as we would during Lent. This act of staying away from something was not limited to meat, dairy, or food items at large. As an avid lover of music, this friend would abstain from listening to popular secular artists such as Adele and Muse. For the next four weeks, he would allow the likes of Lauren Daigle and Matt Maher and styles such as Taizé and Gregorian Chants to help him prepare to celebrate the birth of Christ. At the end of Advent and on Christmas Eve, I could see the joy that he experienced in having spent the time to focus on his spiritual life a bit more than usual.  
As someone who relies on music for inspiration and comfort, I found this to be a big ask but I wanted to try it as well. A few years ago, I decided to use worship music as my main source of prayer during Advent. This was as difficult an experience as I had imagined because November and December are crunch times for students with assignments and exams. While rock and pop music typically provided me the adrenaline rush to focus and write those final papers, here I am, trying to hype myself up with solemn chants. I can still recall the anguish and temptation to turn to my usual sources to complete these assignments over those four weeks. The first thing I did after participating in the Christmas Eve mass was to go home and allow myself to indulge in some Adele. Looking back, it does seem a bit comical, but it is an experience that I would not trade for another because I needed to experiment and figure out what can be given up from my daily life so that I can tend to my spiritual life in a healthy manner.
For the following advent season, I stayed away from processed sugar. Even though I was surrounded by chocolates and cookies, I did not feel drawn to them, which was surprising as I do have a mean sweet tooth. That Christmas, I emerged as a trooper and discovered a healthy way to reorient myself in the season of hope and love. 
Although these experiences might seem trivial, each Advent season now gives me the opportunity to test myself physically, emotionally, and spiritually so that I can truly immerse myself in preparing for the glorious coming of Christ in my heart and habits. Whether it be the case where we are abstaining from a practice or trying to begin a new habit, the struggle is incomparable and inevitable. For some of us, it could be staying from a preferred food or beverage, being conscious of and reducing our screen time, or even waking up an hour earlier to allow ourselves some extra time to spend in the presence of God. No matter what that indulgence might be, I guarantee you that you will see a significant change in yourself and how you live and perceive the world. As my spiritual director once said, "When you say 'No' to some things, you are saying 'Yes' to other things". When I say 'No' to a habit such as binging K-dramas, I am saying 'Yes' to other opportunities like journaling, spending time with my loved ones, or even mindful eating. Just because the first week of Advent has gone by, do not hesitate to challenge and inspire yourself to forego something for a few weeks. As you allow yourself to go through those motions of craving and desperation, you might even pick up a new habit that could benefit your whole self in the long run. It is alright if you are not able to get through all the self-directed schedules for the next few weeks to prepare your heart and home for the coming of Christ because it is important to remember that you have tried. 
So, what are you giving up this Advent?
Read other InsightOut posts.