With St. Patrick's Day nearing, popular culture is predictably filled with generic images of shamrocks and leprechauns. But when Anthony Trindle (or Antóin Ó Trinlúin, in his native Irish) reflects on the students he's teaching in St. Mike's Celtic Studies program, he describes them as having a complex understanding of Ireland and its enduring impact on Canada.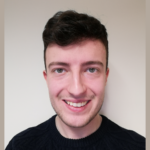 Trindle, who hails from Ballyphehane in Cork City, is this year's Ireland Canada University Foundation's (ICUF) Irish Language scholar at the University of St. Michael's College, where his duties include teaching the only advanced-level course in Irish in Canada. When he's not lecturing at the university, he also serves as an ICUF cultural ambassador in the broader community. 
"Coming from Ireland, where everyone has to study Irish, I am now teaching students who have really gone out of their way to study the language, and who have to work hard to keep (their language skills) up," he says. "It's really refreshing. This is a once-in-a-lifetime opportunity to study what you want to study."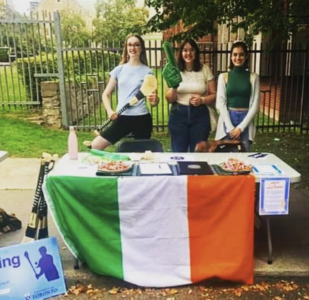 With census figures indicating one in six Canadians identifies as being of Irish descent, it's not surprising that some students enroll in Irish language courses to do a deeper dive into their ancestry, notes Pa Sheehan, a former ICUF scholar who now is an assistant professor in St. Michael's Celtic Studies program. Others, he and Trindle suggest, take on the challenge of learning an unfamiliar language because of an appreciation for engaging with the humanities and the resulting benefits of acquiring knowledge, even when those results gained are at a distance from day-to-day life.
But there is also a very practical reason to learn Irish, Trindle notes, and that is because the European Union's decision to grant full status to Irish as an official language within the EU has created a new demand for Irish speakers across Europe, including in EU offices.
When Trindle is not lecturing, he can be found engaging in a variety of ICUF-related activities, including working to establish a local chapter of Conradh na Gailge, or The Gaelic League, an association of Irish speakers. Earlier this month, he organized a pop-up Gaeltacht, echoing the areas in Ireland where Irish is the primary language spoken, with more than 150 people joining the league in the first three weeks after it was launched.
His ICUF role also includes teaching a variety of levels of Irish-language classes on a more informal basis within the community, with weekly classes offering not only language instruction but also some insights into Irish life and culture.
Both Trindle and Sheehan say their knowledge of Irish has opened many doors for them, including travel, with Sheehan having taught in Newfoundland and Montana before coming to Toronto, and Trindle studying Irish at The Netherlands' Utrecht University before coming to St. Mike's.
"My knowledge of the Irish language brought me to Canada," he says.
When asked how he's finding Toronto, Trindle says he "loves it here" because both the University of Toronto and the city are very vibrant, with diversity and a lively arts landscape.
The two educators chatted recently about what Trindle has enjoyed about Toronto – and what he's missed about home — on Sheehan's Irish in Toronto podcast.