Fall Convocation for the St. Michael's Faculty of Theology and the Graduate Diploma in Social Responsibility and Sustainability program will take place online on Saturday, Nov. 13, 2021. To celebrate, we're sharing the stories of some of this year's graduates.
"I was drawn to study at the St. Mike's Faculty of Theology out of a desire to learn more about my faith and my church," says Andrew Selvam, a member of the Dufferin-Peel Catholic School Board (DPCDSB) cohort who will be awarded his Master of Religious Education degree on Saturday, Nov. 13, 2021. "At the same time, it became evident that St. Mike's had an awesome reputation in the field of Theology within the province and country. Having a faculty with a local satellite campus and a program drawn towards educators made it easier to complete my first few courses."
While the pandemic altered delivery of classes, Andrew says "both the virtual and in-class experiences were enjoyable…. The lectures, readings and discussions were informative and made you want to delve deeper into aspects of faith and course content that you had never thought of before. Professors care about your experience and understanding of the material."
While earning his degree while working working full-time was a significant time commitment, Andrew notes that program offerings at other colleges within the Toronto School of Theology expanded his choices, both in terms of scheduling and course options. And, he adds, "St. Mike's also has an incredibly faculty of professors who are here to assist you."
He singles out experiential learning as a particular benefit to his time at. St. Mike's, noting the abilty to study ecotheology with the Sisters of St. Joseph at their retreat centre in Cobourg and the opportunity to enroll in A Journey Through History: The Jesuit Mission in Midland were particularly meaningful.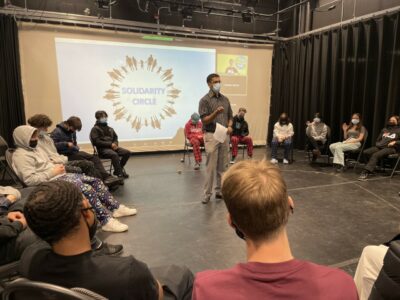 As he looks forward, Andrew says his experience at the Faculty will be a huge benefit as he begins his new ministry as a chaplaincy leader with at Iona Catholic Secondary School, adding that his studies were also relevant to his classroom work as a degree as a science and religion teacher.
"Catholic Social Teaching has made me more aware of the issues facing our world and pushed me further to a spirit of service not only in my local but global community as well," he says.
"The friends and academic family you build at St. Mike's will continue to be with you for many years to come," Andrew says. "I was invited and encouraged by students in the Master's program at St. Mike's and hope that I can do the same."
---
Celebrate this year's graduates with us at the Faculty of Theology's Fall Convocation 2021 page.