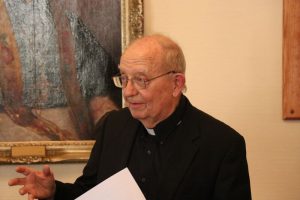 On vacation in his French homeland from pastoring in Montreal in 1850, Father Armand-François-Marie de Charbonnel did not speak English when he received word of his invitation to move to Toronto to become the city's bishop. Catholics in his new home faced discrimination in the school system, and few resources existed to serve the growing, predominantly Irish-immigrant community. Father James Farge, CSB, established this context before describing how this led Bishop Charbonnel to involve the Basilian Fathers in a crucial phase of the development of the city—one that led to the founding of St. Michael's College. In Fr. Farge's words, "He asked his old teachers, the Basilians, "Can you let me have one of your men… to come with me to this English-speaking place?""
Fr. Patrick Molony, CSB, accompanied Bishop Charbonnel to Canada later the same year, and at the bishop's request, several more Basilian Fathers joined them to found St. Michael's College in 1852. In this way the Basilian community began its work to build up the Canadian Catholic community—work that continues to this day.
Fr. Farge summarized this history during the dedication of the new Basilian Common Room on October 19, an event that Professor Alexander Andrée hosted. Fr. Allan Smith, CSB, unveiled a new plaque honouring the Fathers in the hallway outside the room, and Pastor of St. Basil's Church Fr. Morgan Rice, CSB, blessed the space for a new era of use. The repurposed room served for decades as a meeting space at USMC for the Basilian Fathers, who made up the majority of the school's faculty for over a century after its founding. Where Basilians once gathered for prayer, meetings, and recreation, staff and faculty will now have an informal communal space for their own use.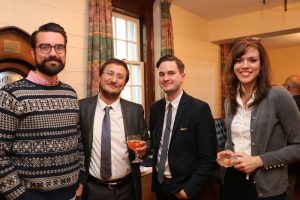 USMC Assistant Professor Paolo Granata brought the dedication ceremony to a closed with an engaging musical routine on the room's upright piano, which was donated to St. Mike's by theology professors Michael Vertin and the late Margaret O'Gara. His performance brought to mind one of the most famous Basilians Fr. Farge mentioned in his talk: Fr. Owen Lee, CSB, a classics scholar and USMC teacher who regularly spoke during intermissions in broadcasts from the New York Metropolitan Opera. "He became known all over the world," Fr. Farge said, reaching an estimated audience of "as many as 15 million people once a month." Those broadcasts may have ceased, but the legacy of Fr. Lee and other Basilian Fathers continues to live on at St. Mike's.