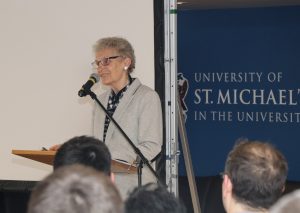 During a short address preceding the first annual Langan Lecture in Christianity and Culture, the program's founder explained how St. Mike's fills a "horrible lacuna," which is a lack of "access from the inside through primary sources to the Christian fact." Emeritus Professor Janine Langan added that by not addressing the Christian fact, we commit "a major failure in historical honesty." The gaps that result from an incomplete understanding of the Christian story in history are "what we are trying to fill," Prof. Langan said.
She made her stirring and inspiring opening address in the Dodig Family Coop on March 15 to about 150 students, alumni and faculty. Her words came before Dr. Mark Bosco, S.J., gave a lecture on the life, work, and faith of American fiction writer Flannery O'Connor.
O'Connor continues to be held in high esteem for her contributions to American fiction. Bosco, who has made documentary for PBS about O'Connor, opened his talk by describing the author as the "premier Catholic writer of the 20th century," and "the most anthologized of authors" in American high school and college textbooks. Appearing in clips from Bosco's documentary, the American novelist Alice Walker calls O'Connor the "first great modern writer of the South."
O'Connor is primarily remembered for her short stories, essays, and her novels Wise Blood and The Violent Bear It Away. Early critics and readers were shocked by O'Connor's use of violence and the grotesque, which she explained in an letter collected in her book The Habit of Being: "I have found that violence is strangely capable of returning my characters to reality, and preparing them to accept their moment of grace."
She wryly described herself as a "hillbilly Thomist," and Bosco enumerated her theological sources: Etienne Gilson, Jacques Maritain, and St. Thomas himself, whose Summa Theologica O'Connor claimed to read at night before bed. She was also deeply familiar with the intellectual trends of the day, being an early reader of German philosopher Martin Heidegger in translation and acquainted with the work of Sigmund Freud, Carl Jung, and Martin Buber. Her combination of ancient and modern influences uniquely prepared her for her self-appointed vocation of being a translator of Catholic truths for a skeptical and even hostile modern readership.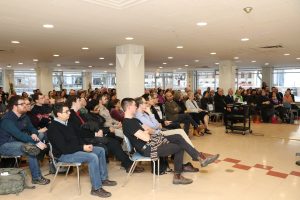 Dr. Bosco gave audience members a chance to meet O'Connor through her own words. He played clips from his documentary during his presentation that included recordings of O'Connor reading one of her most famous stories, "A Good Man is Hard to Find." The film, made possible by a grant from the U.S. National Endowment for the Humanities, takes seriously O'Connor's identity as a Southern woman, a Catholic woman, and a woman, Bosco said, and this approach is what encouraged the Flannery O'Connor Trust to allow him access to the author's archives.
The story of O'Connor's life in Dr. Bosco's telling brings to mind a point of Prof. Langan spoke about the Christianity and Culture program she helped to found: "You don't keep Christianity alive by surviving… you keep Christianity alive by being creative Christians."