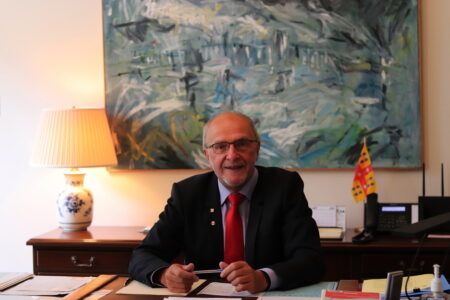 Professor Gilles Routhier will be awarded the highest academic honour at the University of St. Michael's College, the Doctor of Divinity honoris causa, at this year's Faculty of Theology convocation, which takes place on Nov. 13, 2021.
The honorary degree stands in recognition of Dr. Routhier's outstanding body of scholarly work, his continuing international leadership and impact in the field of theology, and his service to his institution and the academy.
Professeur titulaire and former Dean of the Faculty of Theology and Religious Sciences at Laval University, recently appointed Rector of the Seminary of Quebec, Member of the Royal Society of Canada, and priest of Archdiocese of Quebec, Fr. Routhier is a world-renowned scholar who has published extensively and shaped in profound ways the current field of theological study around the globe.
Professor Routhier's body of scholarly work is both monumental and influential. The author and co-author of more than 40 books, and editor and co-editor of more than 35 others, he has published more than 160 peer-reviewed articles, and more than 180 book chapters. He has given more than 300 academic lectures—across North and South America, throughout Europe and in Africa and Asia—on topics ranging from pastoral and practical theology to ecumenism and ecclesiology. He has been awarded approximately $1M CAD in support of his research at Laval. Through his teaching, Fr. Routhier has shaped a generation of critically minded new scholars and had a measurable impact on our understanding of the history of Catholicism in Quebec, the reception and hermeneutics of Vatican II, ecclesiology, missiology, history of theology, Mariology, and practical and pastoral theology.
Professor Routhier is currently working on a research project with Faculty of Theology Professors Michel Attridge and Darren Dias entitled "One Canada, Two Catholicisms: Divergent Evolutions in the Catholic Church in Quebec and Ontario, 1965-1985," funded by the Social Sciences and Humanities Research Council of Canada.
Much of Professor Routhier's work was done while he has carried significant administrative responsibilities at Laval University.  His appointment as Rector of the historic and influential Seminary of Quebec, founded in the 17th century, follows his many years of leadership in the Laval Faculty of Theology and Religious Sciences, as Dean from 2012-2020, and as Vice-Dean from 2008-2012 and 2001-2003. His curriculum vitae captures in detailhis remarkable service to Laval and beyond the University. Among those pages you will find contributions to the Archdiocese of Quebec, the Church in Quebec, service to the Canadian Conference of Catholic Bishops, and to the Vatican. Professor Routhier becomes the most recent in a lengthy list of honorary degree recipients, a list which includes such names as Bernard Lonergan, Catherine de Hueck Doherty, Gustavo Gutierrez and Romeo D'Allaire.
---
Celebrate this year's graduates with us at the Faculty of Theology's Fall Convocation 2021 page.