Two longstanding professors who have made significant contributions to enriching the life of the University of St. Michael's College will receive its highest honour at the Fall Convocation for the Faculty of Theology and the Continuing Education Division. Sr. Mechtilde O'Mara, CSJ, and Fr. Daniel Donovan will be awarded honorary doctorates at the ceremony, to be held Saturday, November 12 at 2 p.m. in St. Basil's Church. Fr. Donovan will also deliver the convocation address.
"The St. Michael's community is delighted to honour Sr. Mechtilde and Fr. Donovan for the many ways they have enriched the life of the University," says University President David Sylvester. "We are grateful for their dedication and their wisdom."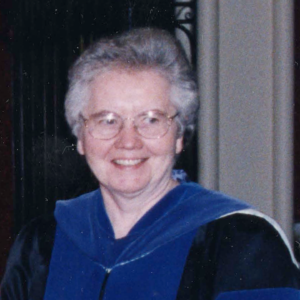 A 1956 graduate of St. Michael's, Sr. Mechtilde had a distinguished teaching career at both the secondary and post-secondary school levels. She was a member of the St. Michael's College Classics Department, which eventually formed the corpus of the Classics Department at the University of Toronto's Faculty of Arts and Science and was part of Professor James McConica's team editing the works of Erasmus for the world-famous Erasmus Collection published by UTP. Sr. Mechtilde was also a dedicated teacher who was much loved by her students.
In 1991, she became the first Vice-President, Administration, of USMC and worked to enhance the research culture at the University and enhance the funding of faculty travel grants and bursaries. As chair of the recruitment committee. she opened new avenues of recruitment in Hamilton, Niagara, Ottawa, and the Greater Toronto area. In 1994, she was the producer of a recruitment film developed by Villagers Communications that won an award for excellence among Canadian Universities.
As a member of the leadership team for St. Joseph's College, she was a keen support to hundreds of residents over the years. One alumna describes Sr. Mechtilde as "a generous and cheerful presence" who, thanks to her teaching experience, had a great appreciation for the stressors of student work. When the announcement came that St. Joseph's College residence was to close, Sr. Mechtilde proposed to her congregation that they begin a ministry for young adults. The result was Faith Connections, a young adult network run by the Sisters of St. Joseph of Toronto and Fontbonne Ministries, where Sr. Mechtilde served as ministry director for eight years. Sr. O'Mara will receive a Doctor of Sacred Letters.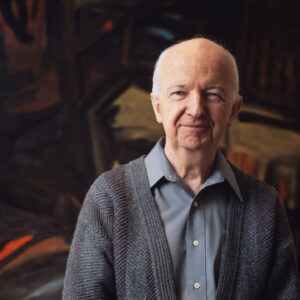 This year marks Professor Emeritus Fr. Donovan's 85th birthday, the 60th anniversary of his ordination, and his 51st year of teaching at St. Michael's. Fr. Donovan is also an alumnus of the college, graduating in 1958. While working on graduate studies in Europe, he began his education in art, visiting some of the world's great galleries.
After earning a doctorate in Munster in northern Germany, he returned to Toronto, teaching at St. Augustine's Seminary for four years before arriving at St. Michael's in 1971, first teaching at the Faculty of Theology and then in the undergraduate Christianity & Culture program. Since his retirement in 2002, he has continued to teach on a part-time basis and remains an inspiration for his students.
A fixture in Toronto's arts community, Fr. Donovan is known for his insights and the supportive feedback he offers young artists, dedicating his Saturday afternoons to visiting the city's many galleries. In 1997, he made the first of what has become ongoing donations of art to St. Michael's. Today, more than 450 pieces donated by Fr. Donovan are placed around campus. Works from the collection, which include paintings, sculptures, drawings and carvings, have been lent to numerous university and public galleries, including the National Gallery in Ottawa the McMichael Canadian Art Collection, and the Art Gallery of Ontario. Over the years, Fr. Donovan's collection has played an important role in his teaching, whether through his asking students to reflect on various pieces or by having them conduct research on an artist and offering input on potential new additions to the collection.
But his impact goes far beyond the classroom. Fr. Donovan is recognized for his participation in the Daily TV Mass program, broadcast across the country and internationally via YouTube. He has been a frequent celebrant and homilist at Toronto's Our Lady of Perpetual Help parish for more than 20 years. Many in the U of T community know him as the priest who has said the early Mass at St. Basil's for the past 25 years. Fr. Donovan will receive a Doctor of Divinity.
All are welcome to attend the ceremony.
---
A list of previous honorary degree recipients is available online: https://stmikes.utoronto.ca/honorary-degree-recipients-of-the-university-of-st-michaels-college