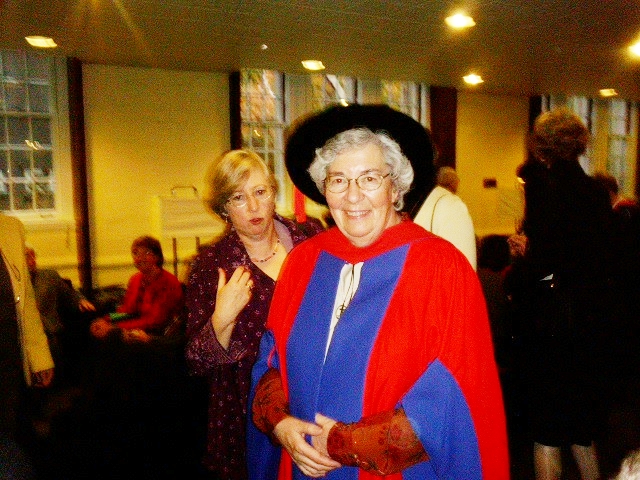 The University of St. Michael's College commemorates the life of Sister Margaret Myatt, CSJ, who passed away Thursday, August 1 after 65 years of religious life with the Sisters of St. Joseph of Toronto. Friends and colleagues remember Sr. Margaret for her important contributions in the Toronto Catholic health care community, for her religious leadership and service, and for her longstanding and essential support for St. Michael's.
Former president of St. Michael's Dr. Anne Anderson, CSJ said Sr. Margaret "was known locally, provincially and internationally for her commitment to Catholic Health Care." In her leadership roles, "she shaped and re-envisioned institutional care to reflect changed needs in the light of a new reality shaped by ever changing technology."
Sr. Margaret graduated from St. Michael's in 1973 with a degree in Religious Studies. She received a diploma in Hospital Administration from the U of T in 1975, the year she became the administrator of St. Joseph's Hospital in Toronto. In that position, Sr. Margaret was responsible for a difficult task: the merger of St. Joseph's and Our Lady of Mercy Hospital. The two organizations became St. Joseph's Health Centre in 1980 after a smooth transition, and Sr. Margaret stayed on in the role until 1990, at which point she became CEO of St. Joseph's Hospital and Home in Guelph, Ontario.
Sr. Anne discussed these leadership roles in her remarks while presenting Sr. Margaret for a Doctorate of Sacred Letters at a Faculty of Theology convocation in 2005. With jobs and livelihoods on the line, the hospital merger was a "delicate" task that Sr. Margaret facilitated with aplomb. She also "brought about reconciliation to a 'fractured and fractious community" at St. Joseph's Health Centre in Guelph through "communication and dialogue," Sr. Anne said, as reported in a story on the Sisters of St. Joseph website.
In an email, Sr. Anne noted that Sr. Margaret's "wise counsel benefited the many Boards and Committees which sought her expertise." Over her 35-year career in health administration, these boards and committees included the Metro Toronto District Health Council, the Catholic Health Association of Ontario, the Catholic Health Association of Canada and the Catholic Health Corporation of Ontario.
After retiring from her work in health care, Sr. Margaret was elected General Superior of the Sisters of St. Joseph. Sr. Anne wrote, "During this period, she fostered and encouraged her Congregation to develop new ministries. Today, Fontbonne Ministries focuses on nurturing community through housing and outreach programs." Sr. Margaret also "partnered with other religious congregations in a 'joint ministry' called Becoming Neighbours which focuses on refugees and newcomers to Canada."
Former St. Michael's president Dr. Richard Alway said Sr. Margaret was elected "at a time when the congregation needed a healing presence as well as someone with a clear vision and communication skills." She proved so effective in the role that she served an unprecedented three four-year terms. Her last election to the role required the congregation to petition Rome for special permission for her to serve a third term, "showing how effective and popular she was."
In the fall of 2007, Sr. Margaret presented Dr. Alway, then president of St. Michael's, a donation of $2.5 million on behalf of the order to endow a chair in the Faculty of Theology. The Sisters of St. Joseph of Toronto Chair in Theology is currently occupied by the faculty's dean, Dr. James Ginther.
In her letter to Dr. Alway accompanying the gift, Sr. Margaret wrote that the Sisters hoped the chair "will serve as a legacy for our Sisters who ministered on campus for over ninety-five years."
Current St. Michael's president Dr. David Sylvester joins Dr. Alway and Sr. Anne in acknowledging Sr. Margaret's contributions to the life of the school.
At the honorary degree conferral for Sr. Margaret in 2005, Sr. Anne discussed the meaning of an honorary degree as "a very public statement of a university's values." The then-dean of the Theology faculty continued, "in her life of Service to the Church, her Congregation and the 'dear neighbour,' Sr. Margaret exemplifies in every way the deeply cherished values that give life and meaning to the ministry of graduate education, here at the University of St. Michael's College."
In an email, Sr. Anne offered further thoughts on Sr. Margaret's life and work, writing, "As a Sister of St. Joseph, Sister Margaret's life of faith exemplified in every way the particular charism of the Sisters – care and concern for the 'dear neighbor'!" She concluded with a passage of scripture: "Those who are wise will shine like the brightness of the heavens, and those who lead many to righteousness, like the stars for ever and ever." (Daniel 12:3)
A visitation for Sr. Myatt will take place at the Sisters of St. Joseph's Residence (2 O'Connor Drive, Toronto, Ontario) on Tuesday, August 6, 2019 from 2:30 to 4:30 p.m., with a prayer vigil at 7 p.m.

A Mass of Christian Burial will take place Wednesday, August 7, 2019 at 10:30 a.m. in the chapel at the same location.