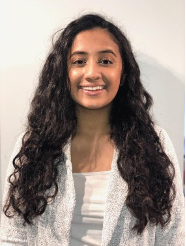 St. Michael's College student Nicole Machado (BSc'21) has been named a finalist for the inaugural McCall MacBain Scholarships, Canada's first comprehensive leadership-based scholarship for master's and professional studies.
The scholarship enables students to pursue a fully funded master's or professional degree at McGill University while connecting with mentors and participating in an intensive leadership development program.
Nicole will join 49 Canadian peers, including two other University of Toronto students, at virtual final interviews from March 11 to 13, 2021. She will participate in interviews with Canadian leaders from academia, business, government, and the social sector.
"We are thrilled to hear Nicole's news and we cheer her on as she moves forward in the McCall MacBain Scholarship process," says Dr. David Sylvester, President of the University of St. Michael's College. "Nicole's academic and volunteer experiences have all been directed toward the greater good. She is a great model of how St. Michael's students understand that education isn't only about books and exams but primarily about recognizing—and celebrating—the dignity and value of all."
Over 735 people applied for the McCall MacBain Scholarships, and 132 participated in regional interviews with local leaders in November before the 50 finalists were selected. Up to 20 McCall MacBain Scholars will be chosen after final interviews.
Finalists were chosen based on their character, community engagement, leadership potential, entrepreneurial spirit, academic strength, and intellectual curiosity.
Nicole volunteered at a local hospital for five years, more recently as a weekly visitor to support elderly patients, and helped prepare meals at a women's shelter. On campus, she mentored first-year students and organized social activities for students in drama clubs.
Nicole is set to earn her BSc in Pharmacology this year. She worked at an oncology lab and, as part of the Professional Experience Year program, conducted research on drug delivery and medical devices at the Massachusetts Institute of Technology. She is applying for master's programs in biological and biomedical engineering and in experimental medicine.
"There is no typical McCall MacBain Scholar," said Natasha Sawh, Dean of the McCall MacBain Scholarships. "We look for potential in students from all walks of life, with different academic and volunteer interests. What unites them is the inner drive to learn, lead, and make a positive impact in other people's lives."
Finalists who are not selected as McCall MacBain Scholars will be eligible for a $10,000 entrance award for their studies at McGill University. The scholarships are the result of the 2019 landmark gift of $200 million (Canadian), the single-largest gift in Canadian history at that time, by John and Marcy McCall MacBain. The McCall MacBain Scholarships will expand internationally over the next decade, with nearly 300 McCall MacBain Scholars selected by 2030.