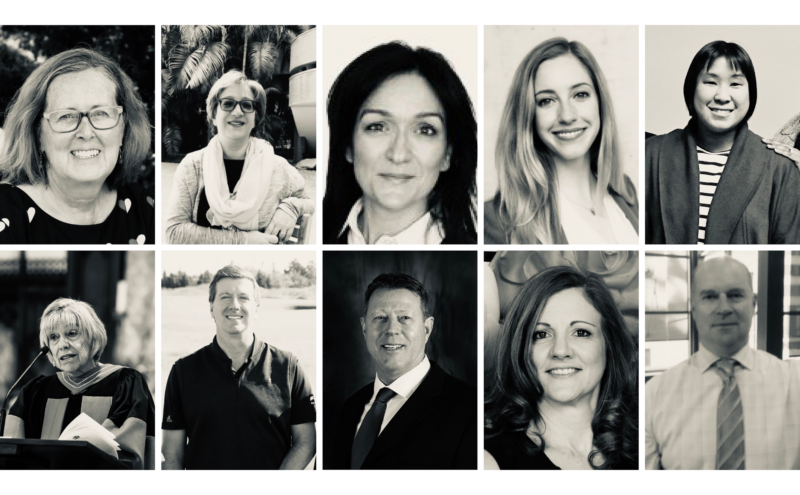 Ten alumni of the University of St. Michael's College have been named recipients of the Arbor Award, the highest honour granted by the University of Toronto. The award recognizes outstanding volunteer contributions to the life and mission of the university community.
This year's Arbor Award winners from the University of St. Michael's College alumni community have helped coordinate initiatives that have funded major improvements for students, supported uniquely impactful programs and associations, and done much else to further the work and community of the university. Join us in congratulating the following recipients:
Wendy L. Brennan (SMC 7T6) has been a volunteer supporter of the Friends of the Kelly Library annual book sale since 2008, serving since 2015 on the executive committee. With her help, the yearly sale has generated proceeds that have directly benefited St. Michael's and UofT students through improving the Kelly Library's physical spaces, updating library technology, and preserving and enhancing its collections.
Susan Campisi (SMC 9T1) has since 2017 served as Awards Officer for the Dalla Lana School of Public Health's Public Health Alumni Association. Through her leadership in the position and her membership on the board, the PHAA has grown stronger, and the awards process has become more efficient and streamlined.
Rosa M. Del Campo (SMC 8T7) has supported the Rotman Commerce community through mentoring students, speaking on panels and moderating for events, and has offered her expertise and support consistently to both current students and alumni in the Rotman community.
Lauren Della Mora (SMC 1T2) received a Fr. Robert Madden Leadership Award from St. Michael's upon her graduation in 2012 in recognition of her service and leadership in the St. Michael's student community. Since then, she has served a valuable role on the Dalla Lana School of Public Health's Public Health Alumni Association's board of directors, and provided mentorship and guidance to students through a variety of organizations at UofT including Women in Science and Engineering and the Faculty of Arts & Science's Backpack to Briefcase program.
Elizabeth I. Lee (SMC 0T5) has served the Factor-Inwentash Faculty of Social Work Alumni Association in a volunteer capacity for the past five years, contributing her administrative talents as Secretary for the association from 2015 to 2018 and continuing to serve since then as a member-at-large.
Dr. Mimi Marrocco (SMC 6T9) has served as her class representative since her graduation in 1969, helping to expand and strengthen the St. Michael's alumni community. Since 2015 she has given tireless support to students in St. Michael's Corporate Social Responsibility program, offering career advice, helping them to connect with the program's alumni network, and lending her expertise in social responsibility, social impact and sustainability.
Barry S. McInerney (SMC 8T5) has served as co-chair of the annual St. Michael's Golf Classic since 2017, and in the role has helped to organize virtually every aspect of the event. Since its inception in 2000, the golf classic has raised more than $2.7 million to directly support St. Michael's students.
Joe G. Nizich (SMC 7T7) has helped coach the Varsity Blues Men's Lacrosse team since 2006 and has been head coach since the fall of 2010. His dedication to the sport and to his student athletes testifies to his commitment to the education of the whole person.
Laura A. Pasut (SMC 8T2) became president of the Department of Nutritional Sciences Alumni Association in 2018 following six years of providing mentorship to students and leadership in the association. She has been credited with helping to revitalize the association and has supported and provided guidance to many students studying in the department.
Stephen T. Taborek (SMC 8T4) upholds the value of St. Michael's approach to the education of the whole person by honouring its athletic tradition. He has supported St. Michael's alumni and students involved in athletics by serving on committees for the Mulock Cup, Lex Byrd award, and Boozer Brown athletics reception, and helped to launch the Lex Byrd bursary for student athletes at St. Mike's.
________________
Since 1989, more than 2,300 alumni and friends have received Arbor Awards for their tremendous generosity and contribution to the experience of U of T students, faculty, staff and alumni. The award is the highest honour granted by the University and is given for sustained contributions to specific academic units, such as faculties, colleges or institutes, or for broader contributions to the University at large.