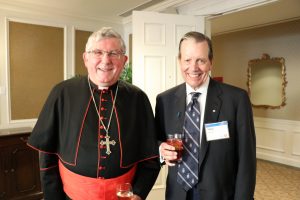 "It has been a productive and energizing year at the University since we met here last fall," said Dr. Tony Comper, 6T6 as he welcomed guests to St. Michael's annual donor appreciation reception on October 5. Members of the Chancellor's Club, Vice-Chancellor's Club and Heritage Donor Society, representing USMC's most loyal and committed supporters, mingled with faculty, staff and students in the Strathcona Room overlooking the Toronto skyline. Hosted at First Canadian Place by BMO Financial Group, the event provided an elegant setting for St. Michael's representatives to thank donors for their generosity, demonstrate the impact of their gifts and update them on highlights from the past year.
"This is a time, really, to celebrate," said St. Michael's Chancellor Thomas Cardinal Collins in his remarks during the presentation. First and foremost, Dr. Comper, Cardinal Collins and all the speakers celebrated the generosity of those present and of all St. Michael's supporters. Chief Advancement Officer Kathryn Elton reported that St. Mike's received $3.85 million in 2016-2017 through donations, bequests, and proceeds from the USMC Golf Classic and annual Kelly Library Book Sale, noting that each and every gift builds on the traditions that distinguish St Mike's.
Salman Rushdie's face shone from the projector screen behind President David Mulroney as he recounted a year of remarkable lectures, including Rushdie's and a talk that New York Times columnist Ross Douthat delivered on the viability of being a "Harvard Catholic." He noted that students and alumni turned out in equal measure to hear from these high-profile speakers, just as students sat alongside alumni during the President's remarks.
Four first year students representing the first cohort of the Gilson Seminar in Faith and Ideas wore black berets in honour of Étienne Gilson, for whom the seminar is named. Principal Randy Boyagoda explained that the seminar, St. Mike's new Year One program, generated the most competition for placement of any University of Toronto Year One seminar, with 300 students applying for 40 spots. After meeting on campus with figures ranging from Cardinal Zen of Hong Kong to Sam Tanenhaus, former editor of the New York Times Book Review, Gilson students are anticipating a trip to Rome in the spring with Dr. Boyagoda and the two postdoctoral fellows who are working with the students. The students' time in Rome is being made possible thanks to the generous support of leading donors.
Also in attendance on October 5 were six new assistant professors whose energy and creativity are inspiring students and helping USMC to reimagine course offerings across its undergraduate programs. A short video introduced the six new faculty members:
Multi-year pledges designated to a new Excellence in Teaching fund are helping to support the salaries of these scholar-teachers. Future donations to the fund will advance this significant investment in St. Michael's programs and honour USMC's legacy of transformative education.
A second video provided guests with a glimpse into preliminary planning for the revitalization of Brennan Hall. David Mulroney explained how this multi-phase renovation project will celebrate Brennan Hall's history as a student centre by centralizing and improving access to services, modernizing student-focused facilities and enhancing gathering and study space in the Coop, recently renamed the Dodig Family Coop in honor of the family's generosity.
News about the renovation of facilities, the hiring of new faculty, and other milestones from the past year emphasized the importance of USMC's history and traditions as the school looks ahead to the future. As the presentation concluded David Mulroney presented Tony Comper with a varsity jacket bearing the new USMC crest—modeled on the design of the crest still visible above the entrance to Brennan—as a gesture of thanks for so generously hosting the event since 2000.
CLICK HERE TO SEE THE FULL PHOTO ALBUM FROM THE 2017 USMC DONOR APPRECIATION NIGHT