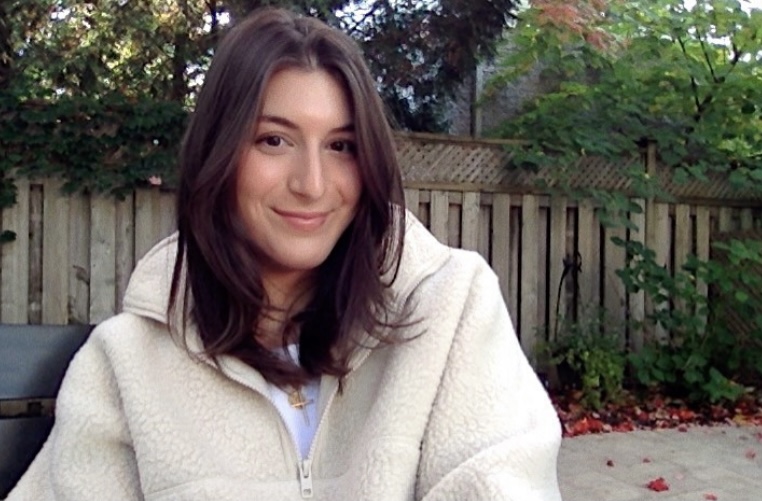 For doctoral candidate Mia Theocharis, an unexpected phone call from St. Michael's President David Sylvester brought with it the opportunity of  a lifetime: an invitation to meet virtually with Pope Francis.
Theocharis has been selected to take part in a virtual meeting with the Pope on February 24. The event, entitled Building Bridges North-South: A Synodal Encounter Between Pope Francis and University Students, is being hosted by Loyola University Chicago in collaboration with the Pontifical Institute for South America as part of the Pope's Synod on Synodality, a process of consulting Church members around the world to gather their thoughts on the issues of the day.
With an emphasis on creating concrete educational projects to effect just environmental and economic change, the February 24 meeting will focus on issues relating to migration.
Panels of 20 or so students from each of seven regions in North, Central, and South America have been meeting online in advance of the virtual gathering to develop ideas on how to respond to migration challenges, reflecting on the various causes behind and how the Church should respond. Theocharis is one of the three Canadian students in her group, which represents eastern Canada and the eastern United States.
Each panel will have a spokesperson appointed to offer a brief summary of their group's thoughts at the February 24. These presentations will be followed by a dialogue with Pope Francis.
"While it would be an honour to be the one to present our findings, honestly the biggest honour is to be part of this process," Theocharis says, describing the drive for concrete ideas and the diversity of panelists she has met in her panel as extremely impressive.
"There are people with backgrounds in economics, environmental sustainability and theology; undergraduates and graduate students. It's exciting to meet everyone involved, especially those from underrepresented groups, and to hear everyone's viewpoint."
The event will be livestreamed on February 24 at 1 p.m. EST.