A coming conference at the University of St. Michael's College entitled The Other Sister: New Research on Non-Cloistered Religious Women (1100-1800), will shine an overdue light on the unique lives of women who lived demonstrably religious but non-cloistered lives outside of traditional monastic structures during the Middle Ages and beyond.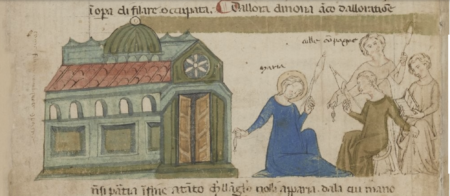 The regional names assigned to these single or widowed women sound today like exotic jewels: beguines, bizzoche, pinzochere are just a few examples, but often stemmed from very specific roles these women filled. And while there is ample evidence of their existence and the charitable work they conducted, they have often been overlooked in scholarly discussions because they fell between the more traditional lives of nuns and married women. One of the chief aims of the conference is to discuss where and how they fit into their times, both within the church as well as within society.
In part, says Dr. Alison More, who is one of the conference organizers and Associate Professor, Comper Professorship of Mediaeval Studies at St. Michael's, one of the challenges these women faced is that since they didn't lead traditional lives — monastic, wearing habits, for example — the church and society were unsure of exactly where they fit in and, thus, they were treated with suspicion, even while answering great societal needs.
"They're not married and they are not nuns…There was a fear of sexual misbehaviour, heresy, or general misconduct" More says, noting that since these women were not the same as nuns, who were immersed in a cloistered, religious life of prayer, "therefore they must be up to no good."
In fact, these women, often funded by wealthy widows or bequests, lived in loose-knit communities. They took on specific, practical roles, for example, as "sisters of the soup," feeding the hungry, as hospice sisters or in the Low Countries, engaging in the cloth trade to fund charitable work, More says. They also served in North America, including New France, for example, educating children.
"Women were doing what needed to be done," she says, noting that these women were asking themselves "how can I imitate Christ in an urban setting," aware of the suffering and needs they witnessed in their own communities and wanting to respond.

"These women played a significant role in society" and managed to work within conventions by applying rules in creative ways, More adds.
The Other Sister conference, which runs May 18-20 at St. Michael's, is a collaborative, international effort organized by University of Toronto mediaeval scholars, including Drs. More and Isabelle Cochelin and a group of graduate students, as well as Drs. Mary Doyno of California State University Sacramento and Patricia Stoop of Antwerp University.
The conference, More explains, grew out of an informal research group of academics pleased to find others working in the same field. During COVID, the group would hold Zoom workshops, where new research was summarized. Once the group neared 50 members it made sense to take the conversations to meeting in person, she says.
 You can register for The Other Sister in person or via Zoom by contacting tos2023conference@gmail.com.