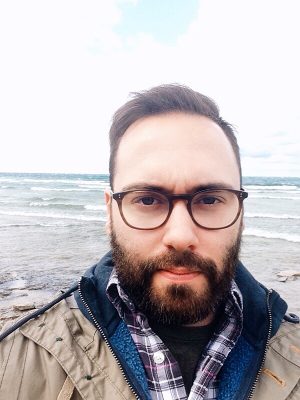 Dear members of the USMC community,
Please join me in welcoming James Roussain as the Kelly Library's new Archivist—Outreach and Instruction, beginning January 9, 2017. Please see below for his biography.
Sheril
Sheril Hook
Chief Librarian, John M. Kelly Library
University of St. Michael's College
________________________________________
Following his graduation with an MI from the Faculty of Information at the University of Toronto, James worked as an Archives and Corporate Records Archivist for the Scotiabank Records and Information Management Office. There he was a primary contact for ensuring business units met their archival responsibilities, to which end he developed education initiatives and conducted training sessions in addition to his development and processing responsibilities.
Prior to his work in the banking sector, James worked with academic archives at both the University of Toronto Archives and the Trinity College Archives. This engendered in him an interest in personal manuscripts and he looks forward to furthering this interest while working with the Kelly's collections.
In addition to a long history of volunteer work with the Association of Canadian Archivists, spanning his student days to the present, James is currently serving as the president of the Toronto Area Archivists' Group (aao-archivists.ca/taag).
Contact Information:
James Roussain
Archivist—Outreach and Instruction
John M. Kelly Library
113 St. Joseph Street
james.roussain@utoronto.ca
416-926-1300 ext. 3322