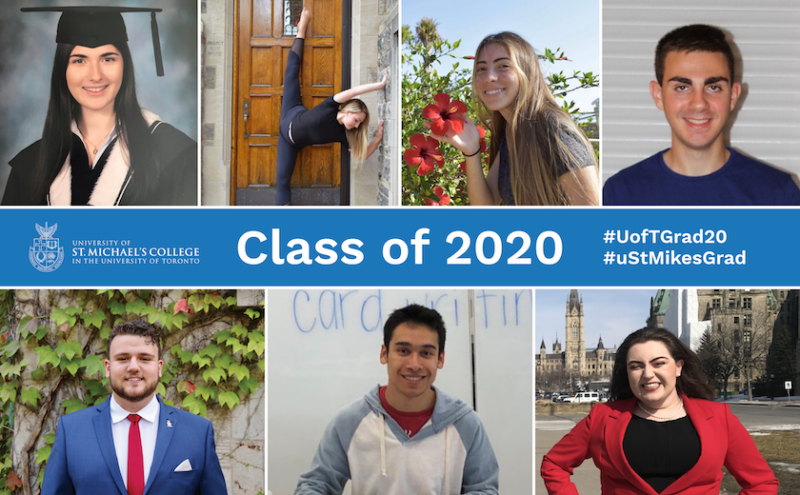 Although a virtual ceremony took the place of an in-person Convocation at the conclusion of their university experience, members of the Class of 2020 look back fondly on their time at St. Mike's, starting from the moment they first set foot on campus. "Every time I think about my time at St. Mike's," Michael Coleman (Honours Bachelor of Science: Physiology and Biochemistry double-major) says, "it really starts from the welcome I got" during Orientation Week.
Anna Zappone (Honours Bachelor of Arts: Environmental Geography major, Forest Conservation and English minors), a veteran of St. Michael's orientations over several years, agrees. "It's such an amazing week, no matter what goes wrong or whatever happens," she says. "Everyone screams until they lose their voices – everything is just so extreme and it's just so fun."
The thrill of the week's activities introduces new students to a community of care and support. Coleman remembers Orientation for the way "it makes you feel a part of something bigger, but not intimidating," a quality he did his best to communicate to new students when serving as an orientation leader and residence don in later years. "Everyone's your family," he says. "It's gotten better every year."
Brennan Hall provides a setting for Paul Nunez's (Bachelor of Arts: English major, Classical Civilization and Anthropology minors) memories of St. Michael's. "I really love how's there's a community within the Coop," he says, "very outgoing, encouraging strangers to join in the fun." Though he often spent late nights there hitting the books alongside his classmates, "we don't usually talk about what we're studying." The camaraderie grew irrespective of programs or disciplines.
Joseph Rossi (Honours Bachelor of Arts: International Relations major, History and Political Science minors) remembers this feeling of camaraderie in Brennan, and across campus generally at "move-in days, Dean's cup events, and great conversations in the residence or in the Coop."
"The college system is great at UofT, and I think it's an important experience," Rossi says. While students benefit from the larger University of Toronto setting, St. Michael's provides community and support on a smaller scale, something that students often mention as being uniquely valuable. "I think that St. Mike's is where I found my support network," says Michelle De Pol (Honours Bachelor of Science: Neuroscience specialist, Physiology minor). "I will remember the support that I felt from other students at St. Mike's most."
Julia Orsini (Honours Bachelor of Arts: Political Science major, English and Italian Culture and Communication minors) comes from a long line of St. Michael's grads, setting her memories of community on campus alongside those of her family. "It's true what they say, St. Mike's is a very tight knit community," she says, mentioning the Office of the Registrar and Student Services as giving her essential support throughout her undergraduate experience. "They were really there to listen and hear what was going on, not only in my academics but in life," she says. "They want to see you succeed."
Family is, of course, the word that keeps coming up in reference to the St. Michael's community—and that family only continues to grow. "I met my best friends here," Kate Friesen (Honours Bachelor of Science: Immunology major, Physiology and Biology minors) says. "Living in residence, we would go out—like half the floor would come to McDonald's to get a coffee at 1 a.m. to keep studying."
Echoing several of her classmates, Friesen says the most memorable thing for her about St. Michael's is "how welcoming everyone was, and how supportive the whole community was, and how fantastic the people were."