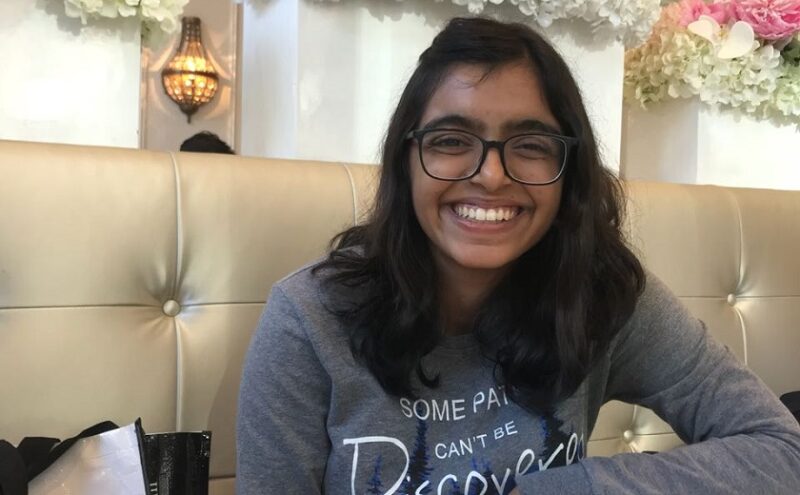 Each year, students come from all over the world to study at the University of St. Michael's College in the University of Toronto. We caught up with one of those students to hear more about what life is like for our international student community, and how St. Mike's becomes a home away from home.
Simran Dhir is a second-year student specializing in Pharmacology and Toxicology while minoring in Education and Society. She came to St. Mike's from Kolkata, India, and is involved with the SMC Troubadours theatre club on campus. She was also a member of SMC One: The McLuhan Seminar in Creativity and Technology, which features an in-course international learning experience to Silicon Valley.
1. What makes St. Michael's a good fit for you as an international student?
St. Mike's is one of the most welcoming places I have been to. Considering how diverse we are, it is impossible not to find people you relate to and who are going through the same things as you. Also, with the help of the super knowledgeable Dons and the Registrar who work so hard trying to ensure that the transition from high school to college goes smoothly, it is hard to not feel as if St. Mike's is a home away from home.
2. What are some of the resources available at St. Michael's that new international students should know about?
We have a really well-organized Mentorship program that pairs incoming students with seniors who share similar interests, and I think it's a really nice way to get to know the workings of the University. Being situated right across from the Kelly Library comes with its perks, and each student has a personal librarian that can help them with their research assignments and writing. There are also study spaces that can be booked for group study sessions. We have a great support system created by our Dons, and we have an excellent team of Commuter Dons who are there for the students who do not live on campus. Our Student Union this year is super involved in campus life and is going out of their way to make students feel like they are being heard.
We also have a wide array of clubs that you can get involved in, like the St. Michael's College Troubadours, which is the drama club at our college, or Clean SMC, which works on creating a more sustainable campus. The Registrar is there to help answer any questions you may have, and is one of the most important resources that you should take full advantage of. Last but not least, interact with the people around you! Your peers are the most underrated resource here and if you let yourself be open to the community around you, you will have some of the best years of your life here.
3. What is your favourite part of life as an international student at St. Michael's?
The community is hands-down my favourite part of life here as an international student. St. Mike's has so many events like the Dean's Cup and Kelly's Corner that provide students with the opportunity to get involved and which garner a sense of belonging. I strongly feel that the diversity present in this college makes us more inclusive, and that no matter where you are from, you will find the support and love you need here.