The Collegium of the University of St. Michael's College acknowledges with sadness the passing of Mr. Bill DesLauriers on Saturday, February 3. Mr. Deslauriers was a 1950 graduate of St. Michael's who went on to a distinguished career in the legal profession, and was one of four founding members of Torys LLP international law firm. In recent years, Mr. DesLauriers generously and unstintingly offered his time and talent in service to the University, most recently as a member of the USMC Collegium.
On behalf of the Collegium and the entire St. Michael's community, I wish to express our condolences and promise of prayers to Bill's family, colleagues and many friends. May Bill find eternal rest and peace in the presence of the Lord he so generously served.
Fr. Don McLeod, CSB
Chair, USMC Collegium
By: Martyn Wendell Jones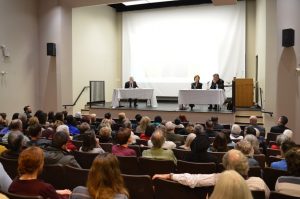 With the Advent season approaching, many Canadians are opening their mailboxes to find them stuffed with thick envelopes from international charities and aid groups. Organizations like Samaritan's Purse, World Vision, and World Relief advertise ways of directing donated goods and monies to those in poverty around the world.
What if organizations like these—and the system of foreign aid-based development and philanthropy they represent—actually do more to harm than help the populations they intend to serve over the longer term? This is the animating concern of Poverty, Inc., a documentary screened in Toronto at the University of St. Michael's College on Wednesday, November 8. The Newman Centre at the University of Toronto and the Archdiocese of Toronto joined St. Mike's in cosponsoring the screening and panel discussion that followed.
The film wastes no time in announcing its target: the "global aid system today," which one subject claims Machiavelli could have described in his famous quotation about the recalcitrance of power in the face of the prospect of real social and economic change. Foreign aid, one of the essential components of this system, involves the transfer of money and goods from wealthy nations to poor nations and Non-Governmental Organizations (NGOs), which distribute these resources to populations in need.
The film identifies the Marshall Plan, an American program of assistance that helped to rebuild Europe after the Second World War, as the model for today's global aid system. One of the most important problems the film identifies is the use of a disaster relief model in the context of countries that have not been stricken with disasters. With local markets and economies undisturbed by war, famine, or earthquakes, these countries become dumping grounds for free goods with which local producers cannot compete.
An establishing scene makes the scenario concrete for the viewer: former American Bill Clinton is recorded offering a public mea culpa for a policy of shipping subsidized American surplus rice to Haiti in the 90s, fundamentally changing the island nation's food culture and driving local farmers out of work. Many of these farmers sought work in cities like Port-au-Prince, and the sudden demand for housing resulted in an explosion of shoddily overbuilt slums—structures that proved especially vulnerable to the ravages of the earthquake that crippled the nation in 2010.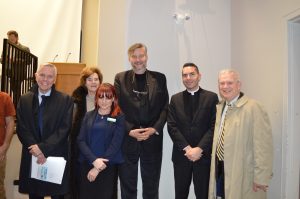 NGOs operate within the global aid system's "social fact," a phrase of Emile Durkheim's referring to the conceptual framework that delimits the strictures within which humanitarian work and even innovation can occur, and the consequences are not always intuitive. Orphanages receive a special measure of scrutiny, with the film arguing that such institutions incentivize the breakdown of families: parents commit their children to orphanages to guarantee that their basic needs are met while also creating the possibility of adoption by western parents. Shocking, the film claims that 80% of Haitian orphans are "poverty orphans": children of living parents who simply feel unable to support them.
Dozens of examples of harm, malfeasance, objectification, and waste are used to support filmmaker Michael Matheson Miller's claim that the global aid system, a multi-billion-dollar industry, operates out of inertia to keep poor people poor; interview subjects repeatedly describe the system as a new form of colonialism. Miller argues that lasting change will only be accomplished by reinforcing the rule of law—considered as a set of fair rules and policies to which everyone, rich and poor alike, has equal recourse under the auspices of fair and accessible public institutions—in countries where its absence makes economic life an unpredictable, high-risk travail for lower-income citizens. The film also advocates establishing greater access to systems of productivity and exchange, robust property rights, and economic partnerships with the poor as means of creating lasting change. "Not aid, but a door in," as one Ghanaian tech entrepreneur says near the close of the film.
After the lights came up in Alumni Hall at St. Michael's, the school's president David Mulroney moderated a panel that explored issues brought up by the film at greater depth. Seated across the stage from him were Anne Leahy, former Ambassador of Canada to the Great Lakes Region of Africa as well as to Cameroon, and Andreas Widmer, tech entrepreneur and former Swiss Guard to St. John Paul II. Widmer also made appearances in the film.
Leahy called the audience of over 200 to consider their motives for giving during the holiday season; the positive feelings elicited by making a donation can serve to mask what Widmer referred to as an abdication of personal moral responsibility. "No government can be a moral actor! Persons are moral actors," the Catholic University of America professor said. It is impossible to "outsource" moral responsibility to governments and companies, even those that claim to serve those in need.
Widmer cited a fact that he took to illustrate the central problem of the global aid system: the continent of Africa is home to 12% of the world's population, and while it receives 30% of the world's aid, only 1.4% of risk capital is directed there for investment. Greater investment could provide for larger loans to become available to businesses in developing countries, which would help to fill in the "missing middle" separating tiny family-run concerns from the giant corporations that predominate in emerging economies.
President Mulroney brought up the issue of Chinese investments in Africa, which projects involve offering "economic rights" with a concomitant promise of political and human rights, which promise is endlessly forestalled. Widmer argued that Western nations need to keep their hands off the "messy process" of decision-making related to development in these countries: censuring such arrangements involves the "same kind of paternalism" for "thinking the Africans can't handle the Chinese."
The availability of work—dignity-conferring, prosperity-generating work—remained one of the panel's focuses in its discussion of means of relieving poverty, and by their lights, there are good reasons for hope. The problem of "crony capitalism" is emerging with greater definition in public consciousness, and regional businesses are beginning to find ways of connecting with the "systems of production and exchange" from which they have been excluded. Leahy and Widmer concluded their conversation amiable after a period of spirited debate, and Mr. Widmer returned to the University of Toronto the next morning to deliver a talk on leadership informed by his experiences serving St. John Paul II in the Swiss Guard.
---
Martyn Wendell Jones is a writer in the Office of Communications at the University of St. Michael's College.
By Martyn Wendell Jones
Salman Rushdie's latest novel opens on the day of President Obama's inauguration in 2009, but America's first black president is not the focal point of the action. Rather, it's a character named Nero Golden, who moves into a glamorous house in a well-to-do neighborhood on that day with his sons. Mr. Golden, a man for whom "the only virtue worth caring about was loyalty," reinvents himself in a very American fashion while trying to escape a sordid past. "We turned away and went on with our lives," the narrator says of the man's arrival. "How wrong we were."
Rushdie read the opening chapter from his forthcoming book The Golden House before sitting down for an interview with Professor Ato Quayson, Director of the Centre for Diaspora and Transnational Studies at the University of Toronto. The event took place in the Canada Room in Brennan Hall, with a large audience of students, alumni and faculty on March 30.
Coming after Two Years, Eight Months, and Twenty-Eight Nights, Rushdie's novel about a war between unleashed supernatural entities in New York City, The Golden House will be a straightforwardly realist novel. However, the book is going to be released in a time "when the nature of our agreement about reality" is "in danger," Rushdie said.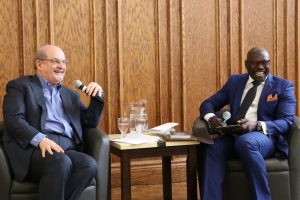 Professor Quayson opened their conversation by asking about the "status of fiction" in a world where "fact is more incredible than fiction," referring to the recent American election and the ensuing social instability. Rushdie said that fiction "exists in a different place than fact" because of the implicit understanding between a fiction writer and reader that the events and characters described are not real. By contrast, "When the president tweets, he is allegedly telling us the truth."
Rushdie's work often uses realistic characters and settings, Professor Quayson observed, that are overlaid with fantastical elements. He compared the effect to that of a palimpsest. Rushdie offered that he first encountered a similar effect in Dickens, but his own interest in layering came from a lost portrait of his own mother, which was painted over by a famous Indian artist and then lost.
Rushdie and Quayson's conversation also touched on Rushdie's way of hearing his characters, the "great lie" we tell ourselves about there being "such a thing as normal life," and Rushdie's trip to India in the early '80s to prepare for writing his Booker Prize-winning second novel, Midnight's Children. He characterized the idea of maintaining deep roots in multiple places as a kind of "fantasy," but "a useful one."
Quayson's last question was posed through a clip of the Beatles song "Blackbird." "How did you learn to take these broken wings and fly?" he asked after the music ended. The point of the song, Rushdie said, is that "everyone is wounded," so that the question of the song is "how do you deal with that?" The question is one every person needs to answer individually, the novelist said.
After the interview's conclusion, numerous St. Mike's students gathered around the novelist with books and smartphones in hand. They were hoping for autographs and selfies, and Rushdie graciously obliged them before leaving.
---
Marytn Wendell Jones is a writer in the Office of Communications at USMC
Booker Prize-winning novelist and free speech advocate Salman Rushdie will be speaking at St. Mike's on March 30 at 10:00am in the Canada Room in Brennan Hall.
By: Martyn Wendell Jones
Salman Rushdie, the author of the Booker-winning novel Midnight's Children (1981), is known for writing thoughtfully, critically and entertainingly on topics from politics to religion. Rushdie's The Satanic Verses (1988), a magical realist novel that contains dream sequences depicting a controversial episode in the history of Islam, brought him world-wide fame when in 1989, Iranian Ayatollah Ruhollah Khomeini issued a fatwa calling for Rushdie's death in response to elements perceived to be anti-Islamic. Though it now lacks the official backing of the Iranian government, the fatwa has not been rescinded. Rushdie wrote about his experiences living under formal protection during the height of the controversy in a memoir titled Joseph Anton (2012).
"The geopolitical responses to Rushdie's work demonstrate that novel-writing matters," USMC Vice President and Principal Randy Boyagoda says. "There's something about the written word, especially when it has contact between the sacred and the secular, that has an effect on people's lives unlike any other." Though Rushdie is an avowed atheist, faith, religion, and revelation have been constant points of interest in his work. "For him the sacred matters in profound ways," Boyagoda says.
Rushdie not only makes heavy use of religious themes and motifs in his fiction, but claims that faith changed his formal approach, as well. In an essay on faith and politics from 1985 entitled "In God We Trust," he writes, "My work, much of which has been concerned with India and Pakistan, has made it essential for me to confront the issue of religious faith. Even the form of my writing has been affected." Magical realism became the vehicle for capturing a faith-inflected point of view: "If one is to attempt honestly to describe reality as it is experienced by religious people, for whom God is no symbol but an everyday fact, then the conventions of what is called realism are quite inadequate."
This experimental and boundary-pushing approach to depicting faith in fiction is part of what makes Rushdie perfect for St. Mike's Principal Boyagoda says: "The ways in which he writes about [religion] can be serious, moving, provocative, and even funny at times. This is exactly the kind of engagement of pressing questions about human life that we seek here at St. Mike's out of our own Catholic intellectual tradition."
Rushdie will be visiting a few months after New York Times columnist and conservative opinion-writer Ross Douthat spoke at St. Mike's on the viability of being a "Harvard Catholic." "Each thinks and writes about the interfaces of the sacred and the secular in divergent ways and together demonstrate the capaciousness of what we're doing here," Principal Boyagoda says.
"If we only invite Ross Douthat or Salman Rushdie, that's not really interesting," Principal Boyagoda continues. "It's having both speak at St. Mike's that makes this interesting."
All tickets to the free event have been reserved.
For over two years, librarians, archivists, and conservators at the Kelly Library at St. Mike's have had an ongoing discussion about the prospect of a conservation studio being added to the library. Chief Librarian Sheril Hook took the lead on the project, and on February 28, the years of talking and planning will pay off with the opening of the new studio.
The conservation studio will be the biggest of its kind at the University of Toronto, and will be a resource for the entire school as well as the greater community. Jessica Barr, University Archivist for St. Mike's, says that her primary hopes for the project are increasing the use of the library's materials while also making them more accessible to non-specialists. Barr chaired a committee that developed an exhibition about conservation, "Preserving our Collections," which will open the evening of the studio launch.
Not only will new equipment and facilities enable library workers to repair the sorts of accreted damage that naturally result from "wear and tear for 500 year old books," but community members will have a place to go with questions about how to preserve antique photo albums, keepsake documents, and printed family heirlooms such as old Bibles or marriage licenses.
Funded through a will bequest as well as proceeds from the 2015 USMC Golf Classic fundraiser, the conservation studio required significant additions and changes to the layout of the third floor of the library. The studio will be surrounded with soundproof glass and paneling, which will preserve the library's quiet atmosphere on the floor as conservators work inside with specialized equipment.
This equipment includes a fume hood that disperses chemical vapors produced during certain treatments, two sinks, two large rolling tables with space to accommodate materials of unusual sizes and dimensions, and a device known as a "snorkel," which hangs on a flexible ventilation tube from the ceiling and acts as a mobile version of the fume hood. The studio will also have special storage for acids and chemicals used in conservation treatments, and black-out blinds that are used in photographing materials before and after conservation treatments.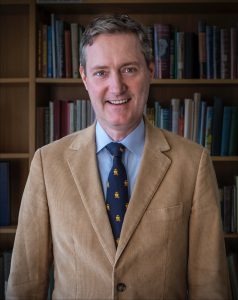 Barr is excited about new services that the studio will provide. "One of the things [we] can do is humidity treatments," she says. "We have a lot of vellum books that are splayed [open]," and conservators working in the studio will be able to place these in a chamber "to relax the vellum," which can help to return the books to "a normal state." However, she's most excited about the potential for growing the use of the collections. The space is large enough to accommodate classes and workshops, and she anticipates regular visits from students in the Book & Media Studies program.
The February 28 opening event begins at 5:30 PM, and will begin with a talk entitled "Unbuilt U of T: Images from the Archives" by St. Mike's alumnus Mark Osbaldeston. Osbaldeston's first book, Unbuilt Toronto, received a Heritage Toronto Award of Merit and was a finalist for the Toronto Book Awards. After Osbaldeston's talk, guests will be invited to browse a main floor exhibit on conservation at the Kelly Library, and will also have opportunities to tour the new studio.
On January 27, 2017, United States President Donald Trump signed an executive order relating to
immigration. This order bans individuals from seven countries (Iran, Iraq, Libya, Somalia, Sudan,
Syria and Yemen) who hold valid visas and green cards from entering the United States for 90
days. The president has also banned refugees from entering the USA for the next 120 days.
The Association of Catholic Colleges and Universities in Canada shares many of the same
concerns as expressed by Universities Canada regarding the devastating implications that these
new restrictions will have on refugees, as well as for international students, staff, researchers and
faculty in Canada who are from the affected countries:
Statement in Response to US Exectuive Order
We also join with our American counterpart, the Association of Catholic Colleges and
Universities (ACCU), in objecting to this executive order:
ACCU Statement on Recent Executive Order by the President
The Association of Catholic Colleges and Universities in Canada (ACCUC) is deeply concerned
that these executive orders are contradictory to basic human rights. Furthermore, restrictions for
those from the specifically named seven countries will have a deleterious effect on many academic
communities by stranding individuals who are temporarily in Canada for scholarly pursuits, block
those needing to renew study permits that require crossing the American border, prevent family
members residing in the USA from uniting with others, and prevent many from attending research
and academic conferences, service learning, exchange programs, as well as field research and joint
projects.
The free flow of ideas and scholarly research is imperative to our society. As leaders of our
Catholic institutions of higher learning, we are very concerned that this executive order runs
counter to principles of basic human rights as well as educational and scholarly pursuits. We quote
from the 1990 Ex Corde Ecclesiae, The Apostolic Constitution of the Supreme Pontiff John Paul II
on Catholic Universities:
Every Catholic University, as a university, is an academic community which, in a rigorous
and critical fashion, assists in the protection and advancement of human dignity and of a
cultural heritage through research, teaching and various services offered to the local, national
and international communities.
And regarding the protection of all, especially the most vulnerable, we call on everyone across
Canada and the USA to recognize that we have a moral duty to assist migrants, particularly those
who are fleeing any kind of persecution. To quote Pope Francis: "It's hypocrisy to call yourself a
Christian and chase away a refugee or someone seeking help…."
Gerry Turcotte, PhD
Chair, ACCUC
President, St. Mary's University, Calgary
Christopher Adams, PhD
Vice-­‐Chair, ACCUC
Rector, St. Paul's College
University of Manitoba