John Paul Farahat is Director of Music and Principal Organist of St. Basil's Church. He conducts St. Basil's Schola Cantorum and Parish Choir. He received the Doctor of Musical Arts degree in Organ in 2019 from the University of Toronto, where his research focused on the life and improvisations of Victor Togni (193 –1965), internationally-renowned organist of St. Basil's and St. Michael's during the 1960s.
---
Liturgical Music in this Long Lent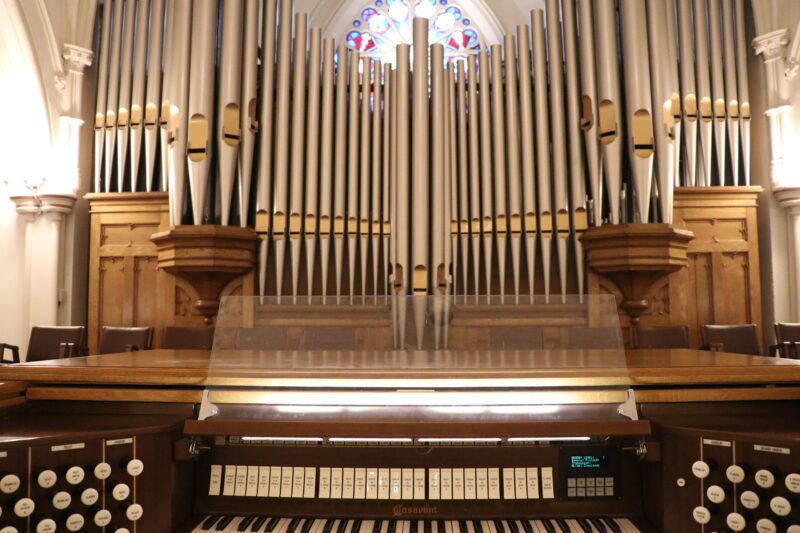 Liturgical music in Lent can sometimes feel like a trimmed-down version of what we would experience in Ordinary Time. In Lent, the Gloria and Alleluia are omitted. The organ is only used to support singing, and there are no preludes or postludes (with the exception of Laetare Sunday, and the solemnities of the Annunciation and St. Joseph).

In normal times, these changes are felt with a particular intensity over a 40-day period. But much of the liturgical music of the last 12 months could be said to reflect that pared-down character of the Lenten season.
The most noticeable change in liturgical music since March 2020 is the suspension of congregational singing.
The 1967 document Musicam Sacram: Instruction on Music in the Liturgy was a product of the Second Vatican Council. It spoke beautifully about the importance of congregational singing, a directive wholeheartedly embraced by the St. Basil's community. But in a context in which congregational singing is suspended, how do we understand the role of music in worship? While Musicam Sacram justly emphasized the role of outward congregational song, it expanded on this by underscoring that congregations "should also be taught to unite themselves interiorly to what the ministers or choir sing, so that by listening to them they may raise their minds to God" (Art. 15).
St. Basil's has adopted and applied this directive with care by reintroducing the regular use of entrance and communion antiphons in the liturgy. In listening to and praying with the antiphons, the congregation enters more fully into the celebration of Mass. Like the readings, psalm, and gospel acclamation of the Liturgy of the Word, the antiphons change daily, set as part of the lectionary cycle. The antiphons are scriptural, appointed for each Mass, and are intimately linked to the texts of the liturgy. Take, for example, the Entrance Antiphon of the Second Sunday of Lent, connected to the Gospel reading of the Transfiguration: "Of you, my heart has spoken: Seek his face. It is your face, O Lord, that I seek; hide not your face from me" (Ps. 27). Or, alternatively, the Antiphon at the beginning of the Palm Sunday liturgy: "Hosanna to the son of David: blessed is he who comes in the name of the Lord, the King of Israel. Hosanna in the highest!" (Mt. 21).
The music ministers of St. Basil's have also adapted their roles to the realities of the pandemic. St. Basil's Schola Cantorum, an octet comprised of students who would sing both on weekends and select weekday feasts and solemnities, has restructured into small and safely distanced quartets. In addition, they have supplemented the roster of cantors who sing for Mass (in person and live-streamed). St. Basil's Parish Choir, usually a hallmark of worship on Sundays at the 10:30 Mass, has been rehearsing weekly online since last March, and occasionally recording virtual choir videos. The next video will be released during Eastertide. The St. Basil's Singers, too, have met regularly online.
I am confident that the community will reclaim its collective voice at the end of the pandemic. Once we exit this long Lent of many months, we will once again be able to come together as a community in worship in a way that resembles normalcy. In the words of St. Paul, we will "sing songs, hymns, and spiritual songs" (Col. 3:16).
And, surely, we will sing an Alleluia or two as well.
---
Read other InsightOut posts.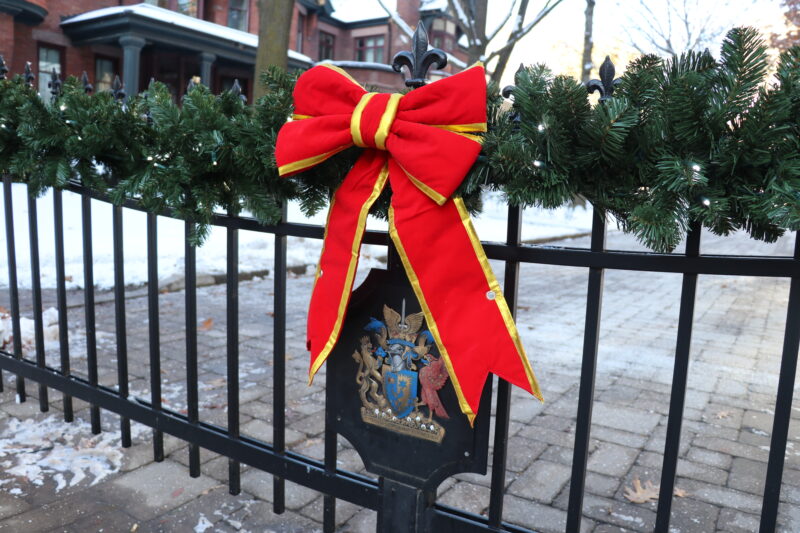 Not even a pandemic can stop Christmas from coming to St. Mike's.
While the campus is quiet and missing many of the traditional seasonal activities this year—the alumni Christmas tea and the Schola Cantorum Advent concert are two notable, sorely missed examples—our gorgeous Christmas lights will still illuminate the grounds to bring cheer both to those students in residence as well as to neighbours and passersby.
To ensure that help gets to those in need, the annual toy drive, which sees St. Michael's team up with the University of Toronto campus police and the Society of St. Vincent de Paul, is accepting donations online to buy gift cards for families so that parents can pick out the perfect items for their loved ones. Donations of gift cards are also being accepted at the security desk in Charbonnel Hall at 81 St. Mary St. Donations are being accepted up until Friday, December 4.
And in this season of giving, the University has been particularly touched by the generosity of the creative minds who came up with a way to compensate for the fact the annual golf tournament fundraiser was COVID-cancelled. Two golf tournament sponsors—Mackenzie Financial and CIBC, who are represented by event co-chairs Barry McInerney and David Scandiffio—made donations of $10,000 each this year instead of sponsorships. USMC matched these donations with proceeds from previous years' tournaments to create a $40,000 expendable fund, allocated care of the Registrar's office, to help students with exceptional needs related to COVID.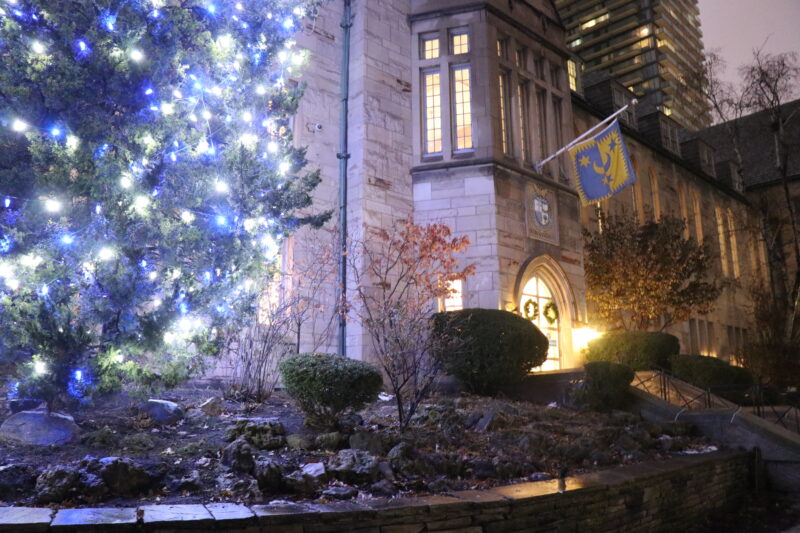 This approach parallels the Faculty of Theology fund created earlier this year, which was built from donations and matched by St. Michael's. Together, these gifts represent the continued loyalty of golf tournament sponsors and the commitment of alumni, faculty, staff and the university to helping students during this challenging time.
At a time when food banks and social service agencies are seeing soaring demand, the generosity is being spread widely. Another golf tournament sponsor, Mawer, donated $5,000 in lieu of sponsorsip. This, too, was matched with donations from previous years and augmented by other alumni gifts, creating a gift of $12,500 to support the Out of the Cold program at St. Basil's Church.
While an Advent Vespers service followed by dinner is one of the highlights of the Faculty of Theology's social calendar, Vespers will be observed online this December, with a social gathering to follow. And since there'll be no dinner cheque for the SLC to pick up this year, they're offering a great incentive to partygoers, promising to make a $15 donation to the Into the Cold program for each person who attends the online party.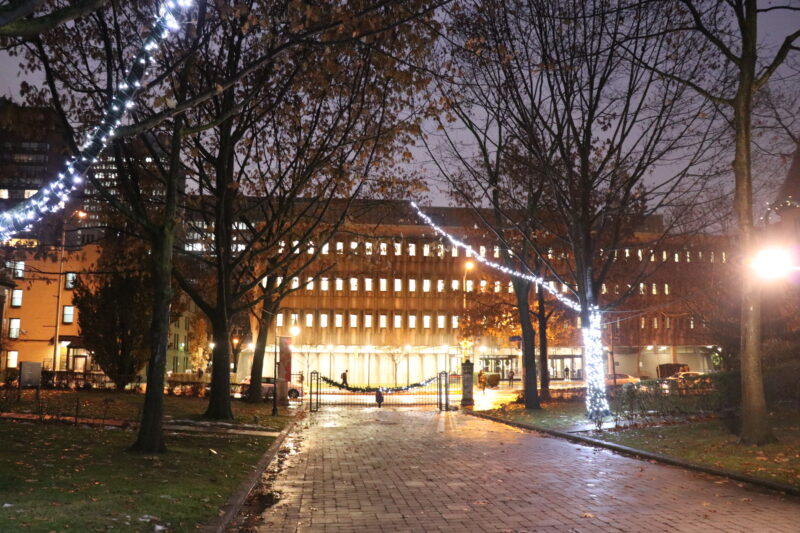 The undergrads also have online fun planned, with a Winter Festival from Dec. 4 to 6 featuring decorating Christmas ornaments with the commuter dons, a Kelly's Corner, and a family dinner all lined up.
And while most of us will find this a quieter, slower-paced Advent season, without the usual trips to the mall or holiday parties, there is no doubt we could all use some peace. With that in mind, St. Basil's is hoping to open the church for prayer from 7:30 to 8:30 a.m. and 12 to 1 p.m. Monday to Friday, 5 to 6 p.m. Saturdays, and 12 to 1 p.m. and 4:30 to 5:30 p.m. on Sundays. Capacity when the church is open is restricted to 10 people. During these prayer times, a priest is usually available to hear confessions, except for the 7:30 to 8:30 a.m. time periods.
COVID-19 may have changed this holiday season, but the heart of St. Mike's just continues to grow.
Emily VanBerkum (USMC MDiv 2015) is the Dean of Student Residence at Loretto College, and John Paul Farahat (UofT DMA 2019) is Director of Music and Principal Organist of Saint Basil's Church.
---
Enjoying Life's Quiet Moments
"How many times have you noticed that it's the little quiet moments in the midst of life that seem to give the rest extra-special meaning?" — Fred Rogers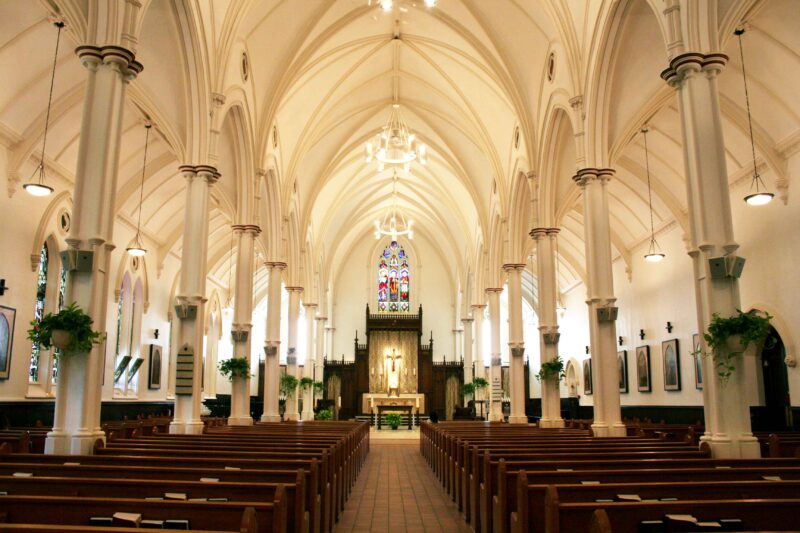 The story of the proposal is really a two-part saga. Last year around this time, we were vacationing in Chamonix, France. Standing at the base of Mont Blanc, eyes gazing up at the breathtaking alpine landscape with gelato and marzipan cookies in hand, we considered ourselves incredibly grateful.
Unbeknownst to one of us, an engagement ring had been discreetly tucked away in our luggage for a surprise proposal in the Alps. But that carefully chosen landscape would fall through following an ill-timed fall down an old stone church staircase moments before that destined date-night dinner. Instead of a picturesque engagement ring reveal in a historic gazebo on a crisp late summer night under a sky of twinkling stars…a torn ligament, a pair of crutches, and a wheelchair ride through the Geneva airport.
One month later—ankle reasonably healed—we took a relaxed evening stroll along Toronto's Queen's Quay. Nearing sunset, on an ordinary park bench looking out to the calm waters, a proposal happened at last. A wild success: two elated smiles (and no torn ligaments). It was a perfectly tranquil, joyful moment. We laughed at the story of the-Chamonix-proposal-that-almost-was, and exclaimed to each other that 2020 was the year to be married—a year of perfect balance and harmony. We unhesitatingly chose Saint Basil's, a parish to which we have both happily belonged since our student days, and set a date for September, 2020.
Much has changed in the world since we made initial arrangements. While our 2019 selves were focused on venues, vendors, realizing the "wedding vision," and planning for out-of-country family members to attend, our 2020 selves have been more concerned with health, safety, and grappling with our new reality.
Our new central question was shared with many others: do we go ahead with the wedding, or do we postpone?
Our engagement story provided us with a providential lesson. The elaborate getaway proposal in Chamonix—with bells, whistles, and grand gestures—was replaced with a quiet proposal close to home, with only the most essential elements: the two of us, the "big question," and a whole-hearted promise to spend our lives together. Indeed, the most though-out plans do not always go according to plan. Often, it is the beauty of the "quiet" moments that we cherish so deeply. It's these instances that capture a moment in time, leaving an indelible mark on our minds and hearts.
Therefore, we have decided to move ahead with the originally scheduled date.
Establishing a sacramental union in Saint Basil's, even without the larger guest count, elaborate reception, or flourishes that we had originally imagined, allows us to be true to what is most foundational: that marriage is a vocation in which the couple is drawn together for a purpose greater than themselves. Just like the proposal, our wedding day will be a reminder to find joy and contentment in the quiet, less elaborately planned moments of our married lives.
The beginning of our married life, surrounded by a small gathering of immediate family, will be at the forefront of our special day. And while we know the wedding day doesn't make the marriage, in the end, perhaps the apparent "quietness" of the day will be everything we didn't know we needed.
---
Read other InsightOut posts.
Fr. Morgan Rice is the pastor of St. Basil's Church, the college parish. He is a graduate of the Faculty of Theology, where he earned a Master of Divinity degree in 2009. Fr. Morgan arrived at St. Basil's after serving as Associate Pastor at St. Kateri Tekakwitha Parish in Rochester, New York, for eight years. Born and raised in Corpus Christi, Texas, Fr. Morgan studied mechanical engineering at the University of Virginia and later worked for six years in the engineering field in Houston, Texas.
---
Vulnerability and Life
Last Sunday, the first segment of CBC's The Sunday Edition featured Yale University historian and professor emeritus Frank Snowden, who spoke on how pandemic diseases have shaped human history by exposing and taking advantage of weaknesses, or vulnerabilities, in human society. He said that COVID-19, like other pandemic diseases, "is showing us what our deepest vulnerabilities are in the world that we've made." Capitalizing on those vulnerabilities, the disease is altering life and relationships across the globe.
Vulnerability can be viewed in different ways. If seen as opening us to hurt and loss, we have good reason to avoid it. However, vulnerability, especially in the context of a safe environment with people we trust, can open us to some profound experiences and relationships.
The Triduum that begins tonight with the Mass of the Lord's Supper and ends with the Easter Vigil invites disciples of Jesus to consider vulnerability as a necessary disposition that leads to life in the fullest. Three months ago, I would never have imagined that I would be celebrating tonight's Mass in an empty church without a congregation, without music, and without the washing of feet, one of the most moving aspects of the liturgy. Over the years, I have come to realize that asking individuals to have their feet washed is asking them to be vulnerable—to bare their feet, thus exposing any imperfections, and allow me to touch and wash their feet as I humbly kneel before them. However, taking that risk opens them and me to a powerful experience.
Jesus insisted he wash the feet of his disciples otherwise they would have no inheritance with him (John 13.8). They were to do likewise. "So if I, your Lord and Teacher, have washed your feet, you also ought to wash one another's feet" (John 13.14). This lesson foreshadowed Jesus' ultimate act of love and vulnerability as he submitted to the Cross, which led to the new life of the Resurrection.
COVID-19 has altered life as we know it and likely will continue to do so for some time. While it is showing us vulnerabilities that have opened us to great losses and pain, how might we use vulnerability differently? Jesus shows us the way and that is through relationships—by choosing to be vulnerable with each other, offering our lives in service and love, washing each other's feet so that all might experience greater life.
---
Read other InsightOut posts.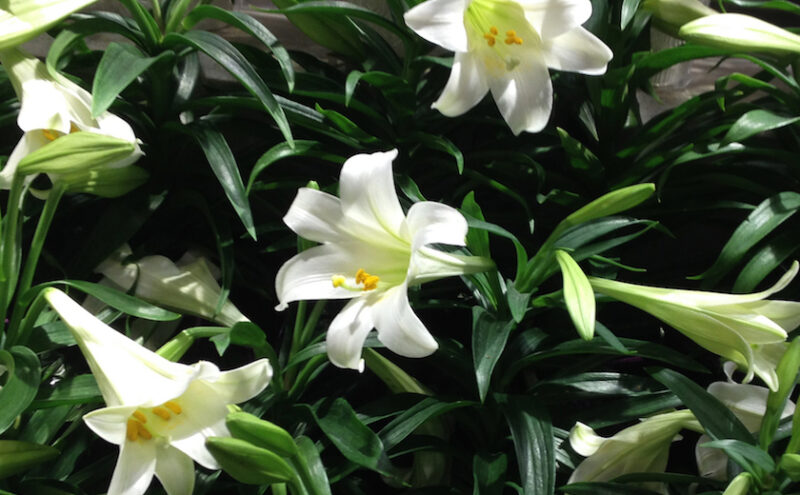 Then Jesus went with them to a place called Gethsemane; and he said to his disciples, "Sit here while I go over there and pray." He took with him Peter and the two sons of Zebedee, and began to be grieved and agitated. Then he said to them, "I am deeply grieved, even to death; remain here, and stay awake with me." And going a little farther, he threw himself on the ground and prayed, "My Father, if it is possible, let this cup pass from me; yet not what I want but what you want." Then he came to the disciples and found them sleeping; and he said to Peter, "So, could you not stay awake with me one hour? Stay awake and pray that you may not come into the time of trial; the spirit indeed is willing, but the flesh is weak." Again he went away for the second time and prayed, "My Father, if this cannot pass unless I drink it, your will be done." Again he came and found them sleeping, for their eyes were heavy. So leaving them again, he went away and prayed for the third time, saying the same words. Then he came to the disciples and said to them, "Are you still sleeping and taking your rest? See, the hour is at hand, and the Son of Man is betrayed into the hands of sinners. Get up, let us be going. See, my betrayer is at hand."
Matthew 26.36-46
The isolation of the Garden of Gethsemane takes on new meaning for many of us in this unprecedented experience of the season of Lent. As we move toward the Triduum, the pinnacle of the Church year, the COVID-19 pandemic and the resulting physical distancing which has closed churches to the public has forced all of us to rethink how we worship, as well as to remember why we do.
Normally at this time, our campus would be alive with students handing in papers, doing last-minute check-ins with professors, returning library books, and preparing for exams. They would also be visiting St. Basil's, our beautiful collegiate church, attending one of the two daily masses, receiving the sacrament of reconciliation, and preparing to observe the passion, death and resurrection. There would be a sense of completion to the students' year, as there would be for faculty and support staff. An academic year would be drawing to a close, just as Easter was about to herald new life.
In our current reality, however, norms have disappeared, which poses multiple challenges. But St. Michael's is a collection of communities, including a community of faith, and so we thought we'd share a few thoughts on how to support each other as we prepare to say, once again, "He is risen!"
St. Michael's alumni members have a long tradition of a Lenten retreat. When they were unable to meet together, Dr. Colleen Shantz, who was to lead the retreat with Dr. Darren Dias, O.P, created a virtual retreat, which you can find here. Thanks to both professors for their efforts.
Dr. Dias, who teaches Trinity in the Faculty of Theology, reminds us there are many ways to mark this holiest of seasons, even if we are not able to access our normal traditions.
For example, "people could do a solitary stations of the cross by walking outside and stopping to say a station prayer 14 times," Fr. Dias suggests. "This would get people outside and attentive to the season."
As well, "families could read and meditate upon the readings of the day. We can promote the domestic church in this way," he adds. He also suggests calling an elderly or isolated person to pray with them over the phone, a very powerful reminder of the injunction of when two or more are gathered.
If you watch our website in the coming days, you'll see homilies from Fr. Darren posted for both Palm Sunday and Easter, and Fr. Morgan Rice, CSB, will contribute the Holy Thursday post to InsightOut, our COVID-19-related blog, on Holy Thursday.
St. Basil's links to some useful supports for prayer during Lent, and we applaud their efforts to help people in prayer at this unusual time. So, too, does the Archdiocese of Toronto, and we are grateful.
One of the nicest links we've seen is this one, which offers a heartfelt alternative to the usual Palm Sunday traditions.
While we may not be physically together on this Lenten journey, we are very much together in spirit, and we look forward to the day when we can gather together and say, "He is risen. Alleluia!"
Note: Due to overwhelming interest, all tickets for this event have been reserved. We thank everyone who has expressed interest in attending.
After fire destroyed much of Notre Dame Cathedral earlier this year, Paris and the world were relieved to discover that the landmark's 19th-century Cavaillé-Coll organ, one of the most powerful and moving organs in the world, had survived the blaze.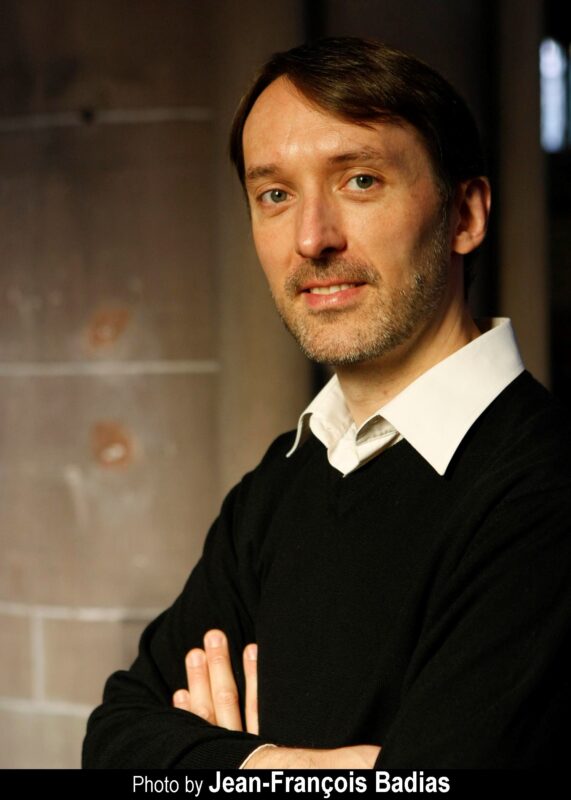 Now, seven months after the April 15 fire, one of the few people in the world to regularly play the Notre Dame organ will be on campus to perform a very special concert.
Olivier Latry, Titular Organist at Notre Dame since 1985, will visit St. Basil's Church at the University of St. Michael's College to play in honour of the 100th anniversary of the installation of St. Basil's organ. The Royal Canadian College of Organists will co-sponsor the event.
"I'm very honoured to be chosen to come for the 100-year anniversary," Latry says, noting that Notre Dame's organ will inevitably influence his performance in St. Basil's.
"I've spent two-thirds of my life at Notre Dame," say Latry, whose January album recorded in the iconic church was the last recording made on the Notre Dame organ before the fire. "I'm always thinking about the organ, and when I'm somewhere else, I try to reconstruct the sound that I have in Notre Dame on the organ that I will play."
The Casavant Frères organ Latry will play at the Fri., Nov. 22 concert in St. Basil's may serve that purpose well. First installed in 1919, the instrument is one of the few organs in Toronto to be built according to the ideals of the French Symphonic style, which characterizes the organ at Notre Dame as well.
"St. Michael's is thrilled to celebrate the 100th anniversary of the installation of the organ at St. Basil's, which has been at the heart of our campus community since we opened our doors on Clover Hill in 1856," says St. Michael's President Dr. David Sylvester.
Since its installation, the St. Basil's organ has provided an accompaniment to some of the most important moments in academic and liturgical life for the St. Michael's community, including convocation and invocation Masses, presidential installations, weddings, funerals—and, of course, the regular weekday and Sunday Mass.
"The instrument Olivier Latry will play marries the academic and liturgical sides of our community. We look forward to welcoming members of our larger university and city community to enjoy Latry's performance on Nov. 22, a day on which the Church celebrates the Feast Day of Saint Cecilia, the patron saint of music," President Sylvester says.
Fr. Morgan Rice, CSB, the church's current pastor, says St. Basil's is "an enormously important part of not just the spiritual life of St. Michael's, but also the community life of St. Michael's." Students can often be found at the church gathering for events or volunteering with social outreach programs such as Out of the Cold, which provides food and hospitality to members of the homeless population in Toronto.
The longest continuously operating building on the University of Toronto campus, St. Basil's Collegiate Church first opened its doors in 1856, the day before the opening of the St. Michael's campus at Clover Hill, its current location. The parish has been administered since its founding by the Basilian Fathers, the same teaching order that helped to found St. Michael's.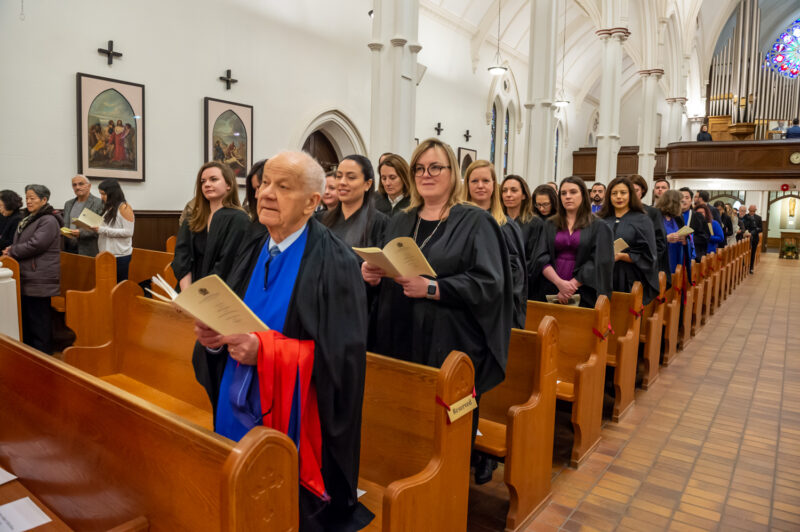 In addition to their presence in college classrooms as professors, the Basilians have remained a central presence at St. Michael's through their work at the church, providing another point of connection with staff, faculty and students. "I hope that Basilian presence on campus through our ministry at St. Basil's will continue for many years to come," Fr. Rice says.
Latry's Friday evening performance will follow a special interview with Dr. John Paul Farahat, Director of Music and Principal Organist at St. Basil's. Dr. Farahat, who has performed on the Notre Dame organ himself, directed a rebuild in 2017 of the St. Basil's organ by Casavant Frères and the Alan Jackson Company that lowered a section of the façade enough to allow the beautiful rose window on the south side of the church to be visible from the floor.
Farahat had two goals for the rebuild of the St. Basil's organ: "first, to create an instrument for worship and prayer that was viable for the next generation, and second, to make an instrument well suited to French repertoire."
The lowering of the organ's façade was intended to create "a visual component to that [beautiful sound]." A priority during the rebuild was creating "an exceptional teaching instrument for organ students in general," he says.
Farahat says the organ has become a resource to students at the U of T studying organ performance, as well as professors and music directors who come from all over the city to play the instrument.
While Latry is chiefly known as a principal organist at Notre-Dame Cathedral, he is also Professor of Organ at the Paris Conservatory, and his visit to St. Michael's will incorporate both his liturgical and educational roles.
In addition to his evening concert at St. Basil's, Latry will provide high-level personalized instruction to four students from U of T's Faculty of Music, who will have an opportunity to join him in the organ loft Friday morning for a two-hour masterclass.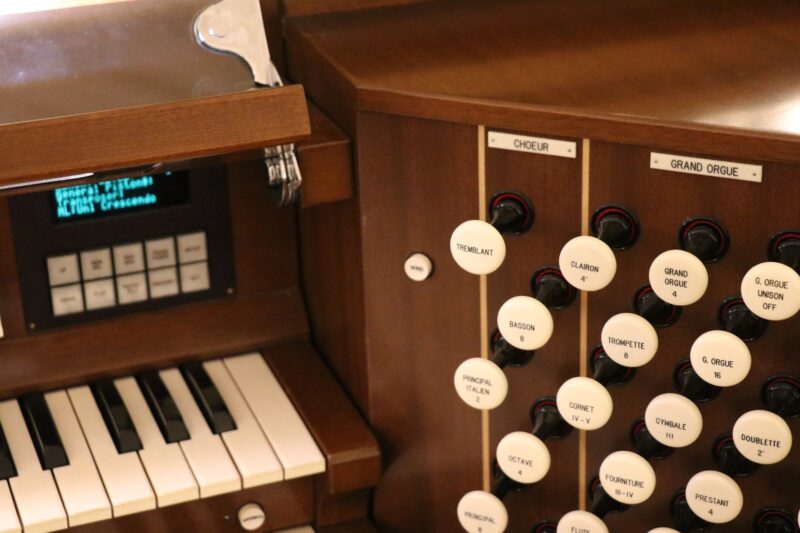 Faculty of Music Associate Professor Kevin Komisaruk says the masterclass will give these students "a rare chance to experience customized instruction from one of the world's most experienced and accomplished professionals.
"Latry is a world celebrity among organists! It is always a transformative thrill for students get a chance to see themselves in their role models," Dr. Komisaruk says. "We are deeply grateful that St. Basil's has consistently shown such grace and openness in supporting the pedagogic development of our students by allowing them to practice, study, and perform at this historic instrument."
Dr. Komisaruk was himself organist at St. Basil's, and one of the students in Latry's masterclass, Stefani Bedin, is now Associate Organist at the church. Bedin is also a Doctor of Musical Arts in Performance student in the Faculty.
"Olivier Latry is one of the custodians of the esteemed French organ tradition, so I particularly look forward to hearing his comments on the French organ repertoire," Bedin says. "It is wonderful that the collaboration between St. Basil's, the University of St. Michael's College, and the wider community has made this truly exceptional event possible."
Latry's repertoire for the concert will include both sacred and concert pieces meant to showcase the organ's French Symphonic qualities, but the technical virtuosity is an expression of a simple desire: "It's nice to share my passion.
"You are always touched by the sound of the organ. You will always find something which touches you," he says. "I think that related to the music which was composed for the instrument, there is a lot to discover and there's a lot also to enjoy."
More than anything else, that enjoyment is what he hopes to provide during his St. Basil's performance.
"I would say to the people: just come and listen and enjoy."