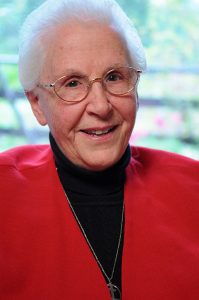 Sr. Sue Mosteller, CSJ, encouraged those attending this year's virtual Alumni Retreat to look to the life of St. Joseph for inspiration on how to cope during COVID-19.
Offering a reflection at the annual event, titled Finding Inspiration and Hope in the Year of St. Joseph, Sr. Sue acknowledged to the group of more than 50 assembled online that these are very hard times for all, but that her patron saint continues to offer us guidance and serve as a role model.
"We need lots of help. Our hearts are wounded. Our hearts are vulnerable," she stated, pointing to the various hurdles the pandemic has created for people.
But, she added, if we look to how St. Joseph responded to extraordinary challenges in his life we can then apply his approach to our own troubles.
"I love St. Joseph," said Sr. Sue, whose lengthy resume includes being a recipient of the Order of Canada, an author, a retreat leader, and a teacher, among an endless list of talents.
After a brief social time and then a Mass celebrated by St. Basil's pastor Fr. Morgan Rice, CSB, also a member of the alumni, Sr. Sue spoke to the group about how St. Joseph has inspired her throughout her life.
As a boarder with the Sisters in Toronto, the14-year-old Sue was called out of class to be told her father had died. When she went into the chapel to pray, she encountered a statue of St. Joseph, and she recalled looking into "a beautiful, gentle face, and I remembered praying, 'Maybe you could be a father to me.'"
Later, when she joined her religious community, the name she was given when she received her habit was St. Joseph.
"There are no words from St. Joseph in the gospel," she reminded those attending, but his life, she said, has the power teach us so much.
She then asked everyone to ponder how Joseph must have felt when he learned that Mary had become pregnant before they married, a reality that had the power to create great suffering for both of them.
"I can't believe the disillusionment the good and kind man must have thought," she reflected. "This was unthinkable. How does one deal with feelings of betrayal? We can listen to him. Learn how he received the news. How does he act?"
As she went on to note, an angel then came to Joseph to inform him that the child Mary was carrying was born of the Holy Spirit and would be called Jesus. Joseph, she noted, showed great trust, and dedicated himself to take care of Mary, an act she said came out of what she described as "the education of the heart. He moved forward in kindness and trust."
When he received notice of the census, he faced a no-win situation of serious trouble if he didn't reply, or a risky journey with a pregnant Mary. Again, she reminded participants, "he had a mysterious reaction. He trusted."
And when they arrived in Bethlehem and there were no rooms to be had, Joseph had many reasons to be upset, but "he got busy and cleaned up the stable. He stepped through difficulties. I love him for it. He showed so much joy, so much gratitude," she explained.
The young family's need to pick up again when it became known that Herod was killing children was akin to today's migrant children waiting at borders for safe passage and shelter, she pointed out.
"It's unbelievable when we look at the news. We want our hearts to hear this. Then think of Joseph. Nazareth to Egypt is 600 kilometres. He could have been angry but he adopts from the best place inside him—his heart. His deepest creativity energizes him as a father."
Turning the clock back to the present day, Sr. Sue noted that there is a depth of wisdom in Joseph's experiences that we can learn from, whether it is trust, or patience, or allowing love to be the prime motivator.
"We have lived through a long and challenging time. We are deprived of friends and family. We are locked down, but God is pouring his love down and we can step through this."
She then listed some of the lessons stemming from her love for St. Joseph that have helped her during these challenging days.
For example, because COVID has limited her activities, she has spent more time praying for people suffering from the illness, as well as for front-line workers, responding with "deep, creative images, because God can't stop creating."
And she has tried to channel some of the beautiful energy of Joseph into more productive responses to emails that anger her or encounters with people who can annoy.
"I need to follow in the footsteps of the man who has loved me," she said.
Acknowledging the suffering people are enduring during the pandemic, she encouraged people to become creative with that suffering.
"Take time with the heart," she urged, suggesting people take 10-minute prayer break to bring some light to others.
"We can create love and give it to others. Look at our anger and cover it with love. Be a loving presence with those who are suffering in solidarity," she said, suggesting, for example, that grandparents missing grandchildren should focus on sending children supportive love via "Zoom kisses."
She encouraged participants to ask themselves, "Where am I on this journey to be more loving? Where am I on the journey Joseph took? Let him be our model."
This year's retreat was dedicated to Gloria Buckley, who co-founded the annual event with Marcella Tanzola and Fr. Bob Madden in 1995. One of Gloria's sons, as well as a niece, were in attendance.