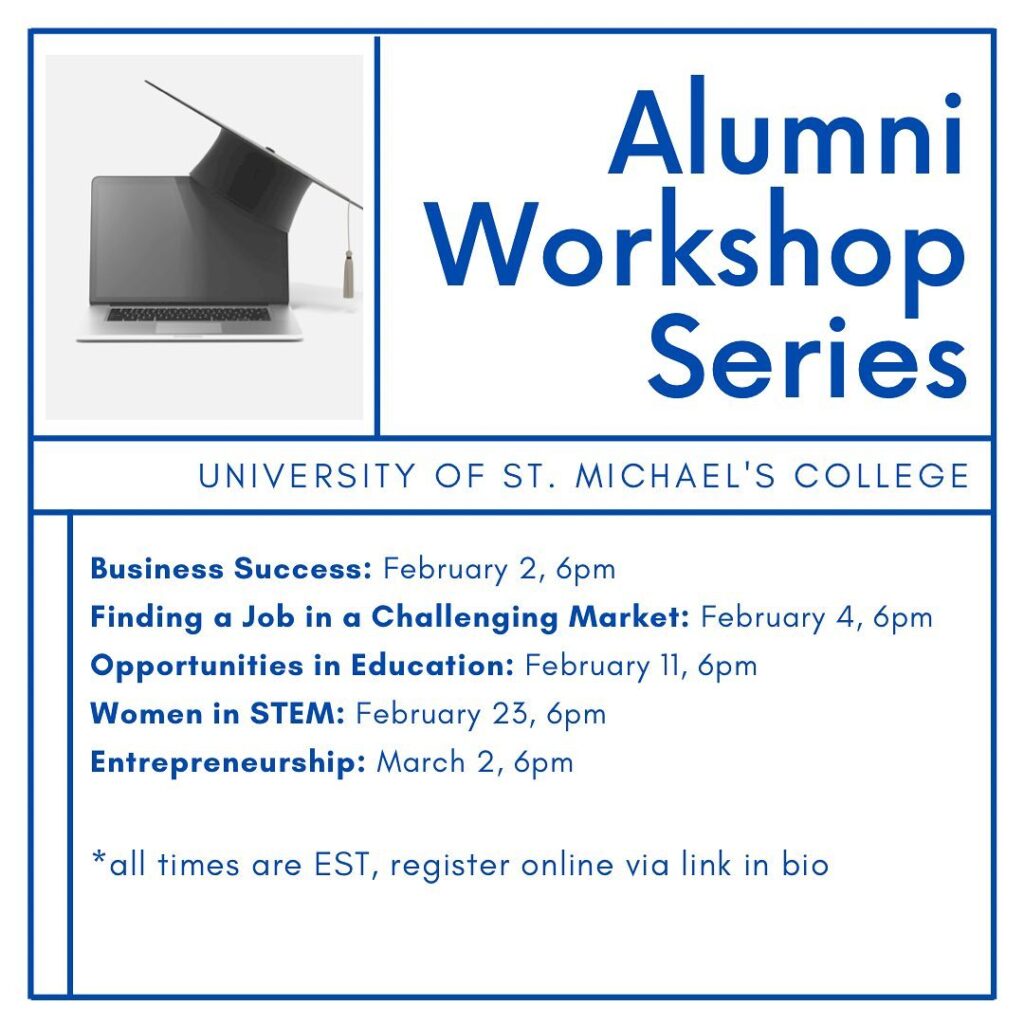 St. Michael's alumni workshops help students forge a path to the future
In an academic year like no other, St. Michael's students have found themselves faced with challenges beyond what any of them expected when they first decided to pursue university studies. Fortunately, they won't have to go it alone.
A new alumni workshop series will connect current students with members of the St. Michael's alumni family to give them an opportunity to see new paths into a post-pandemic future. Co-presenters for the workshop series will bring extensive experience in a variety of fields to bear on topics ranging from life after graduation to career opportunities in specific fields.
"Our alumni have such deep and generous hearts, which they demonstrate through their gifts, their volunteer leadership, and their interest in serving as mentors and advisors," Chief Advancement Officer Kathryn Elton says. "These workshops are a great example of how committed St. Michael's alumni are to helping current students succeed in a time that has been challenging for everyone."
The series kicked off Tuesday, Feb. 2 with "Business Success." Later sessions include "Finding a Job in a Challenging Market" (Feb. 4), "Opportunities in Education" (Feb. 11), "Women in STEM" (Feb. 23), and "Entrepreneurship" (March 2). Each session will be facilitated by student leaders and include both an alumni panel and time for students to pose questions during a Q&A.
Darren Slind (SMC 8T8), co-founder and managing director of Clarify Group and a co-presenter for the Feb. 2 panel, says he valued the opportunity to offer guidance to the current generation of students in the same way he found mentors during a period at St. Mike's he describes as "formative." He also wanted to simply encourage St. Michael's students about their prospects.
"If students can survive and thrive through this pandemic, they will have the confidence to overcome future challenges," he says. "That's the silver lining in what has otherwise been a hard and sometimes painful pandemic, especially for those families directly impacted by COVID-19."
Slind encourages current students thinking about life after graduation to pursue kinds of success that put people first, a quality he feels St. Michael's does a good job of inculcating in its students. "You quickly realize after arriving at St. Mike's that you are surrounded by equally or even smarter peers!" he says. He considers developing one's "emotional intelligence" to be the most important factor for success in the workplace and names fellow alumnus Victor Dodig, CEO of CIBC, as providing an example of the sort of "extraordinary people-centric leadership" St. Michael's alumni specialize in.
"In a challenging job market, it's encouraging to see St. Mike's alumni stepping in to connect with and support current students," says Maxine Webster, Advancement Officer, Alumni Engagement. "These types of conversations and connections between alumni and current students are one of the things that makes St. Mike's special."
All sessions will take place over Zoom. Register online.