Angela MacAloney-Mueller is St. Mike's Physical Plant Coordinator. She's been a part of the USMC community since August 1994, and notes that the comfort of students and staff are her top priority. She is, you'll see, an avid birder.
---
Bird Nerd on Campus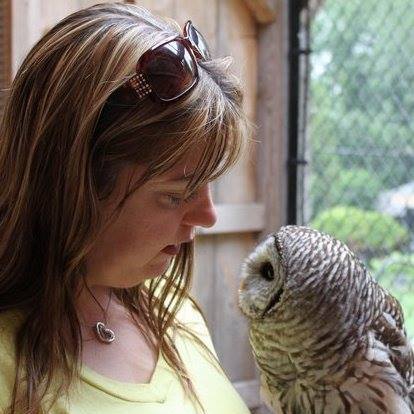 I still remember the first time I visited the campus of the University of St. Michael's College. It was for a job interview in July of 1994. With the luscious greenery, the full-grown trees and beautiful flowers, the grounds took my breath away. I thought to myself as I was leaving the campus, "Yes, I would like to work here." Social media accounts for the university often use the hashtag #oasisinthecity and, as it turns out, we humans are not the only species who think so.
Some migratory birds travel thousands of miles twice a year during spring and fall migration. Toronto is on a major migratory flyway, and every spring the nighttime skies are filled with thousands of birds coming north for the summer to set up territory, find a mate and raise young, all before the long journey home. The city, and the campus grounds themselves, with their close proximity to Lake Ontario, are a perfect resting spot for those birds after a long night of travel.
I was working at the Pontifical Institute of Medieval Studies when I started birding more than 20 years ago. I've had a couple of lifers at work (a lifer is what it's called when you see a bird for the first time). The campus gave me my first Oven Bird and Yellow-bellied Sapsucker. The spring offers a chance to see a wide variety of summer migrants, including Baltimore Orioles, Indigo Buntings, Scarlett Tanagers, and so many others. Many of the migratory birds will continue further north to the boreal forest, but a few do stay in and around the Toronto area, like the feisty red-winged blackbird.
Every spring I get work orders regarding the "attack bird" on campus. It seems the last few years a pair of red-winged blackbirds have thought the grounds lovely enough to build a home and raise young. The male is a fierce protector and will often swoop at people if they get too close to their nest—or, in this case just walk along the path. It is illegal to tamper with a migratory bird or its nest, but we have posted signs to warn people of what may happen. I have a lot of respect for the males: I've seen one swoop at a bald eagle! Fortunately, the nesting season is short, only about two weeks, and then peace and harmony return to the grounds.
Over the years I have been able to share a little of my knowledge regarding birds on campus. A couple of our yearlong resident bird species come to mind. A former co-worker came to my office one spring morning to let me know that a baby sparrow had fallen from its nest and asked what should we do. He was flabbergasted when I said, "Put it back." The old myth that a momma bird won't take care of its young if it's been touched by a human is alive and well. Birds have no sense of smell, so it is very safe to put them back in their nest if you are able, which we did that day. The chick's eyes were not yet open, but as soon as we lifted it close to its nest under the Elmsley Hall walkway, it instinctively crawled back into its nest.
Another time, a don in Elmsley Hall called to let me know a student had a baby robin in her room because it couldn't fly and wanted to know if I could help. We went to the student's room, where I discovered she had a fledgling. When a baby bird first leaves the nest, it is called a fledgling and is unable to fly for a few days. The mother robin will hide her fledglings in shrubbery, where she we will return and feed them throughout the day. After explaining this to the student, we took the baby robin back outside where she had found it. It wasn't long before momma robin was there to check on her baby, much to the relief of the student.
The St. Michael's grounds play hosts to a variety of birds and wildlife year-round. When enjoying the flower gardens during the summer months around Brennan Hall you may see a ruby-throated hummingbird or monarch butterfly. The fall and winter months always bring the hawks to campus, where they help with pigeon control. Spring is the real star of the year though, with the many colourful songbirds and warblers passing through. The chorus of birds singing at dawn and dusk this time is joyful to hear, and I am sure wakes many of our students in residence.
I believe the variety of birds and wildlife add to the campus. Many times, I have seen the delight on a student's face who has never seen a squirrel before. I've pointed out American goldfinches and downy woodpeckers to coworkers when walking from building to building. And it doesn't matter how many times you see a northern cardinal, you are going to stop and stare at his brilliant red colouring.
Birding for me, as always been a source of stress relief. How lucky we are when on campus, that we can leave our office to walk to a meeting in another building or just to enjoy the grounds and surround ourselves in nature. The St. Michael's campus truly is an oasis in the city.  
---
Read other InsightOut posts.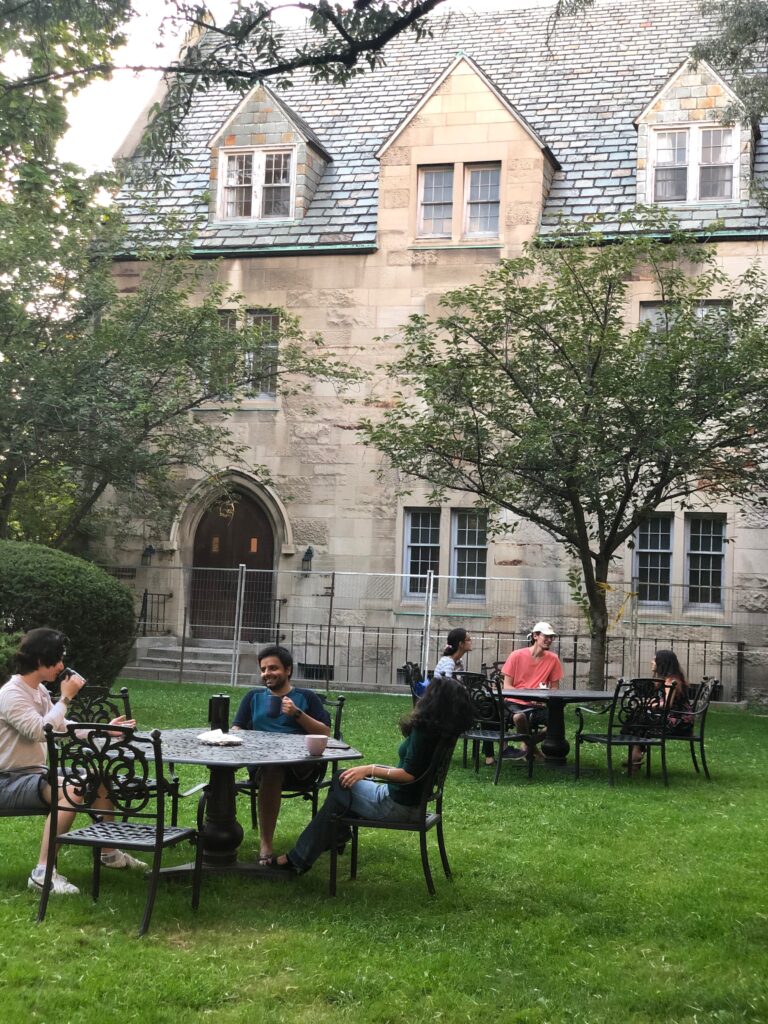 With 40 residents living on campus in the Historic Houses and Sorbara Hall this
summer
amid the pandemic
, Dean of Students Duane Rendle has
spent a great deal of time thinking
about
how to keep students on campus both safe and comfortable.
When the SMC Residence Summer Don team noticed
residence students
leaving
campus
to find available green space elsewhere downtown, they came to Rendle to propose a potential solution. He knew the team had found a perfect creative fix
.
"Often when our students would visit the quad, they would find all the available benches were occupied," Rendle says, because other Torontonians were also enjoying St. Mike's campus. In order to continue welcoming external members of the St. Michael's community while also making sure students in residence had a place of their own to use, Rendle and the Summer Don team worked with the Facilities and Services team to repurpose one corner of campus as a parkette available exclusively to students.
"The west end of Carr Hall is a beautifully manicured area that sees very little foot traffic," Rendle says, so it was easy to reimagine the space with tables and fencing. The students-only space allows for robust social distancing at the outdoor tables, making it an ideal space for students to spend time together in a safe manner. It's also become an ideal spot for al fresco meals, studying quietly, or simply relaxing in the sun.
Since its introduction, the space has seen regular use on sunny days, giving students in residence and members of the larger Toronto community equal opportunity to enjoy St. Mike's "oasis in the city."
Today, we hear from two of the voices working to keep the campus in safe and beautiful condition. Angela MacAloney-Mueller is Physical Plant Coordinator. She's been a part of the USMC community since August 1994, and notes that the comfort of students and staff are her top priority. Michael Chow is the Director of Facilities & Services. He joined the USMC community in August of 2019, and is dedicated to making USMC the most beautiful campus in Canada.
---
The New Normal on the St. Mike's Campus
Angie
Anyone who's visited my office knows how much of a Harry Potter fan I am. During the last few weeks a line from one of the movies keeps running through my mind. In Order of the Phoenix, Mrs. Figg assists Harry in escaping two Dementors—flying, soul-sucking monsters—who have attacked Harry and his cousin, Dudley. "Dementors in Little Winging! Whatever next? The whole world's gone topsy-turvy!" Some days it does feel like that.
In early January, the coronavirus was something discussed but not really worried about—at least not by me. Then I was asked to source order hand sanitizer for the campus. It was then I started to worry a little; it wasn't as easy to source as I had thought, although I was able to order some. Once it arrived I distributed it to various departments. At that time, I think we were all hoping the coronavirus wouldn't affect our lives—it was happening "out there." February came, the virus became more widespread, and senior managers discussed emergency plans.
Then everything seemed to happen so fast. Students were asked to move out early, classes moved online, and plans were made for the staff who could to work from home. I woke up one March morning to find myself using a laptop for the first time, logging in remotely from my kitchen. It took a couple of weeks to get used to working from home. I still get up at the same time and follow my morning routine. I do this for two reasons: one, my cat won't let me sleep in and, two, I know it is better for me mentally to stick to my regular routine wherever I can.
I am grateful I can work from home and don't have to take public transit, but I miss the camaraderie with my coworkers, going to lunch at my favourite sushi place, and just being on campus. I have worked on campus for more than half my life. Sixteen years at the Pontifical Institute of Medieval Studies, and it'll be ten years this August that I have worked for the Facilities Department. The campus is like a second home, and it's taken some adjusting to not being there as often.
This time of year is normally one of the busiest times for the Facilities Department. Students move out at the end of April, and we do room inspections and repairs in May, when we normally prepare to host summer camps. I missed the hustle and bustle of that this year. Still, we must keep moving forward, so we are now getting some work done in the campus buildings.
I go to campus once a week to do paperwork and other tasks I can't do from home. I always go for a walk around the mainly quiet campus. Signs of spring are everywhere. The lilacs are in bloom, the birds are singing, and the tulips planted last fall are showing off their lovely colours. The day I'm in the office feels the most normal. It's nice to see and chat with a couple of coworkers, to have a sense of normalcy, even if only for a day.
I don't know if we will ever go back to the way things were, but I know we will all adjust to a new normal. Yes, it does feel very "topsy-turvy" right now, but we must keep going and not let fear take away the joy in our lives. I know this is not forever, and I need to keep reminding myself of that. I look forward to the day we are all on campus together again.
Michael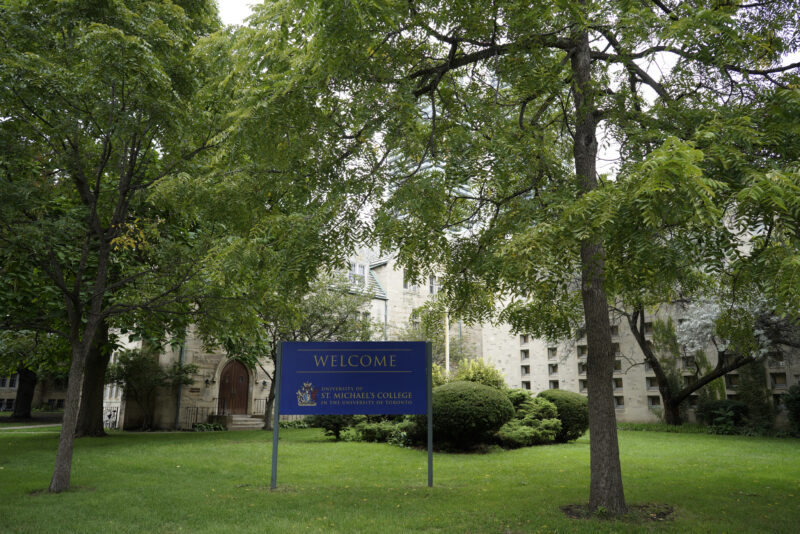 The campus and the world are not the same today as they were three months ago.
As a commuter, it is now hard for me to believe I had problems finding a parking spot at the GO train station ahead of my 6:28 am train. After March 12, parking was no longer the issue, but rather the frequency of trains. Ridership dropped drastically, which I originally attributed to March Break but quickly learned was a sign of people staying away from the "germ tube." I followed suit and decided to drive to campus. To my surprise, I was able to make it to campus in about 25 minutes or so, the equivalent of making the same drive prior to sunrise on a Sunday morning.
Self-isolation, self-quarantine, border closures, and a state of emergency were the hot topics in mid-March, replacing the usual campus discussions surrounding mid-term results, lectures, final exams, and convocation. After the campus closure was announced and the majority of the students had moved out, a surreal dream started playing out in Technicolor.
Imagine walking through Canada's largest university campus in March and only encountering three people. Weird and eerie are two words to describe the overall ambiance.
While other USMC staff were able to work from home, the same opportunity was not available for the Facilities & Housekeeping staff. The courageous and dedicated staff from F&H persevered, and many of them braved public transit to ensure uninterrupted services for those students unable to return home due to travel restrictions.
Behind the scenes—and often unnoticed—the F&H staff have faced the challenges of the pandemic as essential staff and turned them into opportunities as guardians for the university. Deep cleaning and disinfecting of all campus spaces, polishing and waxing of large common floor areas and meeting rooms, lowering utilities by managing equipment set-points and turning them off where possible, and pushing forward with maintenance projects which might otherwise not be feasible with a full campus.
As we all try to predict what the "new normal" will look like, the staff and students can be assured that the USMC campus will continue to be one of Canada's most beautiful, safe and ready to welcome everyone back once we are able to.
A card in the Facilities office from the Dons of 2019/2020 reads: "Not all superheroes wear capes." Please stop a F&H staff member upon returning to campus; a simple heartfelt "thank-you" will have a lasting impact.
---
Read other InsightOut posts.