Fr. Don McLeod is a Basilian priest, an alumnus of USMC (College and Faculty of Theology) and a member of the Collegium since September 2013, serving as Chair from 2017 until the present. He has a particular interest in institutional governance and in ensuring that the proper role of the Collegium in University governance is clearly outlined. He has taught and been an administrator at both the high school and university levels, most recently at St. Joseph's College in the University of Alberta. He continues to exercise his passions for aviation and cycling, Catholic Social Teaching and the study of Scripture and Biblical languages, while residing with the Basilian Fathers of Presentation Manor in Scarborough.
---
"Piloting" USMC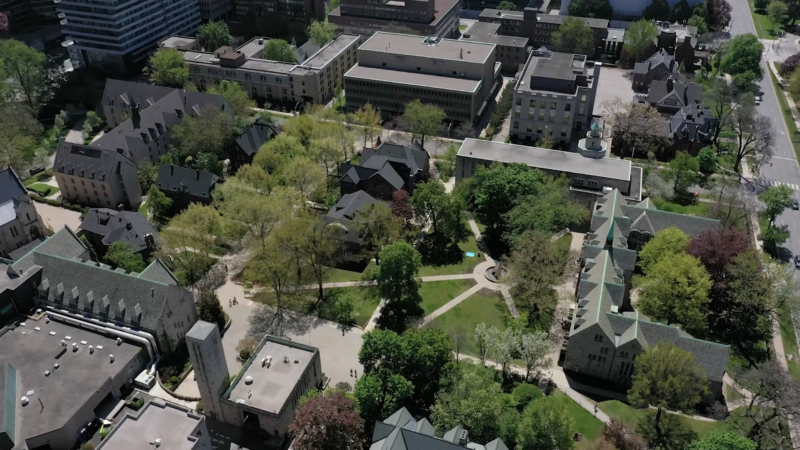 Two or three weeks ago, someone asked me if serving as Chair of the Collegium was burdensome, especially during the current COVID-19 crisis. After a few moments' reflection, I replied that although Collegium had recently had to confront some very challenging issues, I would not describe my role as "burdensome." To the contrary, the past four-plus months have been challenging but not burdensome.
To help clarify, permit me to draw an analogy with aviation. When people learn that I am a licensed pilot, they often ask if I fly solo—to which my usual response is "yes and no." "Yes," if that means that I am the only person in the aircraft. "No," if the implication is that no one else is involved in a flight. Although it sounds counter-intuitive, even if the pilot is the only one aboard the airplane, there is no such thing as "solo."
Most people who fly commercially know that a safe and successful flight requires professional pilots "up front," equally competent and professional flight attendants in the cabin and good ground crew—and that is certainly true. However, there is much more to aviation than that.
First, even a small aircraft comes with a very detailed Pilot's Operating Handbook—in the case of the Cessna 172, the aircraft I fly, nearly 200 pages of very dense information. Included in this are several checklists covering nearly every conceivable situation, from before engine start through to shutdown—and the pilot who ignores or omits even parts of these does so at his or her own risk. These documents reflect literally thousands of person-hours of designing, building and testing, without which no aircraft ever makes it to the flight line, let alone into the air.
Further, behind the scenes of any safe flight are the people who service the aircraft and keep it airworthy. This includes mechanics, dispatchers, fuelers, cleaners and airworthiness inspectors—all of whom are required to ensure that the aircraft is indeed safe to fly.
Most of my compatriots fly out of and into what in Canada are known as certified aerodromes—airports, for short. These facilities require ongoing maintenance to ensure that taxiways and runways are safe and clear of any debris, including snow and ice in winter, that pavement markings including runway numbers are clearly visible and that all ground signage is accurate. Much of this work goes unnoticed but is essential to safe operation—and is regularly inspected.
Once the aircraft is ready, the airport safe to fly out of, the pilot (and maybe passengers) belted in and the engine started, the pilot is still dependent on many people to ensure a safe flight. If the airport has traffic controllers the pilot must obtain clearance both to taxi and to take off and must rely on the men and women at the other end of the radio waves to ensure safe separation of all aircraft. Even at an uncontrolled airport, the pilot must rely on other pilots and even people on the ground to advise of their positions and intentions. The same is true, in reverse order, when preparing to land.
In short, from long before engine start to after shutdown, safe and enjoyable flying is dependent on the skills, attentiveness and commitment of a significant number of people filling a wide range of roles—the pilot is one of these people, undoubtedly an essential cog in the machinery, but far from being the only one. In other words, the pilot in reality is never "solo."
To return to my analogy, one could suggest that the Collegium, and in particular the Chair, might be viewed as the pilot who is charged with ensuring that the University is able to fulfill its mission. However, just as with the pilot of an aircraft, a successful "flight" of the University is dependent on the commitment, dedication and competence of many more persons than the relatively few that a casual observer might see seated at the Collegium table.
This has been even more apparent to me as we have dealt with the impact of the COVID-19 pandemic. From the very beginning, every member of the USMC community, regardless of their particular role, has given more than generously of their time and talent to ensure that we "fly" successfully through this unprecedented turbulence. I may by analogy be one of the "pilots" for this adventure but am well aware of the enormous debt of gratitude my colleagues and I owe to so many who have contributed to our safe and level "flight." To them I say simply, "Thank you!"
---
Read other InsightOut posts.