Nicolas Vergara Ruiz is a fourth-year undergraduate student majoring in Cell and Molecular Biology and minoring in Immunology and Creative Expression in Society. Originally from Lima, Peru, Ruiz spent parts of his childhood abroad in Bogota, Washington D.C., and Brussels. He values the close-knit community of St. Mike's, and has served as an international community director of SMCSU, mentorship program coordinator, and commuter don this past year.
---
Basil's Grand Tour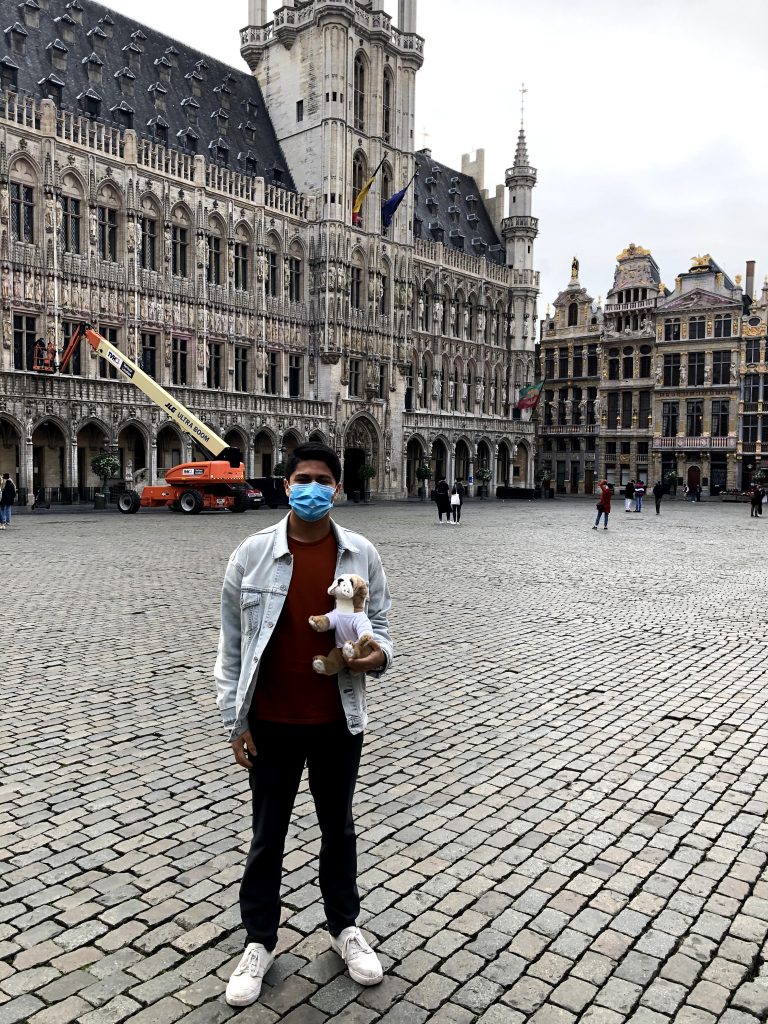 "Home is St. Mike's."
More than simply being the chosen message displayed on the 2017 orientation week t-shirts, this phrase envelops the countless backstories and identities of students, staff, and alumni into a shared sense of belonging in our beloved college.
To some, this expression might surface thoughts of a sea of blue, red, green, and yellow shirts, along with the familiar words of the Hoikety Choik; to others, a favourite spot within our skyscraper-surrounded safe haven in downtown Toronto. It would be a stretch, however, for most to fit this phrase into the virtual reality that we have all been subject to during the past academic year.
In this strange setting, the University of Toronto community grappled with the notion of togetherness. There was no welcome desk waiting for the tired smiles of international students arriving for the first time at Pearson Airport, graduating seniors reached their last lecture through a Zoom link, and interactions of all kinds were reduced to rectangular boxes at the mercy of lag.
Certainly, it was, and still remains for the time being, a necessary sacrifice to keep our loved ones safe and protect courageous front-line workers all around. But for a global community where over one in five students are international, it represented a challenge which tested the strength of U of T's very saying: boundlessness.
This past year, I served the St. Mike's community from abroad, tasked with supporting first-year and international students, arguably two of the student groups who this year would find it hardest to connect with our college. And so: how to bring St. Mike's just a little closer in a time when distances seem especially large?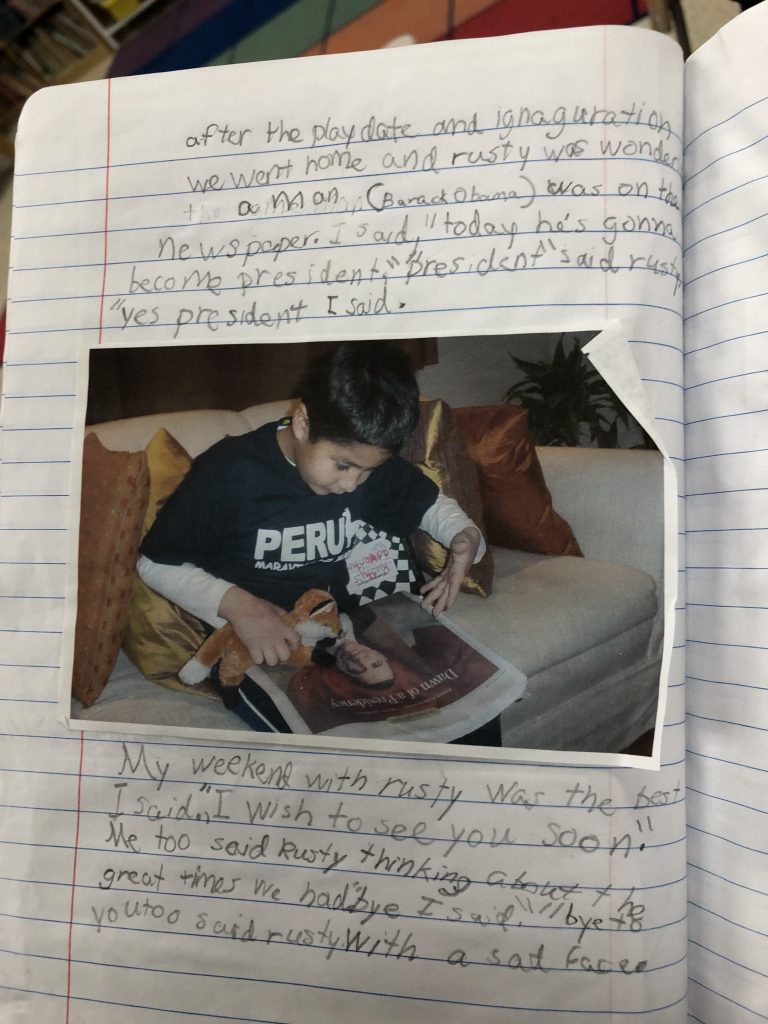 I found the answer in hazy but certainly heartwarming memories of my passing through Ms. Fox's second grade class, in Ashburton Elementary School. "Foxtown," as we called it, was fortunate enough to have a pet fox, Rusty, who would transcend his plush nature in the eyes of 8-year-olds and become our companion for a weekend during the school year.
We kept track of Rusty's adventures in a notebook, which turned a mandatory writing exercise into a privilege—bragging rights for some—to be presented at the beginning of the following week.
In 2019, I returned to Foxtown on a reading week trip to Washington D.C., a decade's worth of time now separating second grade from my first year of university. Sure enough, I found a smiling (and surprised) Ms. Fox, my old pal Rusty, and what had been my crooked handwriting from the time.
Of course, what evolved as Basil's World Tour, a trip involving a mini version of our school mascot Basil the Bulldog, would take on an entirely different scope than its elementary school counterpart. For starters, a plush toy tends to hold different meaning for university students than it does for a second-grade class, which made the project less about the material object and more on what its travels represented for those taking part. Moreover, we would be relying on postal systems worldwide to transport our college's mascot, not all of which could be considered reliable. And with all things considered, there was one question which preceded all in importance: would enough members of our community welcome the idea of touring a plush Basil around the world and, if so, would their geographical location be fitting to provide an itinerary worthy enough for us to maintain our project name?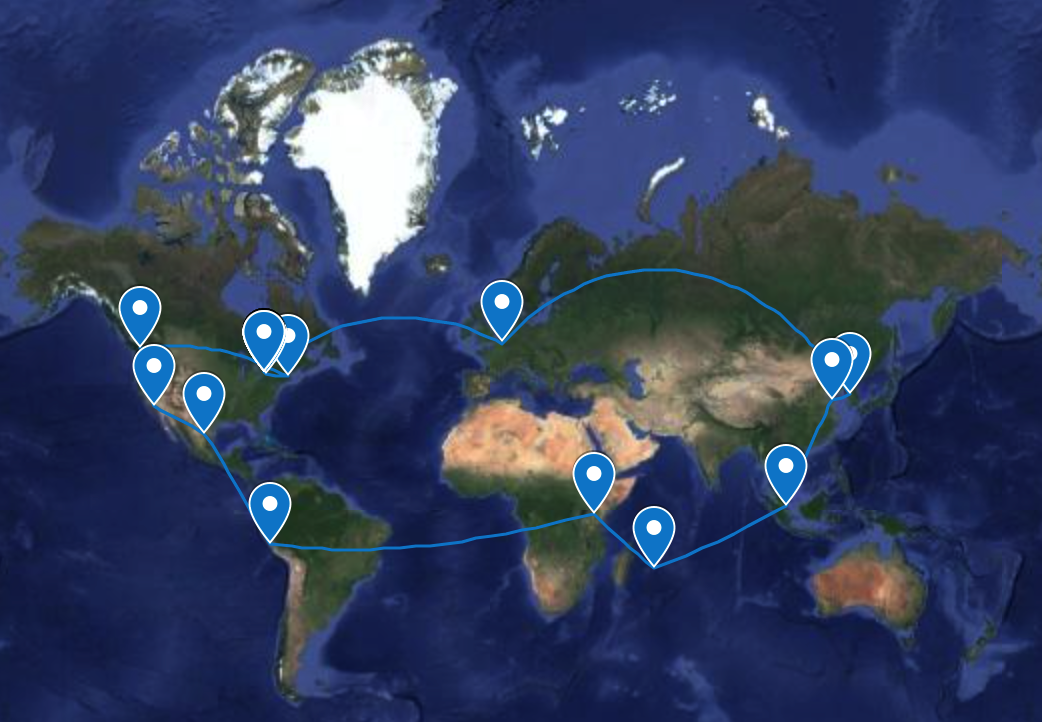 The support was overwhelming: within a matter of weeks, we had a 22-stop, 54,152-km trip across all continents save for Antarctica. Beginning his travels on October 15th, 2020, Basil first visited fellow commuter dons Athalia, Natalie, Anthony, Shayndel, and Andrew, enjoying the Royal Ontario Museum, the Toronto Zoo, and an impromptu fishing trip before crossing international boundaries for the first time, to Belgium.
There, he was welcomed into the Vergara Ruiz household with open arms in a time which was already proving to be a handful—an intercontinental move back to Peru. Aside from witnessing the gradual packing of our belongings into boxes, I was still able to take Basil to neighbouring countries Germany and the Netherlands, as well as get a picture with him in the Grand Place, considered by many to be the very heart of Europe.
After an all too brief visit, Basil reached Incheon, South Korea, where Eunha and he were able to enjoy a walk at sunrise. Then, it was learning how to play the guitar with Yihang in Qingdao, China. And enjoying a swim in Singapore with Meghna.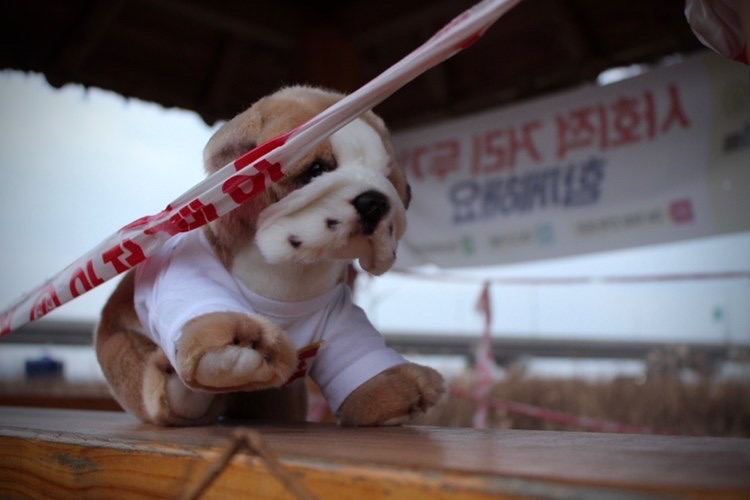 The start of the winter semester, however, brought with it some tough news for our project. While Basil had reached Port Louis, Mauritius, there had been some problems with customs. As weeks with no news passed, we came to realize that our original route through Africa, visiting Samuel and Andrea, would unfortunately have to be postponed until more news on Basil's status would surface. To this day, none came.
While disconcerting, a thorough mitigation of risks prior to the start of the tour meant we had an ace up our sleeve: the power of production en masse. In a matter of days, a second Basil joined Antonio for a gastronomic tour of Lima, Peru, and the journey through the Americas would continue.
As the 2020–2021 academic year drew to a close, Basil had gone on a hike in Monterrey, Mexico with Rebeca, toured Los Angeles, California with Ella, visited the Sleepy Hollow cemetery with Morgan in Concord, Massachusetts, and walked alongside Kiera by Lake Erie, near Buffalo, in upstate New York.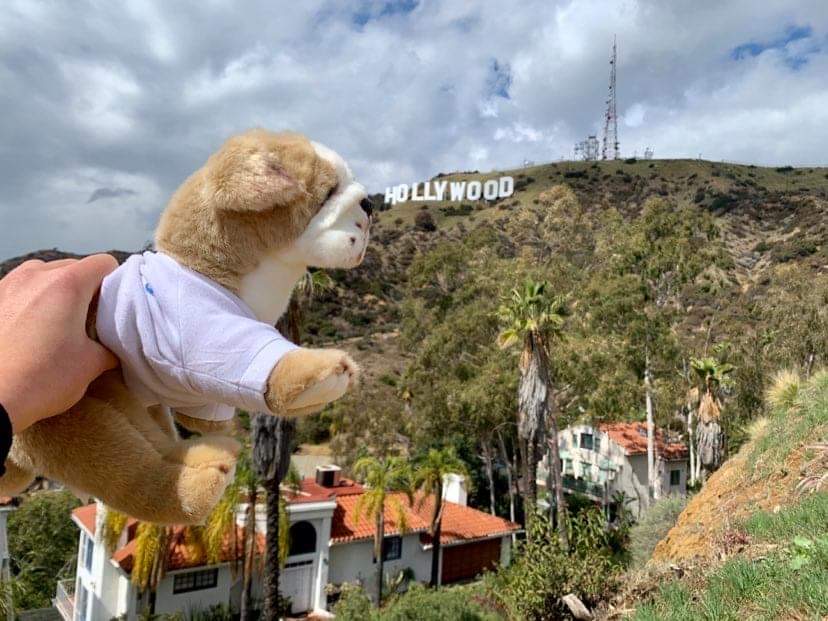 At last, Basil returned to Canada, first with a short visit to Jennifer in Vancouver, British Columbia just in time to see Cherry Blossoms in full bloom before returning to Ontario. In the Greater Toronto Area, Basil was present for Nicholas's final moments as an undergrad, caught up on video games with Sam, and practiced yoga with Ace. Currently, Basil is wrapping up his time with Elva before making his way to campus for one last adventure with Arjun, the final stop of the trip.
It has been a little over seven months since Basil first left campus. Despite the distance from downtown Toronto, I would argue that Basil was never far from home. St. Mike's is very much Brennan Hall, the angel statue on the Quad, and the corner of Bay and St. Joseph; but in a year where the vibrancy of our community was heard through built-in computer microphones, we're reminded that the Spirit of St. Mike's cannot be contained to physical coordinates on a map. This year, our college didn't have one single address, but many. In lieu of recognizable landmarks of campus, there were smiles, textbooks, and study breaks, proving that, while taking the strange circumstances of this past year into account, we are still able to return to a familiar phrase, perhaps with a slight twist: "St. Mike's is Home."
---
Read other InsightOut posts.
Michael Coleman is a non-degree studies student at the University of St. Michael's College. He received an Honours Bachelor of Science degree, double majoring in Physiology and Biochemistry, this past spring. He has also served as a Residence Don for the past three years. In light of the pandemic, he aims to use this 5th year to broaden his academic horizons as well as seek more potential graduate school and employment opportunities.
---
Never Let the Fire Die
Last month, I celebrated my 22nd birthday with my best friend, Mitch, since the day also marks 18 years of our friendship. I'll admit that the card he wrote made me quite emotional and reminded me why I call Mitch my brother. He knows that this is a significant year for me regarding academics and Donship, so to instill confidence as only he can, he writes, "You are an inspiration to everyone around you. Never let that fire die." Sadly, and as much as I'd love it to be, this InsightOut isn't about Mitch. Instead, I want to take this opportunity to discuss what "never letting the fire die" means as a Don, and how the St. Mike's Don team is working to continue supporting and inspiring students during these uncertain times.
Serving as a Don for the past three years has been a true privilege. It is a role that allows you to get to know and support the development of residents—typically totalling around 100 people within an average career. Due to the nature of the job, however, you ultimately have double or triple that in numbers of residents on campus who know who you are and recognize you as a student leader. They see you everywhere, and they are always watching.
What I'm getting at is that, as a Don, you end up impacting and setting an example for more students than you might be aware of, hence why we often have to moderate our presence both in-person and online, always acting with good judgment and consistent discipline, and providing accurate referrals where necessary. Sure, every year of Donship comes with its spikes of difficulties, be it busy schedules or unexpected incidents, but it's part of the job.
This year, however, we are dealing with the most chronic obstacle we've ever all faced as a Don team: the pandemic. This prompts the question: How have the Dons adapted to this pandemic-induced shift, and how do we aim to continue to support and inspire students through these new trials and tribulations?
I'll begin by addressing the first part of the question: How have the Dons adapted to this pandemic-induced shift? Well, let's talk about what has changed on campus and within the role. All rooms are now single-occupant, overall floor capacity has been reduced, and there are maximums on how many students can be in one space, be it washrooms, common rooms or Brennan Hall's COOP. Some new rules we must enforce include wearing masks in common spaces and restricting guests from different communities. Furthermore, students are sitting at a distance from one another when dining in the Canada Room, though we've recently converted operations to take-out only to comply with provincial guidelines. Lastly, all house meetings and events are to be held online. Thanks to our modified training this year, new and returning Dons alike were able not only to learn about the usual rules of residence and the new COVID-related rules, but also how to use a variety of video conferencing platforms for use within their communities.
Needless to say, these conditions can feel rather isolating and intimidating to both residents and Dons alike, so let's address the next part of the question: How do we aim to continue to support and inspire students?
This is where "keeping the fire alive" comes into play. This year has been a true testament to our Dons, ensuring they're in this role for the right reasons. Unlike previous years, we don't get to have in-person activities or meetings with our residents and must somehow still provide the same degree of support. We can't allow quarantine or the changes in our role to affect how we act, either, because as previously mentioned it's still all eyes on us, and as student leaders we can't succumb to isolation.
We have to maintain our responsibility to our residents by compromising, having those meetings online but devoting ourselves to maintaining optimism and enjoying every interaction we do have with students outside when we see them on campus.
It's also important for us to remember and share with students that though many buildings and in-person services are closed, we are all still able to access health and wellness services, academic counselling, and registrarial services online where needed. When libraries and gyms are open, I'm sure to tell my students that those resources are available for them, and often end up running into them there. Referrals are also arguably easier to make for students using online platforms, as I can now easily copy and paste any info a student might need during our video call. This reduces the amount of paper notetaking and business cards, and provides a written record of the referral in this digital age.
As a Don, it's important to recognize that although the job may not look as rewarding or as personal up-front, it is still a job that relies on community-building, enforcing rules, and overseeing the academic and social development of our residents. The support from the Dean's Office has also kept us informed and motivated. They always keep us updated on guidelines and are always there to talk to us and help us avoid burnout. As student leaders who are passionate about our position to inspire and set an example for those around us, I think Mitch said it best–we can not, and will not, let our fires die.
To close, I ask you to acknowledge your fires as well. Think of things that you have maintained during these uncertain times out of passion and responsibility. Meditate and reflect on what they are and give yourself due credit and congratulations for keeping your fire alive.
---
Read other InsightOut posts.