By Martyn Wendell Jones
---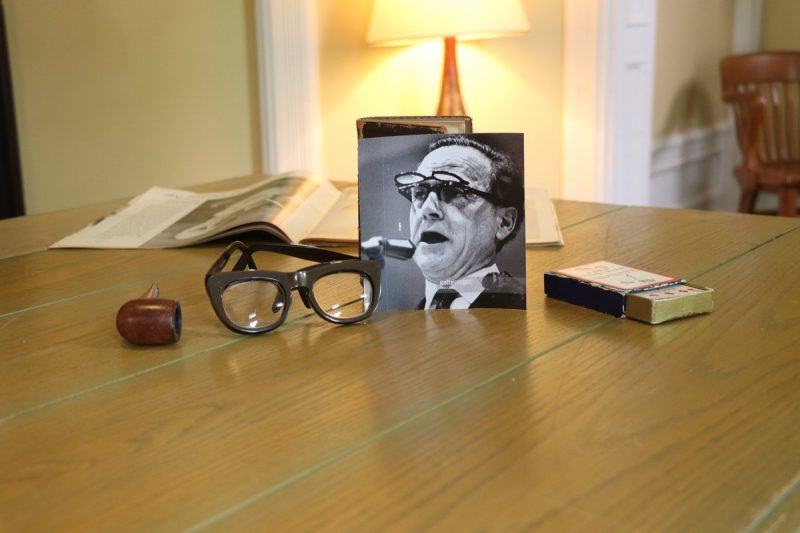 Visitors to 96 St. Joseph Street first heard a strangely familiar voice. Entering the historic house, they observed a seated figure in a grey suit holding a microphone in a stairwell at the back of the hallway. His expression remained focused as he described trends in the development of communications technology and their effects on audiences and consumers. Could it be that Marshall McLuhan had returned to St. Michael's? Thanks to a bit of ingenuity with a projector and a life-size foam-board cut-out, USMC Professor Paolo Granata had indeed brought back the great media scholar in the form of an animated silhouette—a reincarnation to which McLuhan may have given his wry and playful approval.
Professor Granata's installation provided ambiance for a recreation of McLuhan's office, one of five sites at USMC made available to the public over the weekend of May 26-27 as part of Doors Open Toronto, an annual citywide event now in its nineteenth year. The theme of Doors Open 2018—"Film: The Great Romance"—was a perfect fit for St. Mike's, the site of numerous film and television shoots over the years. One imagines it would have amused Professor McLuhan, as well.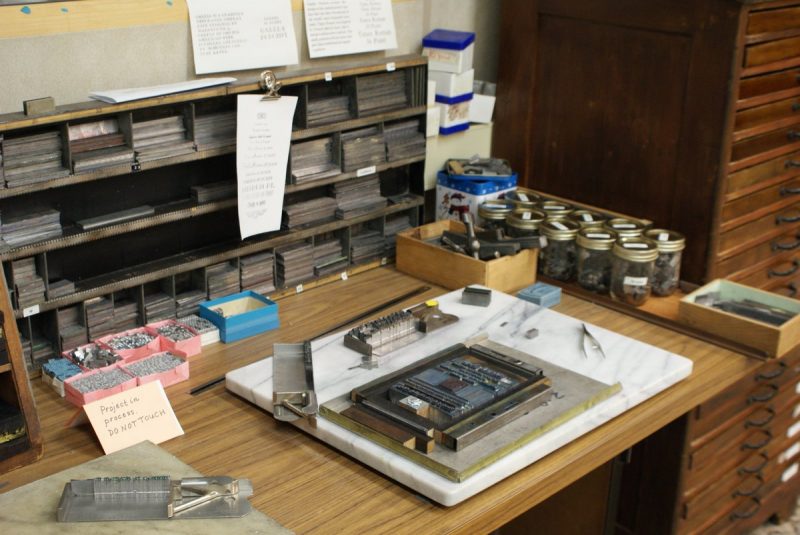 St. Michael's was the only federated college at the University of Toronto participating independently in Doors Open, which this year made over 130 different sites available to the public with no admission fee. St. Basil's Church was a natural first stop for those coming to campus from Bay Street. Visitors who entered the gate facing Queen's Park may instead have begun with the Shook Common Room in the Pontifical Institute of Mediaeval Studies, where ample sunlight throughout the weekend illuminated the stained glass panels commemorated Etienne Gilson, Jacques Maritain, and Fr. Henry Carr, CSB.
Professor Granata drew many visitors to campus with his recreation of McLuhan's office. The exhibit boasted a number of authentic artifacts from McLuhan's life, including a 1969 deck of cards emblazoned with gnomic phrases such as "Is there a life before death?" These "probes" served his larger aim of using play to inspire critical reflection on our shared media environment, a point Professor Granata emphasized during a lecture on McLuhan's unique genius that he delivered at 1 p.m. on Saturday and Sunday. Among his selection of memorable McLuhan quotations was a line on the importance of play for thinking: "At work man specializes; at play he uses all his faculties." A number of St. Mike's students from McLuhan's era attended the lecture and visited the office recreation to sign the guestbook.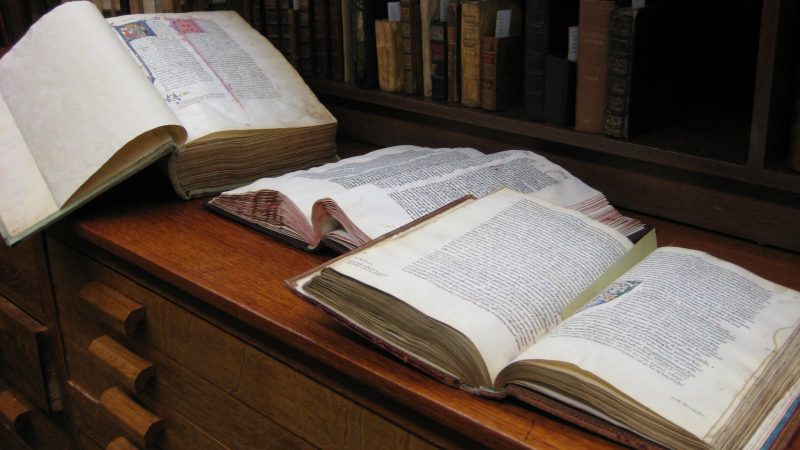 Across St. Joseph Street at the Kelly Library, visitors took advantage of two Doors Open offerings. Small tours of the library's Printing Studio departed every half hour from 10:30 a.m. onwards both days of the event; demonstrations of antique methods and devices (including the Jobber Press) proved so popular that guests began to sign up for Sunday tour slots on Saturday after Saturday's remaining slots had filled to capacity. Visitors to the library had one other tour option: At 2 and 2:45 p.m. each day, 10-person groups departed the ground floor for a look into the PIMS Library on the fourth floor. The non-circulating collection is renowned among scholars and researchers for its special holdings, including manuscripts that date back to the 10th century. Though access is normally restricted, blue-shirted volunteers were happy to arrange guests into an orderly queue for tours, making one more part of St. Michael's available to a larger public.
Those volunteers, who came from both the City of Toronto and the travel company Booking.com, stood at stations all around campus to hand out information and direct visitors to USMC's Doors Open sites as well as food stations and a St. Mike's merchandise tent. All told, hundreds of people walked the paving stones of Elmsley Place over the weekend. If Marshall McLuhan makes a virtual return for next year's Doors Open, perhaps St. Mike's will welcome thousands more.
---
Martyn Wendell Jones is a content specialist in the Office of Communications.