Luis Filipe graduated in 2006 with an Honours BA in History and Linguistics, and then completed a Bachelor of Education degree at OISE in 2008. He has been teaching for 12 years in the Toronto District School Board, the last three at Bloor Collegiate Institute as Department Head of Social Science, where he teaches law and history, and coaches girls' soccer. He is also the president of the Toronto History, Humanities, and Social Science Subject Council.
---
A Father's Inspiration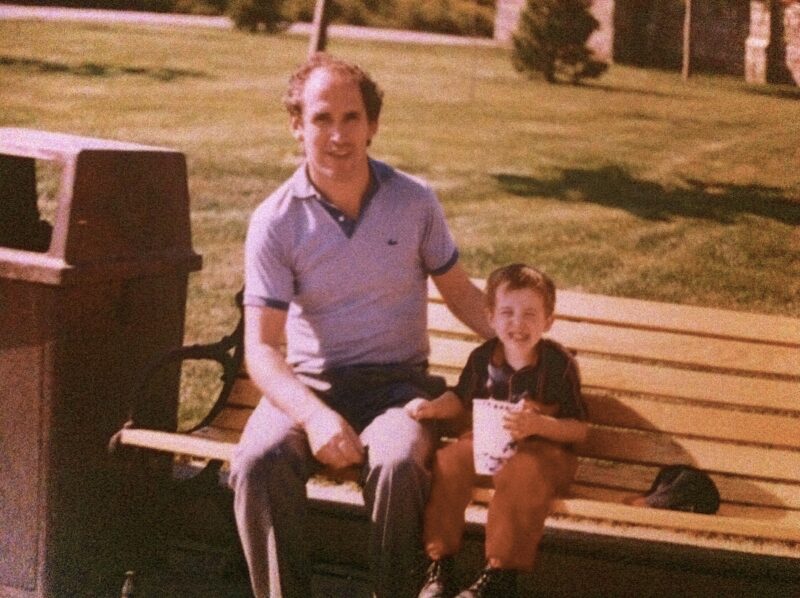 Navigating life through the new normal of social isolation and distance from family and friends has been challenging. In many ways my relationship with the world is linked to my father. The places and people I know all circle back to him. No place better exemplifies this than the University of St. Michael's College.
My family is made up of a different kind of alumni. My father, Manuel Filipe, started working at St. Mike's in 1975, eight years before I was born, first as a night caretaker, and then later as Senior Supervisor of Facilities & Services. In those early days he worked alongside my great-uncles and aunts—the patriarchs and matriarchs of our family—who arrived in Canada with the first wave of Portuguese immigration in the 1950s. So while I was the first in my family to attend as a student, I was the third generation to be a part of the SMC community.
As a child, I would visit St. Mike's regularly with my father. Our weekends were bookended by trips to lock up Carr and Alumni Halls, shut off the lights in Brennan Lounge, and close the Elmsley and Alumni parking lots. Nights would end with a walk together to Dufferin station, where we awaited my mom's return from work at St. Mike's, or carrying me to bed after I inevitably fell asleep on the drive home when we picked her up directly. The college was where I watched my father play table tennis tournaments; where I spent March Break changing batteries and reprogramming electronic residence locks with him; accepting rosebud chocolates from the wonderful Mrs. Lee in Carr Hall when he wasn't looking; and organizing keys and envelopes before the start of each school year. Like any home, the college also bore witness to more painful memories, like when, on my first day as an SMC student, I approached my proud father on the third floor of Alumni Hall to share the news that his father, my grandfather, had died earlier that morning in Portugal. All these experiences are the landscape of my life.
So much of what I know about my father as a person is shaped by his relationship to his work at the college. My father doesn't have many friends outside of its buildings; he doesn't go out or really have any hobbies. His role at St. Mike's was an inextricable part of his identity. He is proud of the work he did each day and proud of the life it provided us. It gave him a chance to serve a community, and Catholic faith, he cared about deeply. As I grew older, and my father's academic expectations came into greater focus, the relationship I had with my father and the college helped to make me feel at home on campus, as a student carrying the weight of my entire family's academic expectations. It's easy to see yourself belonging in an institution when you have already been in its buildings.
My father has been retired from St. Mike's for 11 years now, but that relationship remains an influence in our lives, as father and son. Almost two years ago I also became a father, when my son Mateo was born. I have thought a lot about the relationships my son will forge through me, the way I did with my father. Before the pandemic, my son regularly visited me at Bloor Collegiate Institute, where I teach, interacting with staff and students alike. In those exchanges I caught myself thinking back to those early days at St. Mike's, where I was carried around campus by my father, meeting the Professor Ann Dooleys and Father Maddens of the world. I wonder whose names my son will remember, and what memories will linger for him.
So while there is some physical separation between us today, because of social distancing, our experiences and memories remain connected, and centred on the college. I'm looking forward to visiting St. Mike's some day again soon with my father, but this time with his grandson in tow, watching the two of them share spaces he and I did so many times before. And maybe after this is all over, our family's presence, and my father's connection to St. Mike's, will grow by another generation.
---
Read other InsightOut posts.