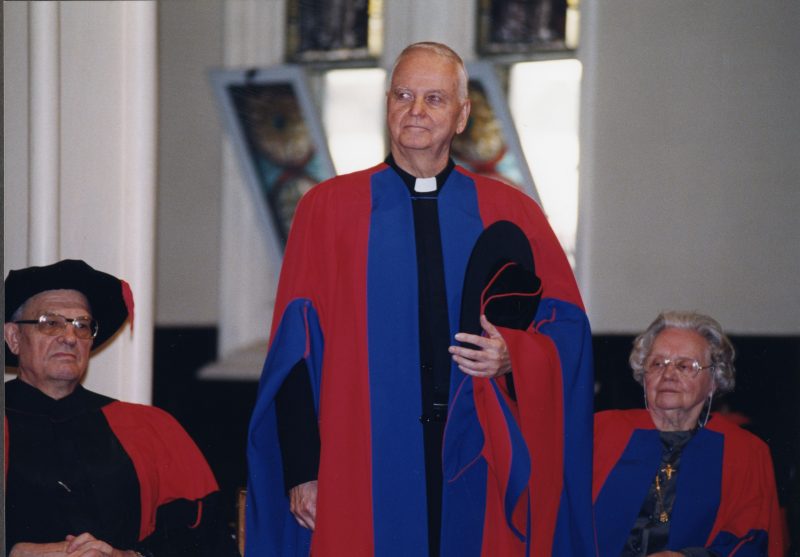 The University of St. Michael's College remembers and celebrates the life of Fr. Owen Lee, CSB, a graduate of St. Michael's who taught classics here and elsewhere while also building a career in public education and scholarship. This arc reached its apex with a longstanding appointment with the Metropolitan Opera in New York City, for whom Fr. Lee provided engaging commentary during the intermissions of broadcast opera performances on Saturday afternoons. His most important request related to his Saturday engagements was to be able to return home to Toronto in time to celebrate Sunday morning Mass.
Fr. Lee heard his first opera on the radio when he was 11 years old. "The music swept over me like a tsunami," he said, according to his biographical page on the website of the Basilian Fathers. He entered the Basilian novitiate in 1947, and made use of his longstanding enthusiasm for opera to pursue the education in classics that would prepare him to teach. Fr. Lee would tell fellow Basilian Fr. James Farge that he had attended "over 950 different operas" during his lifetime.
Graduating from St. Michael's with a B.A. in sacred theology in 1957 after having completed another B.A. and an M.A. at the University of Toronto, Fr. Lee received his PhD from the University of British Columbia and began his first appointment at St. Michael's College as a lecturer in 1960; he became an associate professor in 1963.
He would retire to the status of Professor Emeritus in 1995, after decades of teaching in Toronto as well as a variety of other locations. Along the way, he would pick up four honorary doctorates and a University of Toronto teaching award. Upon hearing news of his death, a former St. Michael's student who took Latin with Fr. Lee tweeted that he was a "talented, engaging, and personable man."
It was in 1983 that he received the call inviting him to participate in the Met's broadcasts, and he became a fixture of the airwaves; according to an obituary appearing in the New York Times, he gave his last appearance on-air in 2006. During the broadcasts, he would offer commentary during the first intermission, and sit on a panel of experts fielding questions about opera from audience members in a quiz-show format during the second. As the Times reports, "The Met broadcasts were such a part of his life that Father Lee occasionally gave them up for Lent."
Fr. Farge discussed Fr. Lee's radio broadcasts while giving remarks for the dedication of the Basilian Common Room in Brennan Hall in October of 2017. "He became known all over the world," Fr. Farge said, reaching an estimated audience of "as many as 8 to 10 million people once a month." Many of his broadcasts were transcribed for publication in book form; according to the website of the Basilian Fathers, he wrote a total of 22 books, including an introduction to Wagner's Ring Cycle, collections of transcripts of his radio commentary, and Father Lee's Opera Quiz Book, a collection of difficult opera-related questions from those on-air quiz panels.
In correspondence with Fr. Farge, an American musicologist wrote that Fr. Lee "brought to the understanding of opera a level of sophistication and communicativeness to which only the best musicologists aspire, and few achieve." A wide-ranging treatment of Father Lee's cultural interests can be found in his semi-autographical account of a year teaching in Rome, A Book of Hours: Music, Literature, and Life: A Memoir.
In his books and in the lives of his students and listeners, the life and work of Fr. Owen Lee continues to yield fruit as a testament to the legacy of the Basilian Fathers at St. Michael's.
---
We invite our community to attend a Funeral Mass that will be celebrated for Fr. Lee on Saturday, August 10 at St. Basil's Church. Visitation will be from 9 to 10 a.m., and the Funeral Mass will begin at 10 a.m.