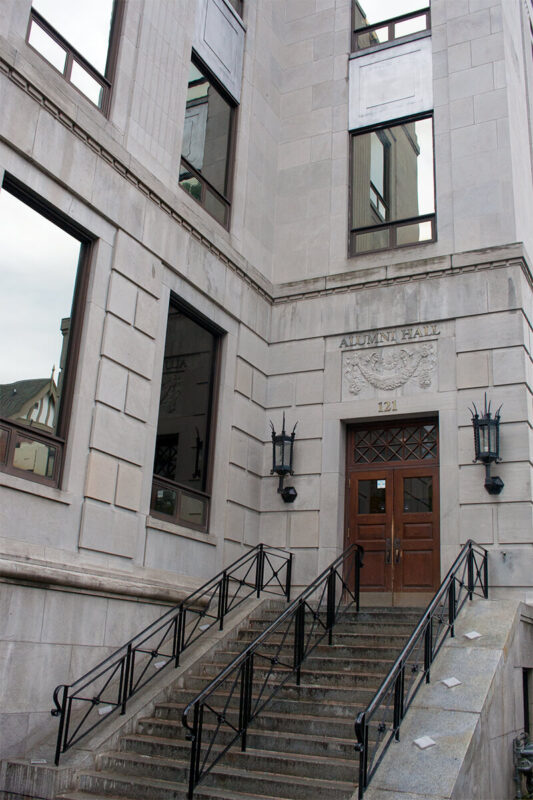 What does community look like in the face of a pandemic? For the Faculty of Theology at the University of St. Michael's College, community has meant professors digging deep into their own pockets and inviting others to join them to start an emergency fund for graduate students struggling with finances due to COVID-19.
To date, the fund has received more than $30,000 in donations from a small group of professors, staff and alumni and the university has offered to match up to $50,000.
When the pandemic began to take hold, the University of Toronto quickly established an emergency fund for students, but because the Faculty of Theology's degrees are issued by St. Michael's rather than UofT, graduate students studying at the faculty are not eligible for the UofT relief funding.
Having been graduate students themselves, however, Faculty professors Drs. Darren Dias and Michael Attridge recognized that their students might be facing any number of challenges, ranging from job loss—particularly tough for single students with no supplementary income—to additional expenses because travel restrictions kept them grounded in Toronto. International students, they note, are not eligible to receive CERB funding from the federal government.
"As soon as [Dr. Dias] reported that students were asking if any funding was available I knew creating assistance was the right thing to do," Dr. Attridge says.
The two professor chatted and then opened up the conversation to their colleagues. In the broader brainstorming session it was suggested that professors establish a fund to help students unable to help cover costs such as groceries, rent or other standard expenses.
St. Michael's President David Sylvester received the idea enthusiastically and took it one step further, proposing to match donations up to $50,000 from a University fund.
"The Faculty of Theology is in a position to generously fund many students in terms of tuition, but we do not cover day-to-day living expenses," Dr. Dias explains. "Graduate students often live close to the poverty line. Coronavirus would only make things worse."
Doctoral student Mariia Ivaniv agrees.
"It is a challenge for an international student to be alone in a foreign country, but to be alone in a foreign country during the world pandemic is….a huge struggle," says Ivaniv, who comes from Ukraine. "As a student in such a situation, I was happy to hear about [the] initiative… It shows [the professors'] desire not only to develop the big theological ideas but to practice Christian generosity.
"This kind gesture will help students to overcome a lot of challenges and feel protected and supported."
Another student, who preferred not to be identified, noted that Toronto is a very expensive city, offering as an example his rent of $1,000 a month for a basement apartment.
"Finances are probably the most difficult thing about being a PhD," says the student, who was forced to stay in Toronto for the summer, even though his work hours were reduced, due to conditions in his home country.
"Response has been great," says Ken Schnell, whose regular role is Advancement Manager of the annual fundraising campaign, but who is also overseeing this special project. After the initial donations from professors, the advancement office launched the next phase of the campaign and is reaching out to the wider community of alumni and partner organizations to invite them to contribute. "We are delighted by the generous response, to date."
"Our students tend to be shy about asking for any kind of help," says Emil Iruthayathas, the faculty's Student Services Officer, who is notifying students by email about the fund and how to apply.
Funding will be on a semester-by-semester basis and capped at $2,000 a semester per student. With the $32,000 already received and the matching amount from the university, the fund sits just shy of $65,000.
"Since we do not know how long the pandemic will last we want to ensure we can keep some money flowing to students for as long as possible," says Dr. Dias.
"This kind gesture will help students to overcome a lot of challenges and feel protected and supported," says Ivaniv.
For more information or to contribute to the Faculty of Theology Student Emergency Fund please contact Ken Schnell at ken.schnell@utoronto.ca or call 416-926-7281.