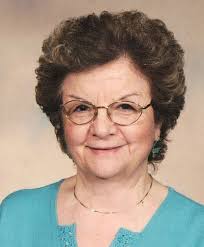 The University of St. Michael's College is mourning the loss of Sr. Johanna D'Agostino, IBVM, who served the community in numerous ways over her long career.
Many will remember Sr. Johanna from her days as part of the Campus Ministry team, where she worked from 1985-1990. Before joining the ministry team she also served as Dean of Women at Loretto College, so she was a familiar face on campus.
From 2006 to 2012 she served as the representative of the university's founding women's orders on the Collegium, St. Michael's governing body. A Master of Religious Education graduate from the university's Faculty of Theology, she also acted as a field placement supervisor for the Faculty's Master of Divinity program.
"Johanna was a wonderful support and inventive member of the team," recalls Fr. James McConica, CSB, who was St. Michael's president when Sr. Johanna was in campus ministry. "It was she who made a success of the Parents' Day project I launched when I realized how many of our first-year intake were the first members of their families to attend university. But her contribution ranged far beyond that, into most areas of student activities and social life."
An article dated Oct. 16, 1986 in The Mike, St. Michael's student newspaper, announced that Sr. Johanna was moving from a part-time position to a full-time one, forming a new chaplaincy team with Fr. John Gaughan, CSB. The article noted that the campus ministry team was to provide the St. Michael's community with both religious and supportive programs, including a daily mass at 11:15 in the student chapel, a Sunday folk mass, evening and weekend retreats, private counselling and other supports. Sr. Johanna was also responsible for introducing what the article called "a relatively new programme," the Rite of Christian Initiation of Adults (RCIA), designed for adults seeking to enter the Catholic Church.
Sr. Johanna's career in education was impressive. She served as a teacher and a principal, and wrote textbooks on teaching at the elementary level. She worked as a primary education consultant, and taught in the Teacher Education program at Brock University. She was elected her order's Vicar General in 1999.
She left St. Michael's to take up a position at Catholic Charities of the Archdiocese of Toronto, offering workshops to parishes on pastoral skills. She rounded out her career as the Pastoral Assistant at Blessed Sacrament Parish in North Toronto.
A busy volunteer, Sr. Johanna lent a hand at the Canadian Red Cross, Development and Peace, and with her order's justice and peace work.
A private funeral will be held at Presentation Manor on Friday. A memorial mass will be held at a later date.
The St. Michael's community extends its sympathy to the Institute of the Blessed Virgin Mary on the loss of Sr. Johanna.
Move-out weekend traditionally sees the mass exodus of 550 residence students moving into apartments, heading to the airport, or being picked up by mom and dad. It's a day of frenetic activity that includes tearful goodbyes, warm hugs of welcome and long line-ups of cars on St. Mary and St. Joseph streets.
This year however, the mass exodus took place in mid-March after the prime minister announced that everyone who could go home, should go home. By the time late April rolled around, the SMC Residence only had about 90 students left, mainly from countries where international travel was either restricted or financially prohibitive. So what's happening with these student now?
"St. Mike's is committed to housing students through the summer who don't have anywhere else to go," says Dean of Students Duane Rendle, "including students who weren't previously living here, but who now find themselves without options." Some of the students who took advantage of Dean Rendle's offer included about a dozen women from Loretto College.
The Loretto College Residence is located just across the street from St. Mike's and provides accommodation to 120 women during the academic year. Although Loretto is an independent college with their own staff and governance structure, their Catholic identity and proximity to St. Mike's have earned them the moniker of "SMC's sister College." In mid-April, St. Mike's agreed to provide housing for any Loretto students who were unable to return home, which has in turn allowed Loretto to close down for the summer. "It just didn't make sense for Loretto to keep their entire building open to house such a small number of students. We were more than happy to have them to join us here at St. Mike's," explains Dean Rendle.
The small community of summer students who remain are being housed in either Sorbara Hall or the Historic Houses. All rooms in Sorbara have their own sink, which cuts down on the need to share common facilities, and the Historic Houses already have small populations, which helps to maintain social distancing. Chartwells, the College's food service provider, is still providing food service to students, albeit in a takeaway form. Residents can purchase a "Dine on Campus" plan consisting of either 50 or 100 meals depending on their length of stay.
If you are a St. Mike's student with a precarious housing situation, email smc.residence@utoronto.ca for more information on summer rates and availability.