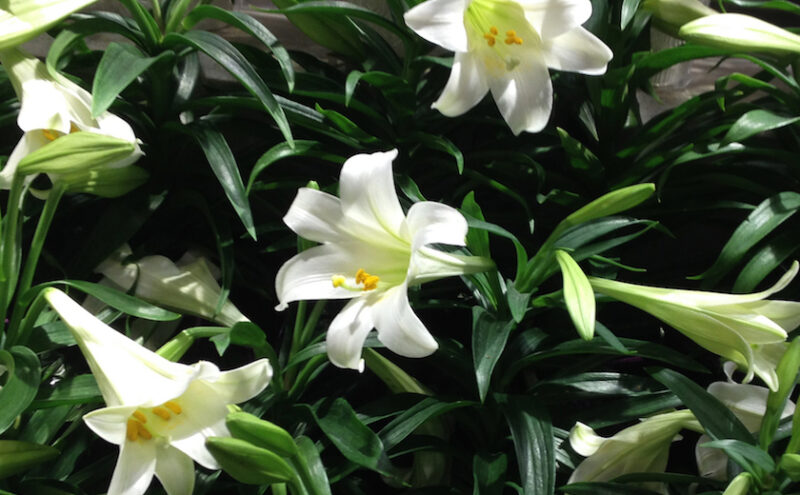 Then Jesus went with them to a place called Gethsemane; and he said to his disciples, "Sit here while I go over there and pray." He took with him Peter and the two sons of Zebedee, and began to be grieved and agitated. Then he said to them, "I am deeply grieved, even to death; remain here, and stay awake with me." And going a little farther, he threw himself on the ground and prayed, "My Father, if it is possible, let this cup pass from me; yet not what I want but what you want." Then he came to the disciples and found them sleeping; and he said to Peter, "So, could you not stay awake with me one hour? Stay awake and pray that you may not come into the time of trial; the spirit indeed is willing, but the flesh is weak." Again he went away for the second time and prayed, "My Father, if this cannot pass unless I drink it, your will be done." Again he came and found them sleeping, for their eyes were heavy. So leaving them again, he went away and prayed for the third time, saying the same words. Then he came to the disciples and said to them, "Are you still sleeping and taking your rest? See, the hour is at hand, and the Son of Man is betrayed into the hands of sinners. Get up, let us be going. See, my betrayer is at hand."
Matthew 26.36-46
The isolation of the Garden of Gethsemane takes on new meaning for many of us in this unprecedented experience of the season of Lent. As we move toward the Triduum, the pinnacle of the Church year, the COVID-19 pandemic and the resulting physical distancing which has closed churches to the public has forced all of us to rethink how we worship, as well as to remember why we do.
Normally at this time, our campus would be alive with students handing in papers, doing last-minute check-ins with professors, returning library books, and preparing for exams. They would also be visiting St. Basil's, our beautiful collegiate church, attending one of the two daily masses, receiving the sacrament of reconciliation, and preparing to observe the passion, death and resurrection. There would be a sense of completion to the students' year, as there would be for faculty and support staff. An academic year would be drawing to a close, just as Easter was about to herald new life.
In our current reality, however, norms have disappeared, which poses multiple challenges. But St. Michael's is a collection of communities, including a community of faith, and so we thought we'd share a few thoughts on how to support each other as we prepare to say, once again, "He is risen!"
St. Michael's alumni members have a long tradition of a Lenten retreat. When they were unable to meet together, Dr. Colleen Shantz, who was to lead the retreat with Dr. Darren Dias, O.P, created a virtual retreat, which you can find here. Thanks to both professors for their efforts.
Dr. Dias, who teaches Trinity in the Faculty of Theology, reminds us there are many ways to mark this holiest of seasons, even if we are not able to access our normal traditions.
For example, "people could do a solitary stations of the cross by walking outside and stopping to say a station prayer 14 times," Fr. Dias suggests. "This would get people outside and attentive to the season."
As well, "families could read and meditate upon the readings of the day. We can promote the domestic church in this way," he adds. He also suggests calling an elderly or isolated person to pray with them over the phone, a very powerful reminder of the injunction of when two or more are gathered.
If you watch our website in the coming days, you'll see homilies from Fr. Darren posted for both Palm Sunday and Easter, and Fr. Morgan Rice, CSB, will contribute the Holy Thursday post to InsightOut, our COVID-19-related blog, on Holy Thursday.
St. Basil's links to some useful supports for prayer during Lent, and we applaud their efforts to help people in prayer at this unusual time. So, too, does the Archdiocese of Toronto, and we are grateful.
One of the nicest links we've seen is this one, which offers a heartfelt alternative to the usual Palm Sunday traditions.
While we may not be physically together on this Lenten journey, we are very much together in spirit, and we look forward to the day when we can gather together and say, "He is risen. Alleluia!"
Because public masses have been cancelled due to the coronavirus pandemic, Dr. Darren Dias, O.P., has shared his homily for Palm Sunday.
Dr. Dias teaches in St. Michael's Faculty of Theology, specializing in Trinity, Religious Diversity, and teaching methods. He is currently working of a SSHRC funded project with colleagues Gilles Routhier (Laval) and Michael Attridge (St Michael's) entitled: "One Canada Two Catholicism: Divergent Evolutions in the Catholic Church in Quebec And Ontario, 1965–1985."
---
Plunged into the Reality of Suffering and Death
Today is "Palm Sunday of the Passion of Our Lord." It juxtaposes two events: Jesus' triumphant entry into Jerusalem (Palm Sunday) and the immediate events surrounding his betrayal, arrest, trial and execution (Passion of Our Lord). These two contrasting events are captured in the liturgical celebration that begins with the proclamation of the Gospel narrative about Jesus' triumphant entry into Jerusalem (this year Matthew 21:1-11). Normally this is followed by a joyful procession from outside the church to inside or within the church itself. We ritually perform what the evangelist describes: a rather chaotic scene of crowds, animals, cloths being thrown down, people chanting and waving branches.
But the exuberance of the triumphant entry into Jerusalem is short-lived. In the reading from Isaiah we are introduced to the maltreated teacher-servant and in Paul's letter to the Philippians, a theological reflection on the death of Jesus. By the time we read the second Gospel lection, the passion according to Matthew, we are plunged into the reality of death. The lection ends with Jesus' lifeless body being guarded in a sealed tomb.
On this Sunday, we go from the joyous chorus of "Hosanna to the Son of David! Blessed is the One who comes in the name of the Lord! Hosanna in the highest heaven" to the solitary cry of Jesus: "My God, my God, why have you forsaken me?" to the silence of the sealed tomb.
Death is an inescapable, existential, and mysterious experience. Yet it often catches us by surprise, no matter how prepared we think we are. When my own father died after a lengthy battle with cancer, knowing he was palliative, it still came as a shock. Nothing really prepares us for the mystery of death. In Matthew's Gospel account the death of Jesus is predicted several times (Mt 16:21-28, 17:22-23, 20:17-19, 26:1-2), and yet we stand at the tomb plunged into the silence of this existential, inescapable and mysterious experience.
A few weeks ago the whole world was plunged into the reality of suffering and death as the COVID-19 virus swept across the globe. Though there were many warnings, no one seemed really prepared for the novel reality we are now living. We still don't really know what will happen, we don't yet have control of the situation. Today we stand in Golgotha, at the foot of the cross, lamenting that many have become ill and many have died, anxious because even more will become ill and die. We stand silent at the tomb.
Our Western culture has an odd relationship to death. We try to escape the reality of death and aging, celebrating youth, and constantly chasing after it. We sanitize our field of vision from human misery and suffering, yet we are bombarded with images of violence and death on our screens. Our fear of suffering and death is evidenced in our attempts to control death through the legalization of assisted suicide.
COVID-19 forces us to confront the inescapable, existential, mystery of death. We should not be too quick to say this will pass, that we will get through it, true as these sentiments may be. We want to get hurriedly to Easter and to the empty tomb, without keeping a long vigil at the foot of the cross. This year will be a long Good Friday. Jesus's cry from the cross resounds with our own: My God, my God, why have you forsaken me?
In many societies and communities around the world, suffering and death is sadly the norm. Latin America theologian Gustavo Gutierrez, OP, draws our attention to the plight of so many millions who live in situations of death every day. For Gutierrez, the poverty he lives means death, lack of food, housing, education, healthcare, respect, dignity, freedom. Exploitation of the vulnerable and systemic violence is the never-ending lot of so many. He asks: how can we proclaim a God of life in this situation of death?
We are plunged into the reality of suffering and death in today's liturgy and in our lived experience. I invite you to listen to Anton Bruckner's moving setting of Philippians 2:8-9, Christus factus est, performed by the Choir of King's College, Cambridge. This music draws us into the depths of the mystery of death and into the God of life.