Michael O'Connor is Associate Professor, Teaching Stream, in the Christianity and Culture program and Book and Media Studies. His research interests include music and liturgy and he is director of the St. Michael's Schola Cantorum and the college Singing Club.
---
Saturday night, Sunday morning
Saturday night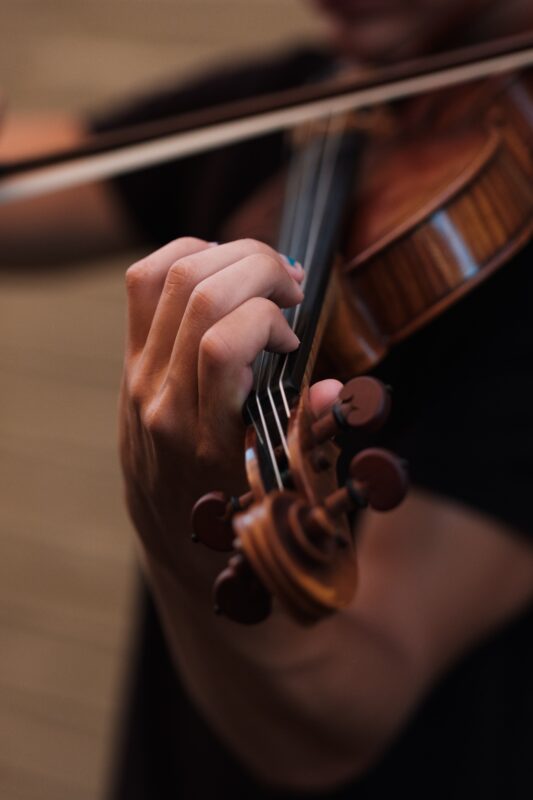 You were lucky the get tickets for the Tafelmusik late-night concert. You arrive an hour early for check-in, as required, and stand in a well-spaced line in the cordoned-off section of now pedestrianized Bloor Street. Your mask is inspected, your temperature taken, you are asked some routine questions about your health (all rather reminiscent of flying to the US in the old days—when we could do that), and are then directed to your seat, four seats away from the next person, empty rows in front and behind. The tang of bleach competes with wood polish. At least there's space to put your coat, scarf, and mitts (it has been an especially cold March). You nod at your nearest neighbours, an indistinct gesture that could mean "Why on earth are we here?"
The tiny orchestra is spread out over the whole dais. The string players are all wearing masks, the harpsichordist is wearing gloves, and the oboist is inside a plexiglass booth, standing on a disposable absorbent mat. The choir, of course, has been furloughed—they are supervectors. According to the program notes, which you read on your phone, you'll be hearing music from seventeenth-century Venice composed in thanksgiving for deliverance from the plague. The oboe gives a note and the strings begin tuning up; at this sound, neither music nor noise, you shiver with unpremeditated delight. It has been almost a year since you heard any live music—other than the neighbour's daughter practising clarinet. You realize in that instant how heartsick you have become with the diet of autotuned, click-tracked, virtual ensembles.
You can't take you eyes off the three-dimensional, flesh and blood performers. They make occasional eye contact with each other at beginnings and endings but for the most part, like geese in formation, they sense together the music's flight, bobbing and weaving as one. Carried along with them, your spirit soars, your pulse quickens. Behind your mask, you chuckle with nervous joy. They play for an hour (no interval, no washrooms, merchandise for sale online only) but it passes in moments. Your final applause is exuberant, reverberant, as you try to fill the space with the appreciation of an absent crowd.
Sunday morning
At St. Basil's, you join the ticket-holders for the 11:07 mass ("enter through the west door, please stand on the red dots"), where your mask is inspected and your temperature taken. Once the 10:30 mass is over, you file up the stairs into church. Household groups sit together; others sit in isolation. You choose a spot in the sightlines of the camera live-streaming the mass on the parish's YouTube channel. Your mother will be watching ("No, not lingering adolescent guilt," you insist: "it will lift her spirits to know she has a proxy at mass"). You greet parishioners whose names you now know from Zoomed faith-sharing sessions. Stilted remarks are exchanged across the voids but, like teenagers, you have learnt to save your most vulnerable conversations for social media. Gloved sacristans lay out all the necessaries next to the altar; there will be no servers.
The entrance hymn is sung by an unseen cantor and although the words are projected onto two large screens, you are encouraged only to hum along quietly ("Singing is worse than coughing"). This suits you, since you are a reluctant singer—unless it's "Come all Ye Faithful," "Amazing Grace," or that bit from the Mass of Creation that everyone knows. You recall the choir director who insisted that singing is all health benefits and no side effects—you wonder how he's enjoying his humming. Readers proclaim the scriptures from individual iPads. The priest's homily is polished—which is not surprising given the number of times he has preached it today. Occasionally he turns to the camera to address the over-60s watching from home. He looks tired. You enjoy the reminder that the collection basket has been stood down ("temporarily, of course"), and nag yourself (again!) to go online as soon as you get home to make your donation.
Bread and wine are prepared at the altar. The organ plays softly, a half-disguised melody accompanied by the clink of the cruets on the chalice. The sight of the empty seats conjures up the parishioners who normally occupy them, and your mind's eye is flooded with images of warm, colourful, singing bodies. In among them, you wonder if you really do see faces of angels, apostles, martyrs—a shimmer of countless holy ones.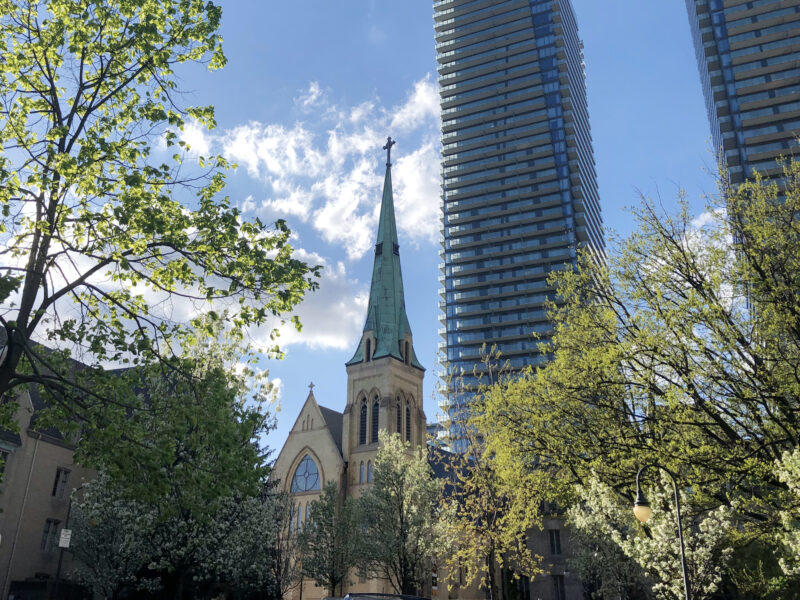 Communion is a regimented, high-alert manoeuvre. You make your way forward biddably. Against all reason, you lower your mask. As the social distance collapses to near-zero, the minister deftly drops the host onto your well-scrubbed hands. You exhale your Amen. Back in your seat, you savour communion. You think of those you love, those in need, those who have not made it this far. While the invisible cantor reminds you to taste and see how good the Lord is, your prayers rise on clouds of Purell and latex powder.
After the closing devotionals (St. Michael has been joined by St. Blaise and St. Roch), you leave the church in an orderly fashion ("exit through the east door"). The organ postlude is almost loud enough to drown out the sound of disinfectant being sprayed on the pews as the church is made ready for the 11:44 mass, the last one before the lunch break.
On the long walk home, your mind is a-chatter: yes, togetherness is in your genes, primates love to sing and laugh together, to feast and embrace. But as a rational primate, you have been hearing for months now that your neighbour is a potential biohazard—that you could be a biohazard—and that the only safe space is the digital universe, where viruses are metaphors.
When you get home and inside, you slump against the door, pull off your mask and take several long breaths. You're exhausted. You're blessed. You just might be hungry (you're never sure these days).
The lockdown was not easy; but the opening-up feels much harder.
Sources
Guidelines for rehearsals and concerts during the pandemic have been issued by the German Orchestra Association's Health and Prophylaxis Working Group and by seven orchestras in Berlin. Two bodies in the US have produced guidelines for the celebration of sacraments: the Thomistic Institute in Washington and the Federation of Diocesan Liturgical Commissions. An alliance of singing groups sponsored a webinar on the near future of singing.
---
Read other InsightOut posts.
Fr. Morgan Rice is the pastor of St. Basil's Church, the college parish. He is a graduate of the Faculty of Theology, where he earned a Master of Divinity degree in 2009. Fr. Morgan arrived at St. Basil's after serving as Associate Pastor at St. Kateri Tekakwitha Parish in Rochester, New York, for eight years. Born and raised in Corpus Christi, Texas, Fr. Morgan studied mechanical engineering at the University of Virginia and later worked for six years in the engineering field in Houston, Texas.
---
Vulnerability and Life
Last Sunday, the first segment of CBC's The Sunday Edition featured Yale University historian and professor emeritus Frank Snowden, who spoke on how pandemic diseases have shaped human history by exposing and taking advantage of weaknesses, or vulnerabilities, in human society. He said that COVID-19, like other pandemic diseases, "is showing us what our deepest vulnerabilities are in the world that we've made." Capitalizing on those vulnerabilities, the disease is altering life and relationships across the globe.
Vulnerability can be viewed in different ways. If seen as opening us to hurt and loss, we have good reason to avoid it. However, vulnerability, especially in the context of a safe environment with people we trust, can open us to some profound experiences and relationships.
The Triduum that begins tonight with the Mass of the Lord's Supper and ends with the Easter Vigil invites disciples of Jesus to consider vulnerability as a necessary disposition that leads to life in the fullest. Three months ago, I would never have imagined that I would be celebrating tonight's Mass in an empty church without a congregation, without music, and without the washing of feet, one of the most moving aspects of the liturgy. Over the years, I have come to realize that asking individuals to have their feet washed is asking them to be vulnerable—to bare their feet, thus exposing any imperfections, and allow me to touch and wash their feet as I humbly kneel before them. However, taking that risk opens them and me to a powerful experience.
Jesus insisted he wash the feet of his disciples otherwise they would have no inheritance with him (John 13.8). They were to do likewise. "So if I, your Lord and Teacher, have washed your feet, you also ought to wash one another's feet" (John 13.14). This lesson foreshadowed Jesus' ultimate act of love and vulnerability as he submitted to the Cross, which led to the new life of the Resurrection.
COVID-19 has altered life as we know it and likely will continue to do so for some time. While it is showing us vulnerabilities that have opened us to great losses and pain, how might we use vulnerability differently? Jesus shows us the way and that is through relationships—by choosing to be vulnerable with each other, offering our lives in service and love, washing each other's feet so that all might experience greater life.
---
Read other InsightOut posts.
Note: Due to overwhelming interest, all tickets for this event have been reserved. We thank everyone who has expressed interest in attending.
After fire destroyed much of Notre Dame Cathedral earlier this year, Paris and the world were relieved to discover that the landmark's 19th-century Cavaillé-Coll organ, one of the most powerful and moving organs in the world, had survived the blaze.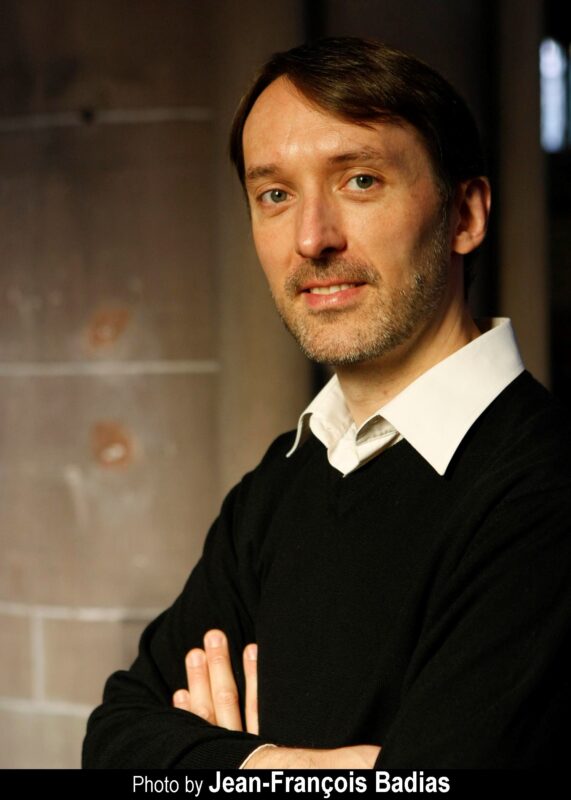 Now, seven months after the April 15 fire, one of the few people in the world to regularly play the Notre Dame organ will be on campus to perform a very special concert.
Olivier Latry, Titular Organist at Notre Dame since 1985, will visit St. Basil's Church at the University of St. Michael's College to play in honour of the 100th anniversary of the installation of St. Basil's organ. The Royal Canadian College of Organists will co-sponsor the event.
"I'm very honoured to be chosen to come for the 100-year anniversary," Latry says, noting that Notre Dame's organ will inevitably influence his performance in St. Basil's.
"I've spent two-thirds of my life at Notre Dame," say Latry, whose January album recorded in the iconic church was the last recording made on the Notre Dame organ before the fire. "I'm always thinking about the organ, and when I'm somewhere else, I try to reconstruct the sound that I have in Notre Dame on the organ that I will play."
The Casavant Frères organ Latry will play at the Fri., Nov. 22 concert in St. Basil's may serve that purpose well. First installed in 1919, the instrument is one of the few organs in Toronto to be built according to the ideals of the French Symphonic style, which characterizes the organ at Notre Dame as well.
"St. Michael's is thrilled to celebrate the 100th anniversary of the installation of the organ at St. Basil's, which has been at the heart of our campus community since we opened our doors on Clover Hill in 1856," says St. Michael's President Dr. David Sylvester.
Since its installation, the St. Basil's organ has provided an accompaniment to some of the most important moments in academic and liturgical life for the St. Michael's community, including convocation and invocation Masses, presidential installations, weddings, funerals—and, of course, the regular weekday and Sunday Mass.
"The instrument Olivier Latry will play marries the academic and liturgical sides of our community. We look forward to welcoming members of our larger university and city community to enjoy Latry's performance on Nov. 22, a day on which the Church celebrates the Feast Day of Saint Cecilia, the patron saint of music," President Sylvester says.
Fr. Morgan Rice, CSB, the church's current pastor, says St. Basil's is "an enormously important part of not just the spiritual life of St. Michael's, but also the community life of St. Michael's." Students can often be found at the church gathering for events or volunteering with social outreach programs such as Out of the Cold, which provides food and hospitality to members of the homeless population in Toronto.
The longest continuously operating building on the University of Toronto campus, St. Basil's Collegiate Church first opened its doors in 1856, the day before the opening of the St. Michael's campus at Clover Hill, its current location. The parish has been administered since its founding by the Basilian Fathers, the same teaching order that helped to found St. Michael's.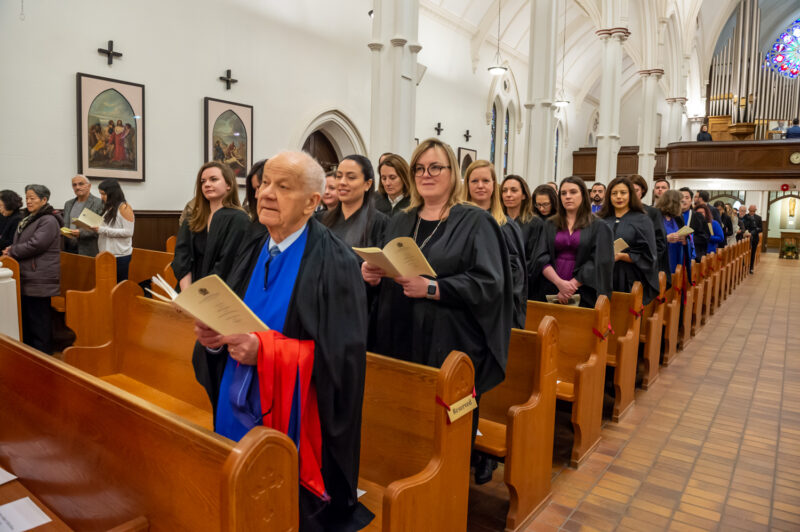 In addition to their presence in college classrooms as professors, the Basilians have remained a central presence at St. Michael's through their work at the church, providing another point of connection with staff, faculty and students. "I hope that Basilian presence on campus through our ministry at St. Basil's will continue for many years to come," Fr. Rice says.
Latry's Friday evening performance will follow a special interview with Dr. John Paul Farahat, Director of Music and Principal Organist at St. Basil's. Dr. Farahat, who has performed on the Notre Dame organ himself, directed a rebuild in 2017 of the St. Basil's organ by Casavant Frères and the Alan Jackson Company that lowered a section of the façade enough to allow the beautiful rose window on the south side of the church to be visible from the floor.
Farahat had two goals for the rebuild of the St. Basil's organ: "first, to create an instrument for worship and prayer that was viable for the next generation, and second, to make an instrument well suited to French repertoire."
The lowering of the organ's façade was intended to create "a visual component to that [beautiful sound]." A priority during the rebuild was creating "an exceptional teaching instrument for organ students in general," he says.
Farahat says the organ has become a resource to students at the U of T studying organ performance, as well as professors and music directors who come from all over the city to play the instrument.
While Latry is chiefly known as a principal organist at Notre-Dame Cathedral, he is also Professor of Organ at the Paris Conservatory, and his visit to St. Michael's will incorporate both his liturgical and educational roles.
In addition to his evening concert at St. Basil's, Latry will provide high-level personalized instruction to four students from U of T's Faculty of Music, who will have an opportunity to join him in the organ loft Friday morning for a two-hour masterclass.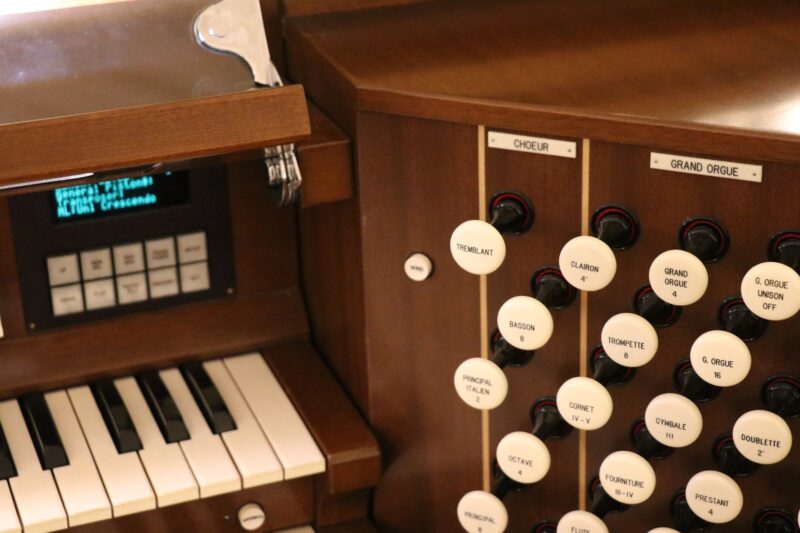 Faculty of Music Associate Professor Kevin Komisaruk says the masterclass will give these students "a rare chance to experience customized instruction from one of the world's most experienced and accomplished professionals.
"Latry is a world celebrity among organists! It is always a transformative thrill for students get a chance to see themselves in their role models," Dr. Komisaruk says. "We are deeply grateful that St. Basil's has consistently shown such grace and openness in supporting the pedagogic development of our students by allowing them to practice, study, and perform at this historic instrument."
Dr. Komisaruk was himself organist at St. Basil's, and one of the students in Latry's masterclass, Stefani Bedin, is now Associate Organist at the church. Bedin is also a Doctor of Musical Arts in Performance student in the Faculty.
"Olivier Latry is one of the custodians of the esteemed French organ tradition, so I particularly look forward to hearing his comments on the French organ repertoire," Bedin says. "It is wonderful that the collaboration between St. Basil's, the University of St. Michael's College, and the wider community has made this truly exceptional event possible."
Latry's repertoire for the concert will include both sacred and concert pieces meant to showcase the organ's French Symphonic qualities, but the technical virtuosity is an expression of a simple desire: "It's nice to share my passion.
"You are always touched by the sound of the organ. You will always find something which touches you," he says. "I think that related to the music which was composed for the instrument, there is a lot to discover and there's a lot also to enjoy."
More than anything else, that enjoyment is what he hopes to provide during his St. Basil's performance.
"I would say to the people: just come and listen and enjoy."