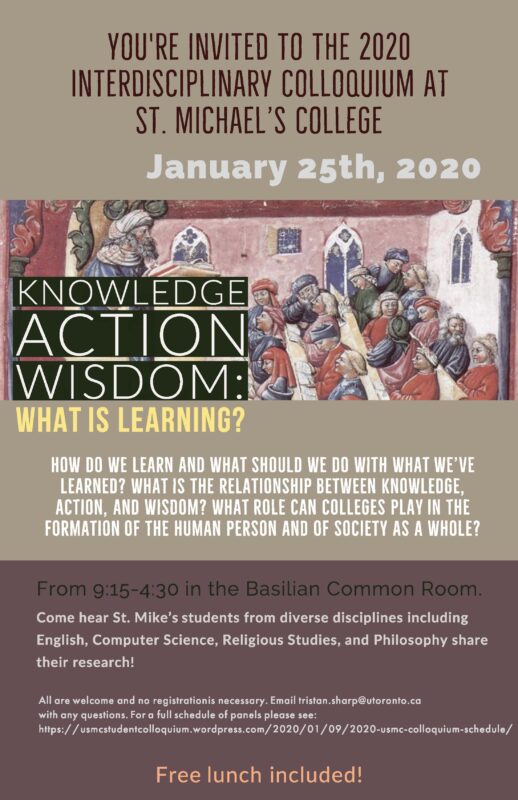 As the sponsor of four interdisciplinary programs at the University of Toronto, St. Michael's emphasizes the conversational and communal nature of scholarship. On January 25, students from the St. Michael's community will convene a wide-ranging conversation about the nature and purpose of learning and education at the USMC Student Colloquium 2020: "Knowledge, Action, Wisdom: What is Learning?"
The showcase of student research is designed to be a learning opportunity for participants, who benefit from detailed faculty responses to their work as well as dialogue with peers and professors across disciplines. Past student-participants have gone on to present their work at academic conferences and other institutions.
Their presentations will also generate a larger conversation on campus about the ideals, purposes, values, and goals that animate the university community.
"Discovery at the University exceeds the boundaries of teaching and research," says Principal Randy Boyagoda. "At St. Michael's College, we are committed to providing students the opportunity to seek the truth for its own good and for the greater good, and this Colloquium represents a natural forum for our academic community to do as much."
For this year's Colloquium, students from both the undergraduate division and graduate Faculty of Theology will present on topics ranging from theories of scientific change to the novels of John Williams and Vladimir Nabokov and the future of Catholic education. Respondents include Faculty of Theology professor Jean-Pierre Fortin, Christianity and Culture professor Reid Locklin, and St. Michael's Fellow Clifford Orwin.
The discussions that follow each presentation place their arguments in a much larger context. "We don't want the presentations to exist in a bubble, but to be part of the conversation," says co-organizer and Faculty of Theology postdoctoral fellow Dr. Tristan Sharp, who has helped organize three student colloquia at St. Mike's.
Participants also have the opportunity to benefit from the perspectives of students outside their disciplines. Dr. Sharp mentions a particularly potent combination of papers two years ago, which paired a presentation on "digital resurrection" through social media applications with a paper about concerns around science and technology during the Enlightenment. Dr. Sharp finds cross-disciplinary encounters can spur students on to deeper questions in their own work.
"One of the new trends in thinking about research is to think about it as a certain kind of conversation. What a colloquium like this permits is an opportunity for students to begin to think of themselves as real partners in the conversation rather than merely observers of it," says Dr. Locklin, who will be participating in the colloquium as a respondent for a third time. "By reflecting on the nature and purpose of education, students also can help us deliberate about the future of the University of St. Michael's College."
The USMC Student Colloquium 2020 will begin with coffee and snacks at 9:15 a.m. on Saturday, January 25 in the Basilian Fathers Common Room. All are welcome, and no registration is necessary. Contact tristan.sharp@utoronto.ca with any questions.