These last few months have not been easy, but St. Michael's student athlete Curtis Harvey has found a way to make a difference.
Countless students headed home when the university announced the cancellation of all in-person classes due to the COVID-19 outbreak on March 13; however, the fourth-year Varsity Blues men's hockey player stayed put in his Toronto apartment.
"I've been on my own for most of quarantine as my roommates moved back after the school year," said the industrial relations major from Keswick, Ont. "My mom took over my room in Keswick to stay somewhat isolated from my dad and sister."
Harvey's mother, Jayne, works at River Glen Nursing Home in Sutton, Ont., and like so many healthcare heroes, did her best to isolate herself from her family.
"It has been weird whenever I go home," added Harvey. "For the most part I stay outside but not being able to hug my family hasn't been easy."
Just when they were getting used to their new 'normal', the River Glen Nursing Home suffered a COVID-19 outbreak. Jayne and 30 of her coworkers moved into a nearby motel to fully isolate from their families.
Wanting to help and witnessing all of the generosity in the community, Harvey sprang into action. He enlisted the help of the Varsity Blues men's hockey team to raise money and provide his mom and her coworkers meals after their long shifts.
"I first pitched the idea when Coach [Ryan] Medel gave me a phone call after we heard about the delay to the start of the season," said Harvey. "He thought it was a great idea and said if there was anything he could do to help, he would. I sent a message in the team group chat explaining the situation and set up a GoFundMe page where they could make donations. My teammates and the staff were incredibly generous."
To date, Harvey and the men's hockey team have provided two meals to Jayne and her coworkers in Sutton, with a third on the way, thanks in large part to U of T assistant coach and former NHL'er Mike Zigomanis.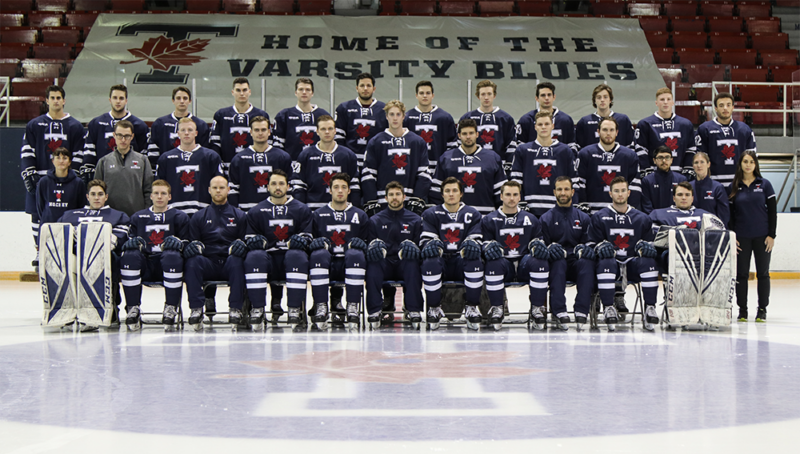 "I got the idea from the community. A lot of people and local shops have been donating supplies or meals to healthcare workers. I figured if I could make their day even 1% better, it would be worth it."
Harvey also credits his friend and current Ottawa Senator, Chris Tierney, for the great idea.
"Chris donated a weeks' worth of meals for nurses and I thought it was amazing."
Jayne is just one of many healthcare heroes who continues to fight this pandemic and Harvey couldn't be more proud of her.
"My mom is doing well and she just had her eighth negative test. It's been hard on her not being able to come home every night and have the support from our family. My dad's been great through this. He often will grab food from town and bring it to her for dinner. He'll sit by his car and they'll talk about the day and enjoy a meal together."
The burning question in everyone's mind is 'what will you do when this is all over'? For Harvey, he's excited to spend quality time with his family again.
"I know we are hoping to be able to go up to the cottage together at some point this summer. We just got it last fall so we've been chomping at the bit to get up there and utilize it."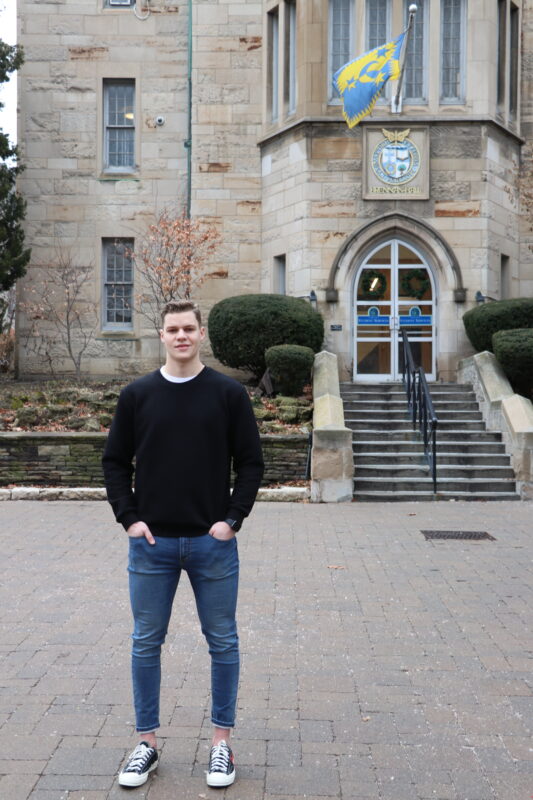 As the Varsity Blues men's hockey team went on a 14-game winning streak this winter, first-year St. Mike's student athlete Kyle Potts was beginning to come into his own. The rookie forward and Ontario Hockey League alumnus has become a power play asset for the Blues, scoring the fourth goal during their hard-fought 6-5 win against the Ryerson Rams that kicked off Toronto's remarkable winning streak, a feat they last accomplished in the 1973-1974 season.
"It was a wild game with five lead changes," the Oakville native says. The overtime win provided a morale boost that propelled the team into a string of victories. Potts added to the team's point tally in six of those games, contributing the game-winning goal in a 6-2 win over the Brock Badgers. He notes, "I don't think anyone really expected us to win 14 in a row."
The Varsity Blues are now at the top of the Ontario University Athletics Western Conference standings; Potts considers the Queen's Cup and a trip to nationals to be in reach, which could open a new chapter in the history of the Blues hockey program. The team won its last national title in 1984.
The prospect of becoming part of an athletic legacy is one of the things that originally attracted the Humanities major to St. Michael's when he was considering the University of Toronto. "The history of hockey at St. Mike's is what originally drew me," Potts says. "I just knew it was the right place for me."
The Double Blue hockey tradition at St. Michael's goes back to the early days of the institution, when Basilian priests could be found on the ice coaching and competing with students. With a lineage that includes Hockey Hall of Fame inductees and Olympic team coaches, hockey at St. Michael's has always been a strong source of community for student athletes, and continues to provide a firm grounding for those who are new to university.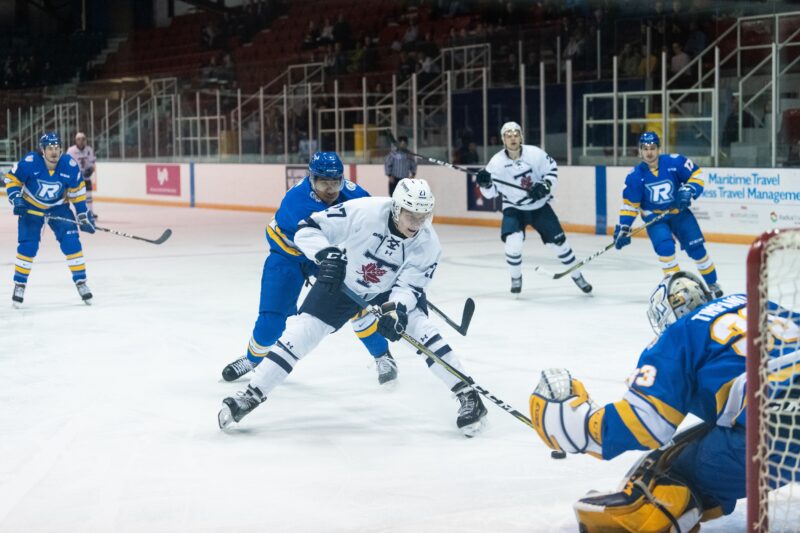 "It's like a brotherhood," Potts says of the Varsity Blues team, which includes fellow St. Michael's students Curtis Harvey and Frederic Foulem. "We all stick up for each other."
Potts made his transition to university several years later than most U of T students, as he played for three years in the OHL after graduating from high school. He also participated in the New York Rangers training camp in September 2018.
Managing a full load of classes in addition to a rigorous six-day-a-week practice schedule has presented challenges beyond the ones Potts knew from his life in the Junior Hockey system. He knew support would be important in order for him to make a successful transition.
"I met with some of the people in the Registrar's Office before enrolling at St. Mike's," he says, noting that they helped make his transition to university easy for him. "They seemed like a great support system for me, and it was the right fit."
"Kyle, like many of our student athletes, faces the pressure of high-level performance in the athletic and academic arenas," St. Michael's Registrar and Director of Student Services Giancarlo Mazzanti says. In view of these pressures, the Registrar's Office makes sure to connect student athletes like Potts with both an academic advisor and the Student Services team at St. Michael's, which includes learning strategists, accessibility advisors and Campus Ministry.
Potts also credits Head Coach Ryan Medel, Assistant Coach Andrew Dovey and other members of the Men's Hockey coaching staff for helping to integrate new players into both the team and university life more generally. "They do a really good job around the clock looking out for us and supporting us," Potts says. "It's good because it feels like you're never alone."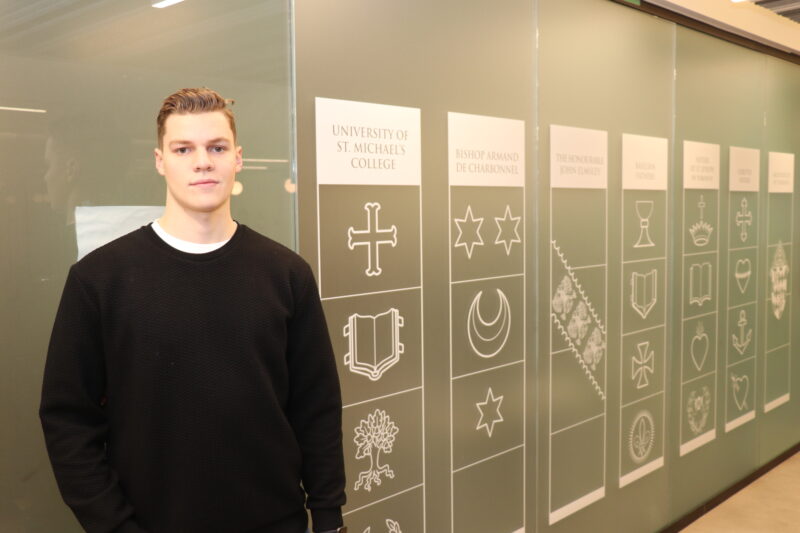 Despite the intense rigours of both OUA competition and university-level studies, Head Coach Medel considers Potts to have made a successful transition into his Varsity Blues career. "Kyle skates well for his size and has strong offensive instincts," he says. "He's solidified a spot on our power play and has been a big part of our success overall."
So what's next for the nationally ranked team? The big goal is securing the number-one seed in the OUA playoffs—the first step towards the Queen's Cup and a berth at the nationals. As the number one team in the OUA West and fourth-place team in the country, this goal is well within reach. Potts considers the Queen's Cup achievable as well.
"We play the right way as a team," Potts says. "I think we have the team to go there."
Following wins over the weekend against the Windsor Lancers and Wilfrid Laurier Golden Hawks, the 19-3 team will next face off against the Western Mustangs in Varsity Arena on Wednesday, Jan. 22 at 7 p.m. Fans can cheer on the Blues and catch updates in real time at the Varsity Blues Twitter account, and watch the game live at OUA TV.