Rachel Ottenbreit is a St. Mike's alumna and former staff member, and is currently studying theology at the Pontifical University of the Holy Cross in Rome.
---
Doubling Our Joys and Halving Our Sorrows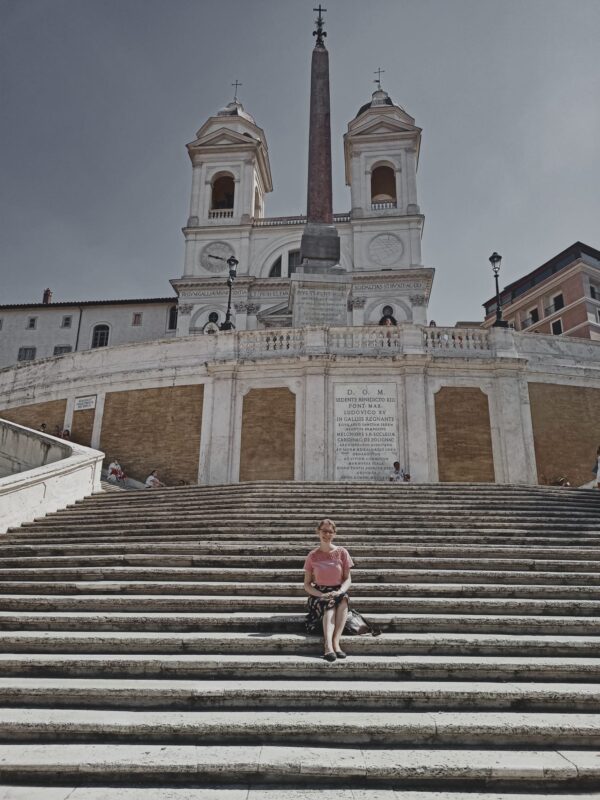 In Italy, the lockdown began in March. Things closed fast, and although it felt like a total shutdown from the beginning, every week brought new restrictions. Parks, schools, churches, and businesses were closed; travel, group meetings, and "playing" (not ironic quotes: that's the word the ordinance used) were banned; we could leave our houses only for emergencies, and then alone and with a paper justifying what we were doing on the street. Jane Austen might have said we were "in the middle before we knew we'd begun," and Shakespeare that "there are more kinds of lockdown and quarantine, Horatio…"
The consequences of these closures are so varied. Surprisingly there were unexpected joys. Yes, although dolphins may or may not have returned to the canals of Venice (reports vary and I didn't see it myself), those canals are definitely clearer and wildlife have been exploring our cleaner, quieter world. Joys erupted on a personal level too. I got to watch my aunt's wedding in June and one of my best friend's this last week. I couldn't have flown home for either, so those live streams were pure, unexpected gifts.
In Diary of a Country Priest, Georges Bernanos writes that soldiers at the front cannot desert: "A chest is a chest when you get to the trenches. And one less counts!" That is, in the trenches you can literally take hits for others. Once you're there, whoever you are, you do whatever you can do because whatever you can do makes a difference.
This is not to say that I've taken many hits myself. I've been very fortunate to live with other people, good friends, in the middle of this. We have good WiFi and a garden we can go to for fresh air and exercise. And our university bent over backwards for us (even couriering library books we requested, as long as that was possible).
But being restricted earlier and more severely than other countries, missing more than one family member who planned to visit this spring, helping people pack up and go or find ways to stay because they couldn't leave, and grieving with close friends, many of them, who've lost family members and can't go home…yes, while there were unexpected joys, there has also been an expected sorrow.
I started checking in with friends back home in their own trenches. Between the people I wrote to and those who, reciprocally discovering the same idea, wrote to me, throughout this time I've been in touch with more old friends than any time before. Though officially isolated, I knew I wasn't alone, and I hope they did too. This has been another joy.
For me, as for many believers around the world, it was incredibly difficult to go without religious services—in my case, Mass and Confession. But it's also been incredibly moving to see Pope Francis doing everything he can so that we Catholics, we anyone, aren't alone. He really shouts it from the rooftops: we are not alone and we need never be. To remember him walking through Rome's tragically empty streets praying for all those suffering, and giving his hopeful, consoling "to the city and to the world" blessing still calls forth thankful tears. That's the front line, and I'm so thankful that he's there.
All in all there are so many blessings. It has become much more obvious that we're in this, in life, together. We don't need a pandemic to take hits for each other. We can double our joys and halve our sorrows together. In the middle of this mess, that's something to be grateful for.
---
Read other InsightOut posts.
Emily VanBerkum (USMC MDiv 2015) is the Dean of Student Residence at Loretto College, and John Paul Farahat (UofT DMA 2019) is Director of Music and Principal Organist of Saint Basil's Church.
---
Enjoying Life's Quiet Moments
"How many times have you noticed that it's the little quiet moments in the midst of life that seem to give the rest extra-special meaning?" — Fred Rogers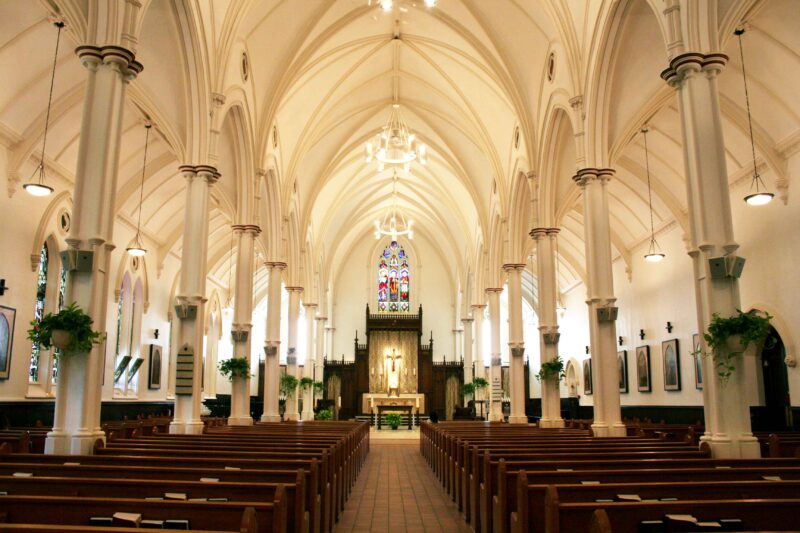 The story of the proposal is really a two-part saga. Last year around this time, we were vacationing in Chamonix, France. Standing at the base of Mont Blanc, eyes gazing up at the breathtaking alpine landscape with gelato and marzipan cookies in hand, we considered ourselves incredibly grateful.
Unbeknownst to one of us, an engagement ring had been discreetly tucked away in our luggage for a surprise proposal in the Alps. But that carefully chosen landscape would fall through following an ill-timed fall down an old stone church staircase moments before that destined date-night dinner. Instead of a picturesque engagement ring reveal in a historic gazebo on a crisp late summer night under a sky of twinkling stars…a torn ligament, a pair of crutches, and a wheelchair ride through the Geneva airport.
One month later—ankle reasonably healed—we took a relaxed evening stroll along Toronto's Queen's Quay. Nearing sunset, on an ordinary park bench looking out to the calm waters, a proposal happened at last. A wild success: two elated smiles (and no torn ligaments). It was a perfectly tranquil, joyful moment. We laughed at the story of the-Chamonix-proposal-that-almost-was, and exclaimed to each other that 2020 was the year to be married—a year of perfect balance and harmony. We unhesitatingly chose Saint Basil's, a parish to which we have both happily belonged since our student days, and set a date for September, 2020.
Much has changed in the world since we made initial arrangements. While our 2019 selves were focused on venues, vendors, realizing the "wedding vision," and planning for out-of-country family members to attend, our 2020 selves have been more concerned with health, safety, and grappling with our new reality.
Our new central question was shared with many others: do we go ahead with the wedding, or do we postpone?
Our engagement story provided us with a providential lesson. The elaborate getaway proposal in Chamonix—with bells, whistles, and grand gestures—was replaced with a quiet proposal close to home, with only the most essential elements: the two of us, the "big question," and a whole-hearted promise to spend our lives together. Indeed, the most though-out plans do not always go according to plan. Often, it is the beauty of the "quiet" moments that we cherish so deeply. It's these instances that capture a moment in time, leaving an indelible mark on our minds and hearts.
Therefore, we have decided to move ahead with the originally scheduled date.
Establishing a sacramental union in Saint Basil's, even without the larger guest count, elaborate reception, or flourishes that we had originally imagined, allows us to be true to what is most foundational: that marriage is a vocation in which the couple is drawn together for a purpose greater than themselves. Just like the proposal, our wedding day will be a reminder to find joy and contentment in the quiet, less elaborately planned moments of our married lives.
The beginning of our married life, surrounded by a small gathering of immediate family, will be at the forefront of our special day. And while we know the wedding day doesn't make the marriage, in the end, perhaps the apparent "quietness" of the day will be everything we didn't know we needed.
---
Read other InsightOut posts.