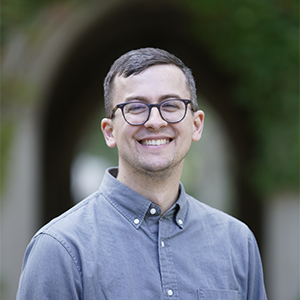 Associate Professor, Teaching Stream
PIMS 30
Felan Parker is Associate Professor at St. Michael's College in the University of Toronto, and a scholar of media industries and cultures specializing in games, digital media, and film. His ongoing research, supported from 2016-2019 by the Indie Interfaces SSHRC Insight Development Grant, explores the production, distribution, and reception of independent or "indie" digital games with a particular focus on the role of intermediary actors like curators, critics, and community organizers in the cultural ecosystem of the game industry.
Dr. Parker is also co-investigator on the Swarming Comic-Con SSHRC Insight Grant, a collaborative ethnographic research endeavour that examines the famous San Diego Comic-Con and its cultural and economic resonance across entertainment industries. Other interests include game development in Canada, transmedia franchises, blockbusters and spectacle, authorship, genre, and analog games. His work has been published in leading journals and presented at conferences around the world, and he co-edited Beyond the Sea: Critical Perspectives on Bioshock, a 2018 anthology of essays on the influential game series.
From 2014 to 2020 Dr. Parker served as Vice-President and President of the Canadian Game Studies Association, and from 2015-2017 he held a SSHRC Postdoctoral Fellowship at Concordia University's Technoculture, Art and Games Research Centre. He completed his Ph.D. in Communication & Culture at York University in 2014, where his dissertation critically examined popular debates about the cultural legitimacy of games as art.
Outside of his academic work, Dr. Parker is the co-founder of Toronto Outdoor Picture Show, the not-for-profit organization that produces film screenings in parks across the city, including the popular Christie Pits Film Festival.
Areas of Expertise

Digital media
Game studies
Media industries
Cultural and aesthetic legitimation
Transmedia franchises
Cinema studies

Links

Publications

Peer-Reviewed Journal Articles

"Hosting a Symposium as Data Collection: Bringing Together Dispersed Participants & Creating 'The Field'," fifth author with Pierson Browne, Brian Schram, Jennifer Whitson, Bart Simon, Matthew Perks, Ceyda Yolgo rmez, and Gabrielle Lavenir, Loading… Journal of the Canadian Game Studies Association (forthcoming)

"Autonomy, Integration, and the Work of Cultural Intermediation in Indie Games," second author with Matthew Perks, Jennifer Whitson, Bart Simon, Gabrielle Lavenir, Ceyda Yolgo rmez, Pierson Browne, and Brian Schram, Media Industries, Vol. 6, No. 2, Fall 2019 http://dx.doi.org/10.3998/mij.15031809.0006.202

"The Missing Producer: Rethinking indie cultural production in terms of entrepreneurship, relational labour, and sustainability," third author with Jennifer Whitson and Bart Simon, European Journal of Cultural Studies, first published online, 2018 https://journals.sagepub.com/doi/10.1177/1367549418810082

"Roger Ebert and the Games-as-Art Debate," Cinema Journal, Vol. 57, No. 3, Spring 2018 https://muse.jhu.edu/article/691992

"Canadian Indie Games Between the Global and the Local," first author with Jennifer Jenson, The Canadian Journal of Communication, Vol. 42, No. 5, 2017 http://cjc-online.ca/index.php/journal/article/view/3229

"Megabooth: The Cultural Intermediation of Indie Games," first author with Jennifer Whitson and Bart Simon, New Media & Society, Vol. 20, No. 5, 2018 (first published online, 2017) http://journals.sagepub.com/doi/full/10.1177/1461444817711403

"Canonizing Bioshock: Cultural Value and the Prestige Game," Games & Culture, Vol. 12, No. 7-8, 2017 (first published online, 2015) http://gac.sagepub.com/content/early/2015/08/28/1555412015598669

"An Art World for Artgames," in Loading… Journal of the Canadian Game Studies Association, Vol. 7, No. 11 Special Issue: Indie, Eh?, 2013 http://journals.sfu.ca/loading/index.php/loading/article/view/119

"The Significance of Jeep Tag: On Player-Imposed Rules in Video Games," in Loading… Journal of the Canadian Game Studies Association, Vol. 1 No. 3, 2008

Other Journal Articles

"Role-Playing The Caper-Gone-Wrong Film in Fiasco," in Analog Game Studies, Vol. 2, No. 2, 2015 http://www.analoggamestudies.org/2015/02/role-playing-the-caper-gone-wrong-film-in-fiasco

Edited Collections

Beyond the Sea: Navigating Bioshock, co-edited with Jessica Aldred, McGill-Queens University Press, 2018

Book Chapters

"Boutique Indie: Annapurna Interactive and Contemporary Independent Game Development," in Gaming After Independence: Production, Consumption, Autonomy and Inclusivity in Independent Game Development, ed. Paolo Ruffino, Routledge, 2020 (forthcoming)

"There's Always An Introduction," first author with Jessica Aldred, in Beyond the Sea: Navigating Bioshock, McGill-Queens University Press, 2018

"Millions of Voices: Star Wars, Digital Games, Fictional Worlds and Franchise Canon," in Game On, Hollywood! Essays on the Intersection of Video Games and Cinema, ed. Gretchen Papazian and Joseph Michael Sommers, McFarland, 2013

"Speed Runs, Jeep Jumps and Zombie: Expansive Gameplay and Halo," in Halo and Philosophy: Intellect Evolved, ed. Luke Cuddy, Open Court Publishing Company, 2011

Conference Proceedings

"Indie Game Studies Year Eleven," in Defragging Game Studies: Proceedings of the 2013 Digital Games Research Association International Conference, Vol. 7, 2014 http://www.digra.org/digital-library/publications/indie-game-studies-year-eleven

"Play By Play: Audio Commentary in Digital Games," in Technology and Emerging Media 2012 Proceedings, ed. Guillaume Lazko-Toth and Florence Millerand, Canadian Communication Associaion, 2012  

Book Reviews

"Legitimating Television: Media Convergence and Cultural Status," in The Canadian Journal of Film Studies, Vol. 22, No. 2, Fall 2013 http://www.filmstudies.ca/journal/cjfs/archives/reviews/book-review-legitimating-television-newman-levine

Other Publications

"Comfort games," blog post for St. Michael's College InsightOut, 2019 https://stmikes.utoronto.ca/news/insightout-comfort-games/

"Indie game development beyond developers," blog post for In Media Res, 2018 http://mediacommons.org/imr/content/indie-game-development-beyond-developers

"Studying the Megabooth," blog post for Indie Megabooth, 2017 http://indiemegabooth.com/academic-journal-article-megabooth-cultural-intermediation-indie-games

"The Power of Imagined Worlds: An Interview with Austin Walker," interview for First Person Scholar, 2016 http://www.firstpersonscholar.com/the-power-of-imagined-worlds

"Indie Economics," blog post for Indie Megabooth, 2015 http://indiemegabooth.com/indie-economics-part-2

"Infinite Typewriters: Canon, Criticism, and Bioshock," essay for First Person Scholar, 2014 http://www.firstpersonscholar.com/infinite-typewriters

Various faculty research profiles, Research Communications, Carleton University, Ottawa, 2006-2008 https://research.carleton.ca/?s=felan%20parker#stq=felan%20parker

Presentations

Invited Talks and Presentations

"What's Up With Fortnite? An Introduction to Video Game Studies," invited lecture, Alumni Reunion Stress-Free Degrees, University of Toronto, 2019

"Game Studies in Canada," invited lightning talk, DHN Lightning Lunch: Games & Play, Jackman Humanities Institute, University of Toronto, 2018

"The Intermediary is the Massage," invited talk, For Whom The Medium Matters III, McLuhan Centre for Culture & Technology, University of Toronto, 2018

"Indie Interfaces: Intermediary Labour in Independent Game Development," invited talk, Institute for Research on Digital Learning Speaker Series, York University, 2017

"Games as Art: All the Pieces Matter," invited presentation, The Art of Science and the Science of Art – Videogame Style, Ontario Science Centre, Toronto, 2013

"The Most Important Game: Towards a Sociological Aesthetics of Digital Games," plenary talk, Canadian Game Studies Association Annual Conference, Wilfred Laurier University, 2012

Panels and Workshops Convened and Moderated

"Cultural Legitimation and Affect in Gaming Culture," panel co-convenor with Brian McKernan, Canadian Game Studies Association Annual Conference, University of British Columbia, 2019

"Wham, Bang, Insert Extra Quarter for Pow: Intersections of Superheroes and Videogames," panel moderator at the Society for Cinema & Media Studies Annual Conference, 2018

"Rethinking 'Indie' Across Media Industries," panel co-convenor and co-moderator with Kait Kribs, Canadian Communication Association Annual Conference, Ryerson University, 2017

"Beyond the Sea: New Perspectives on BioShock," panel co-convenor and co-moderator with Jessica Aldred, Society for Cinema and Media Studies Annual Conference, Atlanta, 2016

"Capturing Canadian Indie Games," panel convenor and moderator, Canadian Game Studies Association Annual Conference, University of Ottawa, 2015

"Who Made Who? Authorship and Authority in Media Industries," panel convenor and moderator, Society for Cinema & Media Studies Annual Conference, Montre al, 2015

"New Perspectives on Bioshock," panel convenor and moderator, Canadian Game Studies Association Annual Conference, Brock University, 2014

"Impedance: Games + Resistance Exhibition Panel Discussion," panel moderator, Vector Game+Art Convergence Festival, Toronto, 2014

"Teaching Game Studies Workshop," workshop convenor and moderator, Toronto Film Seminar, Toronto, 2013

"Towards Indie Game Studies: The 'Indie, Eh?' Postmortem," workshop co-convenor with Bart Simon, Digital Games Research Association, Atlanta, 2013

"Colloquial Contexts: Workshop on Organizing Student Conferences," workshop convenor, Toronto Film Seminar, Toronto, 2013

"Technologies of Attention: Media, Metrics, and Multitasking," panel moderator, Toronto Film Seminar, Toronto, 2013

"The Politics of Appropriation in Game Art," panel moderator, Vector Game+Art Convergence Festival, Toronto, 2013

"Harder Than You Think: The Difficulty and Digital Games Panel," panel convenor and moderator, Society for Cinema & Media Studies Annual Conference, Boston, 2012

Peer-Reviewed Conference Papers and Presentations

"Balancing Emotional Labor, Autonomy, and Integration in the Cultural Intermediation of Indie Games," co-presented with Matthew Perks, 4S Society for Social Studies of Science Annual Conference, New Orleans, 2019

"We Built a Site: Symposium as Method for Studying Cultural Intermediaries," co-presented with Pierson Browne, Society at the Society for Cinema & Media Studies Annual Conference, Seattle, 2019

"Transnational Communities of Practice: The Value Regimes of 'Indie' and Sustainable Game Development in Canada and Australia," roundtable at the Association of Internet Researchers Annual Conference, Montre al, 2018

"Are game streamers cultural intermediaries?" presented at the Association of Internet Researchers Annual Conference (Going Live: Exploring Live Digital technologies and Live Digital Practices pre-conference workshop), Montre al 2018

"Cultural Mediators in the Digital Game Industry," co-presented with Jennifer Whitson and Bart Simon at the Cultural Mediators in the Digital Age Symposium, King's College, London, 2017

"Interdependent Games: The Labour of Intermediation in Indie Games," co-presented with Jennifer Whitson and Bart Simon at the Canadian Communication Association Annual Conference, Ryerson University, 2017

"Intermediating Indie Games: The Indie Megabooth from Collective to Curator," co-presented with Jennifer Whitson and Bart Simon at the Society for Cinema & Media Studies Annual Conference, Chicago, 2017

"The Up North Indies: Mapping Canadian Independent Gaming," presented at the Canadian Communication Association Annual Conference, University of Calgary, 2016

"Canadian Indie Games Between the Local and the Global," presented at the Society for Cinema & Media Studies Annual Conference, Atlanta, 2016

"Triple-A Authorship: Bioshock and the Game Industry Auteur," presented at the Society for Cinema & Media Studies Annual Conference, Montre al, 2015

"Canon, Prestige, and the 'Triple-A Art Game," presented at the Canadian Communication Association Annual Conference, University of Victoria, 2013

"Prestige Games," presented at the Society for Cinema & Media Studies Annual Conference, Chicago, 2013

"Another Velvet Revolution," presented at Crossroads in Cultural Studies, Sorbonne Nouvelle University, Paris, France, 2012

"Play-By-Play: Audio Commentary in Digital Games," presented at the Canadian Communication Association Annual Conference, Wilfrid Laurier University, 2012

"No One Shall Live: The Idea of Difficulty in Digital Games," presented at the Society for Cinema & Media Studies Annual Conference, Boston, 2012

"An Artworld for Artgames (revised)," presented at Videogame Cultures and the Future of Interactive Entertainment, Oxford, England, 2011

"An Artworld for Artgames," presented at the Canadian Communication Association Annual Conference, University of New Brunswick, 2011

"In the Domain of Optional Rules: Foucault's Aesthetic Self-Fashioning and Expansive Gameplay," presented at The Philosophy of Computer Games, Athens, Greece, 2011

"Millions of voices: Star Wars, digital games, fictional worlds and franchise canon," presented at the Society for Cinema and Media Studies Annual Conference, New Orleans, 2011

"Parallel Play: Theory & Practice in Digital Game Studies and Cinema Studies," presented at the Film Studies Association of Canada Graduate Colloquium, York University, 2011

"Official Apocrypha: Elseworlds, What If? and the Transmedia Franchise," presented at The New Narrative: Narrative Arts and Visual Media, University of Toronto, 2010

"Dark Side/Light Side: Reconciling Video Games With Franchise Canon," presented at Interacting With Immersive Worlds, Brock University, 2009

"John McClane For President," presented at the Film Studies Association of Canada Graduate Colloquium, University of Alberta, 2009

"The Significance of Jeep Tag: On Player-Imposed Rules in Video Games," presented at the Meaningful Play conference, Michigan State University, 2008

"Batman Begins, Superman Returns: Reintroducing the Franchise Superhero," presented at The New Narrative? Comics in Literature, Film and Art, University of Toronto, 2008

"Playing Games With Art: Video Games, Rules and Art-As-Experience," presented at INTERFACE Colloquium, Carleton University, 2008

Other Conference Papers and Presentations

"Boutique Indie: Annapurna Interactive and Contemporary Independent Game Development," presented at the Canadian Game Studies Association Annual Conference, University of British Columbia, 2019

"Cultural Re-mediaries: Live-Streaming and Indie Game Development," co-presented with Matthew Perks at the Canadian Communication Association Annual Conference, University of British Columbia, 2019

"Are game streamers cultural intermediaries?: Perceptions from independent game developers," co-presented with Matthew Perks at the Canadian Sociological Association Annual Conference, University of British Columbia, 2019

"Indie Game Development Beyond Developers," lightning talk at the Jackman Digital Humanities Network Conference, University of Toronto Mississauga, 2018

"Using Cinema Knowledge: The Place of Public Programming in Film Studies," roundtable participant at the Film Studies Association of Canada Annual Conference, University of Regina, 2018

"The Cultural Economy of Indie: Missing Masses, Sustainability, and Relational Labour," co-presented with Bart Simon and Jennifer Whitson, Canadian Game Studies Association Annual Conference, Ryerson University, 2017

"Ebert the Enemy: Contextualizing the Games-as-Art Debate," presented at the Film Studies Association of Canada Annual Conference, Ryerson University, 2017

"Indie Intermediaries: Market Sustainability and Feminist Cultural Economy of the Game Industry," co-presented with Jennifer Whitson and Bart Simon, Re-Figuring Innovation in Games Conference, Concordia University, 2016

"A Booth of Our Own: The Indie Megabooth as Collective, Community, and Brand," co-presented with Jennifer Whitson and Bart Simon, Canadian Game Studies Association Annual Conference, University of Calgary, 2016

"Replicating a Vertical Slice of the Mainstream Industry? Curating Diversity in the Indie Megabooth," co-presented with Jennifer Whitson, Indiecade East, 2016

"Indie Interfaces: Examining Indie Dev Support Networks," co-presented with Jennifer Whitson and Bart Simon, Re-Figuring Innovation in Games Workshop, Toronto, 2015

"Critically Mapping Indie Games in Canada: Between the Local and the Transnational," presented at the Canadian Game Studies Association Annual Conference, University of Ottawa, 2015

"You've Got to Deliver: Bioshock's Ken Levine as Commercial Game Auteur," presented at the Film Studies Association of Canada Annual Conference, Brock University, 2014

"Bioshock and its Critics," presented at the Canadian Game Studies Association Annual Conference, Brock University, 2014

"Audio Commentary Paratexts in Digital Games," presented at the Film Studies Association of Canada Annual Conference, University of Victoria, 2013

"Authorship, Intention, Ambiguity, and Interpretation in Artgames," presented at the Canadian Game Studies Association Annual Conference, University of Victoria, 2013

"Rule-Based Interventions in Digital Game Art," presented at Intersections: The Politics of Play, Toronto, 2013

"The Set-Up, the Tilt and the Aftermath: Role-playing the Caper-Gone-Wrong Film in Fiasco," presented at the Film Studies Association of Canada Annual Conference, Wilfrid Laurier University, 2012

"The Artifacts of Genre," presented at the Film Studies Association of Canada Annual Conference, University of New Brunswick, 2011

"In the Domain of Optional Rules: Foucault's Aesthetic Self-Fashioning and Expansive Gameplay (revised)," presented at the Canadian Game Studies Association Annual Conference, University of New Brunswick, 2011

"Simulating Genre in Uplink: Hacker Elite: The Hacker Sub-Genre Between Cinema and Digital Games," presented at the Film Studies Association of Canada Annual Conference, Concordia University, 2010

"Civilizational Givens: Sid Meier's Civilization and the Philosophy of Technology," presented at the Canadian Game Studies Association Annual Conference, Concordia University, 2010

"Beyond Fictional Worlds: Transmedia Storytelling Reconsidered," presented at the Film Studies Association of Canada Annual Conference, Carleton University, 2009

"Simulating Simulated Simulation: Genre, Representation and Meaning in Uplink: Hacker Elite and DEFCON," presented at the Canadian Game Studies Association Annual Conference, Carleton University, 2009

Education

PhD, Communication & Culture (2014) — York University & Ryerson University, Toronto

MA, Film Studies (2009) — Carleton University, Ottawa

BA Highest Honours, Film Studies (2007) — Carleton University, Ottawa