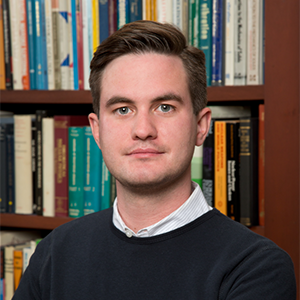 Assistant Professor
PIMS 49
Stephen Tardif is an Assistant Professor, Teaching Stream, in the Christianity & Culture Program at St. Michael's College. He also offers courses in the Book & Media Studies Program.
His research explores the connection between literary form and projects of self-formation in Victorian Britain. His publications include articles and essays on Gerard Manley Hopkins, Thomas Hardy, and James Joyce. He is also co-editor of The Hopkins Quarterly, an international journal of critical, scholarly, and appreciative responses to the lives and works of Hopkins, and his circle.
At St. Mike's, Professor Tardif offers courses on a range of topics from contemporary literature to ancient intellectual culture. He serves as a faculty advisor to the Christianity and Culture Program's student club and its undergraduate journal, Saeculum, and to the College's Dante Lecture Committee as well.
Professor Tardif earned his PhD in English from Harvard University in 2016. He has been a fellow at the Mahindra Humanities Center and a pre-doctoral visiting scholar at the Academy of Arts and Sciences, and his research has been supported by the Andrew A. Mellon Foundation.
A native of Toronto, Professor Tardif received his M.A. in English in 2007 from the University of Toronto and his B.A. Hons. in 2006 from St. Michael's College where he majored in English and Christianity & Culture.
Areas of Expertise

19th-century British literature

Poetry

Literary form

Self-formation

Aestheticism

Theory

G.M. Hopkins

Links

Publications

Peer-Reviewed Articles

"'The Wreck of the Deutschland' and the Birth of the Poet: Literary Form, Performative Utterance, and Hopkins' 'Gift of Tears,'" Victorian Poetry 54.3 (Fall 2016).

In Preparation

"Some Versions of Sacrifice: William Empson, René Girard, and Postsecular Critique," for LIT: Literature Interpretation Theory's special issue on "Religion, Criticism, and the Postcritical."

Book Chapters & Reviews

Review of Michael D. Hurley, Faith in Poetry: Verse Style as a Mode of Religious Belief for Religion & Literature (forthcoming in Religion & Literature).

"Joyce's Dantean Piety, or The Survival of Acceptable Ideas" in Dante and The Christian Imagination. Ed. Domenico Pietropaolo and Jenna Sunkenberg. Ottawa: Legas Publishing, 2015.

"Rhyming Events and the Pessimistic Muse: Repetition and Representation in 'Under theWaterfall'" in Thomas Hardy, Poet: New Perspectives. Ed. Adrian Grafe and Laurence Estanove. Jefferson, NC: Macmillan, 2015.

"Getting Back to (Human) Nature: Personality as Sacrament in G.M. Hopkins' Poetry" in Figures of the Sacred. Ed. Jennifer Kilgore-Caradec, Ineke Bockting, and Cathy Parc. Bern: Peter Lang, 2013.

Other Writing

"Notre Dame's Epic Beauty Blurs the Lines of our Easy, Cliched Divisions," National Post, 23 April 2019.

Presentations

Invited Lectures

"The Dative Reduction: Hopkins' Sacrificial Aesthetics," Institute of Theology, Imagination and the Arts, University of St. Andrew's School of Divinity, 26 April 2019.

"The Garden of the World: Victorian Visions of Italy," Canadian Institute for Mediterranean Studies, University of Toronto, 17 January 2019.

"Flaws of Attraction in Pride and Prejudice," University of St. Michael's College, 3 June 2018.

"The Ghost in Tennyson's Machine," Franciscan University of Steubenville, 3 February 2017.

"Creation in the Singular Number, or Walter Pater's 'One Book,'" Mahindra Humanities Center, Harvard University, 23 April 2014.

"Hopkins's Hamlet: Approaching 'The Wreck of the Deutschland,'" College of the Holy Cross, Worcester, 16 September 2013.

Conference Papers

"Liberal Media: Pater's Style and Wilde's Genres," NAVSA, The Ohio State University, Columbus, Ohio, 17–19, October 2019.

"Streaming the Gospel: The Young Pope's Postmodern Apostolate," Catholic Imagination Conference, The Hank Center, Loyola University, Chicago, 19–21 September 2019.

"Outward Form: Romola, Silas Marner, and the Shape of George Eliot's Self-Formation," NAVSA, University of Florida, St. Petersburg, Florida, 11–14 October 2018.

"The Inhuman Touch: Hopkins, The Self, and The Senses," Hopkins Conference, Roehampton University, London, UK, 21–24 June 2018.

"The Social Scale of Hopkins' Sonnets," NAVSA, Arizona State University, Phoenix, Arizona, 2–5 November 2016.

"Form and Its Symptom: Making Tennyson through In Memoriam," ACLA, University of Washington, Seattle, 26–27 March 2015.

"Rhyming Events and the Pessimistic Muse: Imperfect Repetitions in Hardy's Poetry," Conference on the Poetry of Thomas Hardy, Universite d'Artois, Arras, France, June 2012.

"Impious Allusions: Paradoxes of Piety in Dante and Joyce," Conference on Dante and the Christian Imagination, University of St. Michael's College, University of Toronto, March 2012.

"Personality as Sacrament in G. M. Hopkins' Poetry," Conference on Religion and Poetry, Institut Catholique de Paris, Paris, France, April 2011.

"Hopkins' 'To R.B.' and Bridges' 'To G.M.H,'" Hopkins Conference, Gonzaga University, Spokane, Washington, July 2010.

Panels Organized

"Philosophy and Literature Without Interdisciplinarity" (with Abigail Modaff), ACLA, Harvard University, Cambridge, Massachusetts, 27–30 March 2016.

"Form and its Function: The Practices of Literary Production" (with Stephen Thompson), ACLA, University of Washington, Seattle, 26–27 March 2015.

Public Talks & Workshops

"Philosophy and Literature," Workshop Series, Kintore College, Fall 2018 & Fall 2019.

"'Do Whatever He Tells you': Consecration to Mary, Abandonment to Christ," Lecture, Canadian Catholic Students Association Conference, University of St. Michael's College, 16 November 2019.

"Humility, Passion, Gratitude; or, How to Succeed in University," Convocation Speech, Hawthorn School for Girls, 18 June 2019.

"Excellence in Education as Excellence in Character," Keynote Address, Kintore College, 25 September 2018.

Education

PhD, English (2016) — Harvard University, USA

MA, English (2007) — University of Toronto

BA Hons. (High Distinction) (2006) — University of Toronto