By: Michael Czobit
---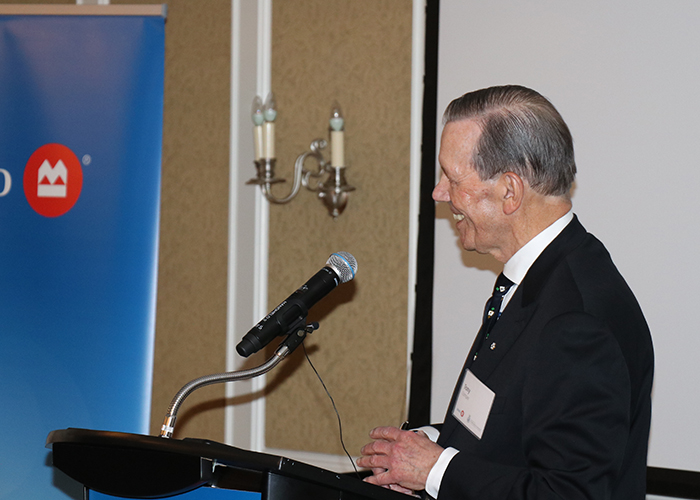 How long does a year feel? With so much activity and change at the University of St. Michael's College, not very long at all. And much of that activity and change is due to the generosity of USMC's most loyal and committed donors—members of the Chancellor's Club, Vice-Chancellor's Club and Heritage Donor Society—who gathered for the 18th annual St. Michael's donor appreciation reception hosted by BMO Financial Group at First Canadian Place on Nov. 21.
Dr. Tony Comper, 6T6, welcomed the guests and mentioned a development in his own life: he had returned to school, specifically, St. Mike's Mediaeval Studies program. Dr. Comper explained that he had begun attending Prof. Alexander Andrée's Early Mediaeval Tradition course, but joked that he could only audit the class as it had been a while since he'd been tested in an academic setting. Dr. Comper then introduced someone who was also familiar with the Middle Ages, USMC's newly installed president, Dr. David Sylvester, a social economic historian who holds a PhD in medieval history.
Dr. Comper remarked on Dr. Sylvester's installation in October, saying the praise for Dr. Sylvester's appointment as USMC President has been widespread, from Rev. George Smith, CSB, former superior general of the Basilians, and across North America. As he took the podium, Dr. Sylvester thanked Dr. Comper for his generous introduction and welcomed a special guest, Dr. Rose M. Patten, O.C., Chancellor of the University of Toronto. Dr. Sylvester thanked the guests for giving him the opportunity to acknowledge the University's gratitude for their loyalty and generosity.
Dr. Sylvester then spoke of last year's donor reception when a video was shown to introduce the launch of a project to renovate Brennan Hall. Shortly after, on Nov. 17, 2017, John Bennett, 6T7 and Diana Collins Bennett, 6T8 made a generous anchor gift, challenging the St. Mike's community to begin a Brennan Hall Renewal fundraising campaign, which had a $2M fundraising goal. Dr. Sylvester said that over the past year the campaign had generated $1.7M from friends, faculty and staff members. Because of this, the project was nearly complete, with Brennan Hall expected to re-open to students in early December.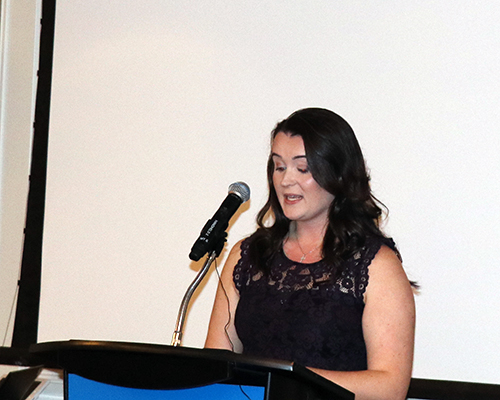 A video (which is embedded and available for you to watch below the text of this article) then detailed the progress of the renovation, and included messages from students about what the renovated Brennan Hall would mean to them and their thanks to campaign donors. The renewal project, which was envisioned and launched by Dr. Sylvester's predecessor, David Mulroney, centralizes student services and provides space for resident and commuter students to gather, study, celebrate and engage with each other as a community.
After the video aired, Dr. Sylvester had more good news to share. The fundraising campaign had actually met its $2M goal. How? Dr. Sylvester welcomed to the podium Kate Strazds, President of St. Michael's College Student Union, who announced a $300,000 gift on behalf of all St. Mike's students.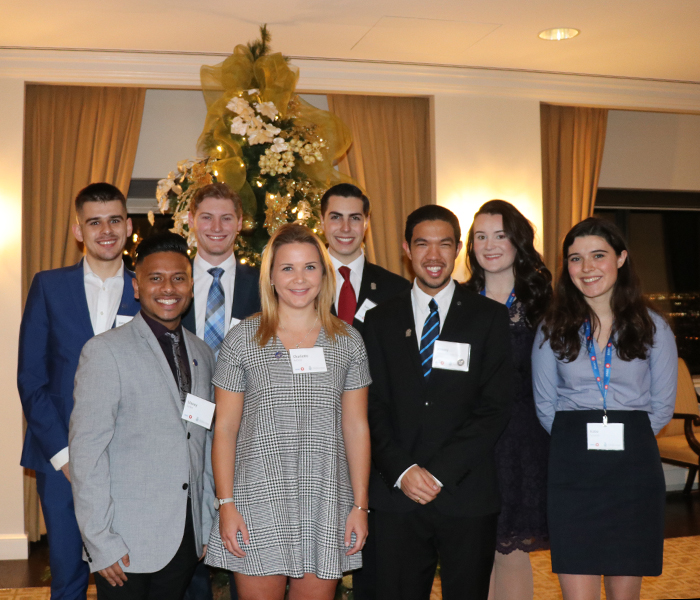 Turning to other exciting developments at USMC, Dr. Sylvester spoke about recent and upcoming faculty appointments in the Faculty of Theology and commented on the work of the six assistant professors who joined St Michael's in 2017-2018 to teach in the undergraduate sponsored programs. He then highlighted the success of visiting professor Sam Tanenhaus's "Trump and the Media" course, which has been popular with students and, incidentally, the media—the CBC, Vice, The Globe and Mail and Vanity Fair have all reported on Mr. Tanenhaus's unique Book and Media Studies course.
Finally, in closing, Dr. Sylvester reiterated USMC's commitment to maintaining and modernizing campus facilities, growing student aid programs, building wellness services and learning supports for students, and to continuing to pursue teaching excellence in the College and Faculty of Theology. He said that it was an important time for the St. Michael's community to gather and reflect on how the University will fulfill its mission, addressing the present and planning for the future needs of students, society and the Church.
He closed by thanking guests once again for their advocacy and generous support and invited all to mingle at the reception, graciously hosted by BMO.
---
Michael Czobit is the Director of the Office of the Principal and Vice-President at the University of St. Michael's College.