Grace McSorley (USMC Class of 1995) is a lawyer and Deputy Ombudsman at the Ombudsman for Banking Service and Investments. She is currently on the USMC Senate and previously served on the Collegium as a student and later as an alumni representative.
---
A Virtual Check-in with Classmates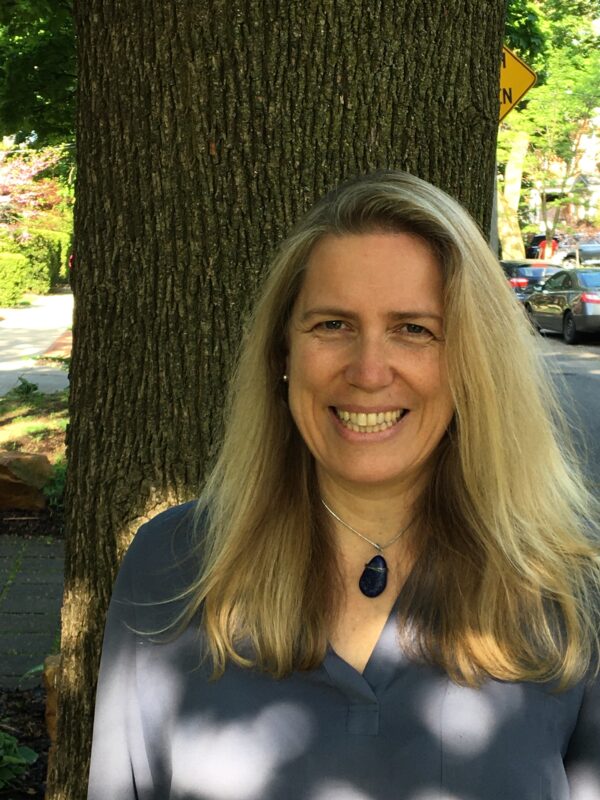 Hello St. Mike's community!
Since we can't catch up in person at reunion this year—and by now most of us are "zoomed-out"—it is great we can use the St. Mike's blog to hear about what people are thinking and how they are doing. I thought I would share my experience as a work-from-home parent during the COVID-19 crisis.
My husband, Michael McCarthy (USMC Class of 1994), and I are fortunate in that we are both able to work from home. I work at OBSI, the Ombudsman for Banking Services and Investments, a not-for-profit that resolves disputes between banking and investment firms and their clients when they can't resolve them on their own. This is a busy time for us, and for our stakeholders. Fortunately, OBSI had practiced a scenario where we would have to work from home on short notice, so our transition was seamless and our work was not interrupted.
Things were not as seamless on the domestic front. The day the COVID-19 shutdown started, our laundry machine broke so, for the first three weeks of the shutdown, I did laundry in our bathtub with my feet, which can only be described as a joyless task. It is amazing how much laundry a family of four still generates when they are hardly leaving the house.
In the early pandemic days, I worried my family wasn't active enough. This was reinforced during a game of charades when one family member mistakenly acted out the song, "I've Been Sitting on the Railroad" instead of "I've Been Working on the Railroad." Shortly thereafter, family walks became mandatory and longer.
For the most part, I'm impressed with the way my family has adapted to new activities. Mike successfully joined the ranks of the sourdough bread bakers. He and the boys play Dungeons & Dragons with a neighbour via FaceTime. My youngest son dug a hole as deep as he is tall in our tiny backyard. He jokes that other kids will return to school telling stories of how they learned to play guitar and wrote "Coronavirus the Musical," but he's going to tell everyone he just dug a hole. He's actually done a lot more, including making me the beautiful Mother's Day necklace I'm wearing in the picture accompanying this piece using lapis lazuli from his rock collection.
Like many, we've had a lot of low points over the last few weeks—but I will spare you the details of our internecine quarrels. We know we are fortunate that we are healthy, employed and able to work from home. Still, it is hard not being able to do important things like be with my mother, or mourn with friends who've recently lost parents. My mother recently had to go into full quarantine because three personal support workers from her residence tested positive for the Coronavirus. It is my understanding that they are well and no one else has tested positive, but this is still upsetting for everyone.
We are happy to have backyard social distancing visits with my mother-in-law, during which my boys regale her with jokes they research ahead of time. She has now twice told us how much she misses hugs, and it breaks my heart that we can't give her one. On our last visit she said that as soon as this is over, she is going to run to the closest intersection and hug everyone she sees. This makes me imagine my mother-in-law in a photo like the iconic WW2 VJ day nurse and sailor image, only in this photo, she is the one dipping another reveller who is also out celebrating the end of COVID-19 times.
I hope everyone is well and I look forward to catching up in person!
---
The University of St. Michael's College is keeping the members of all our honoured classes in mind. We look forward to the day when we gather again!
---
Read other InsightOut posts.