It's no secret that at St. Mike's, people make the difference.
With the 2023 Alumni reunion, which includes honoured years ending in 3 and 8, just around the corner we thought we'd have a little fun and try something different.
There's been much talk in recent months about various AI computer programs effectively mimicking the human voice, but we know that the St. Mike's voice is unique. To demonstrate our assertion, we created an AI-generated invitation to reunion alongside one written by Cassandra Lima, who not only works at St. Mike's but is also an honoured year grad herself. The computer-generated piece runs first, below. The difference, we think, is pretty obvious!
---
AI invitation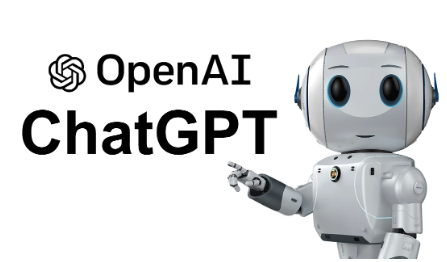 You are cordially invited to attend the University of St. Michael's College Reunion in Toronto from May 31 to June 4, 2023. Join us for a weekend filled with old friends, exciting activities, and memories to last a lifetime. We will be hosting a variety of activities throughout the weekend, including a campus tour, a cocktail reception, and a gala dinner. You will also have the chance to explore the city and reconnect with old classmates. We can't wait to see you on campus and celebrate the history of the University of St. Michael's College. RSVP today and we look forward to seeing you in Toronto!
---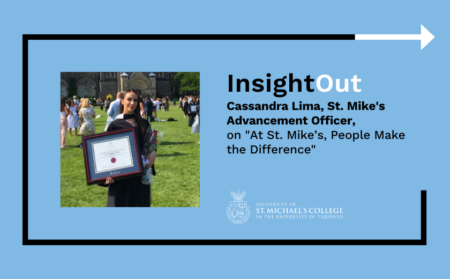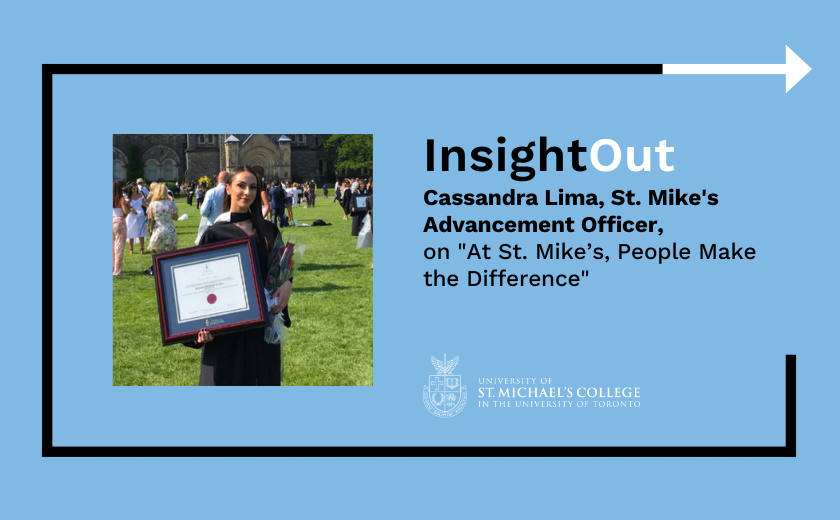 Cassandra Lima attained an Honours Bachelor of Arts degree from the University of Toronto in 2018 and a Master of Arts degree from the University of Toronto in 2020. Cassandra joined the Office of Advancement at the University of St. Michael's College in May 2022, and works as an Advancement Officer, Engagement.
When I think back to when I indicated my interest in having the University of St. Michael's College be my 'home college' for the duration of my undergraduate studies at the University of Toronto, I am reminded of the process I took to come to such decision.
I had spent an afternoon combing through each of the seven colleges' websites to get a good sense of what each was like, as I anticipated that each had a unique profile, and I wanted to see which would be the best fit for me. Within the first few moments of navigating through the St. Mike's website, I saw a handful of photos of students socializing and engaging in extracurricular activities. I was unsure whether the photos were candid or staged, but it did not matter to me either way – what mattered was that they were there on the website, front and centre.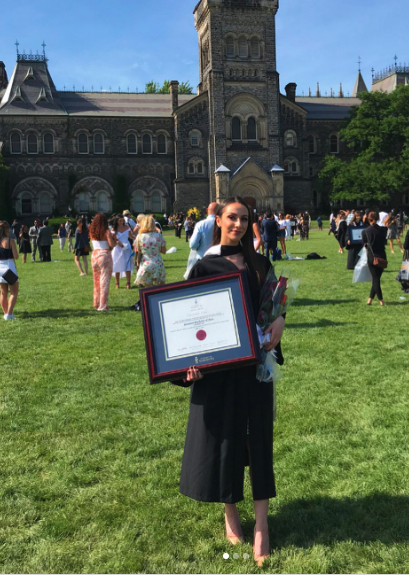 Why was this so important? Well, to me, it showed that the college wanted to highlight the fact that student life was at its core, and that it was valued and celebrated. I too valued the notion of student life, and while I was a bit unsure as to whether there was room for it within a university setting, I was delighted to see that the college was promoting the notion that it was. It was at that point that I realized St. Mike's was a place where I would be able to acquire an academic education and grow as an individual.
Now, as a St. Mike's alumna, I look back at my time as an undergraduate student and think about how fortunate I am to have chosen St. Mike's as my 'home college' all those years ago. St. Mike's fostered a sense of community amongst my peers and myself and encouraged subsequent connection and personal growth that exceeded my initial expectation. When I graduated from my undergraduate studies, I left with not only a degree but life-long friendships and core memories, many of which were made through connecting with my peers while hanging out in Brennan Hall after classes, partaking in St. Mike's-based student groups like the University of Toronto Italian Canadian Association [UTICA] and the Medieval Studies Undergraduate Society [MSUS], and attending club nights and formals.
This sense of community, I have learned, is not unique to just me and my peers. Since I started working in the Office of Advancement about a year ago, I have had the pleasure of connecting with alumni from varying classes, and almost every single alumnus and alumna I have spoken with references the same sense of community. This is the thread that connects alumni of all ages and it is the driving force that my colleagues and I at the Office of Advancement have put behind Alumni Reunion 2023 planning.
In light of Alumni Reunion 2023, I want to take a moment to extend a note of congratulations to all honoured years alumni, including my own class of 1T8. Whether you are celebrating your 5th or 75th class anniversary, this year marks an incredible milestone that deserves to be celebrated, and I strongly encourage you to come to campus from May 31st to June 4th and join us all in the exciting festivities that the Office of Advancement has planned!
---
Read other InsightOut posts
---