Rachel Ottenbreit is a St. Mike's alumna and former staff member, and is currently studying theology at the Pontifical University of the Holy Cross in Rome.
---
Doubling Our Joys and Halving Our Sorrows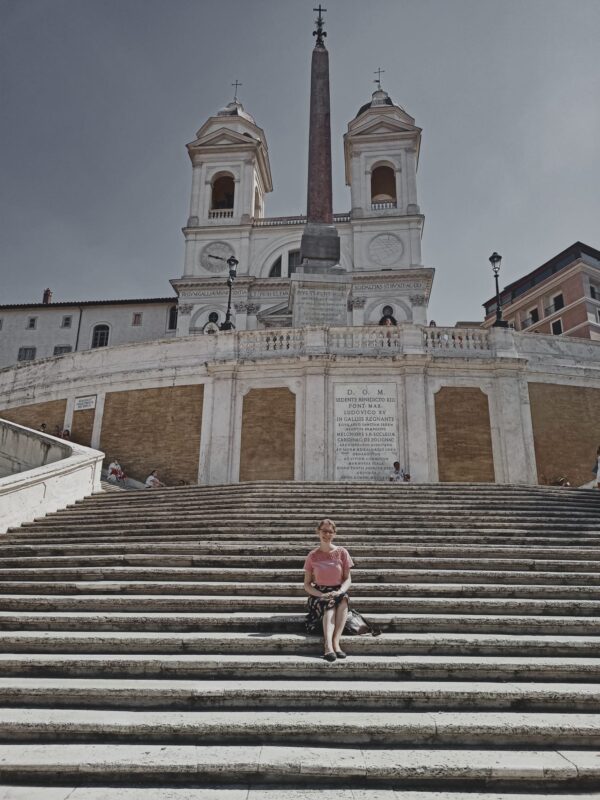 In Italy, the lockdown began in March. Things closed fast, and although it felt like a total shutdown from the beginning, every week brought new restrictions. Parks, schools, churches, and businesses were closed; travel, group meetings, and "playing" (not ironic quotes: that's the word the ordinance used) were banned; we could leave our houses only for emergencies, and then alone and with a paper justifying what we were doing on the street. Jane Austen might have said we were "in the middle before we knew we'd begun," and Shakespeare that "there are more kinds of lockdown and quarantine, Horatio…"
The consequences of these closures are so varied. Surprisingly there were unexpected joys. Yes, although dolphins may or may not have returned to the canals of Venice (reports vary and I didn't see it myself), those canals are definitely clearer and wildlife have been exploring our cleaner, quieter world. Joys erupted on a personal level too. I got to watch my aunt's wedding in June and one of my best friend's this last week. I couldn't have flown home for either, so those live streams were pure, unexpected gifts.
In Diary of a Country Priest, Georges Bernanos writes that soldiers at the front cannot desert: "A chest is a chest when you get to the trenches. And one less counts!" That is, in the trenches you can literally take hits for others. Once you're there, whoever you are, you do whatever you can do because whatever you can do makes a difference.
This is not to say that I've taken many hits myself. I've been very fortunate to live with other people, good friends, in the middle of this. We have good WiFi and a garden we can go to for fresh air and exercise. And our university bent over backwards for us (even couriering library books we requested, as long as that was possible).
But being restricted earlier and more severely than other countries, missing more than one family member who planned to visit this spring, helping people pack up and go or find ways to stay because they couldn't leave, and grieving with close friends, many of them, who've lost family members and can't go home…yes, while there were unexpected joys, there has also been an expected sorrow.
I started checking in with friends back home in their own trenches. Between the people I wrote to and those who, reciprocally discovering the same idea, wrote to me, throughout this time I've been in touch with more old friends than any time before. Though officially isolated, I knew I wasn't alone, and I hope they did too. This has been another joy.
For me, as for many believers around the world, it was incredibly difficult to go without religious services—in my case, Mass and Confession. But it's also been incredibly moving to see Pope Francis doing everything he can so that we Catholics, we anyone, aren't alone. He really shouts it from the rooftops: we are not alone and we need never be. To remember him walking through Rome's tragically empty streets praying for all those suffering, and giving his hopeful, consoling "to the city and to the world" blessing still calls forth thankful tears. That's the front line, and I'm so thankful that he's there.
All in all there are so many blessings. It has become much more obvious that we're in this, in life, together. We don't need a pandemic to take hits for each other. We can double our joys and halve our sorrows together. In the middle of this mess, that's something to be grateful for.
---
Read other InsightOut posts.