Isabella Mckay is a senior student majoring in Book and Media Studies at the University of Toronto. Following her passions in marketing, communications, technology, and media, she has become the Vice President of TechXplore, the Director of Marketing of Data Science Toronto, and the Assistant Project Coordinator at the University of Toronto Faculty of Arts and Science Dean's Office. Mckay looks forward to applying her passions and work to innovate the future.
---
Love and Happiness as True Measures of Life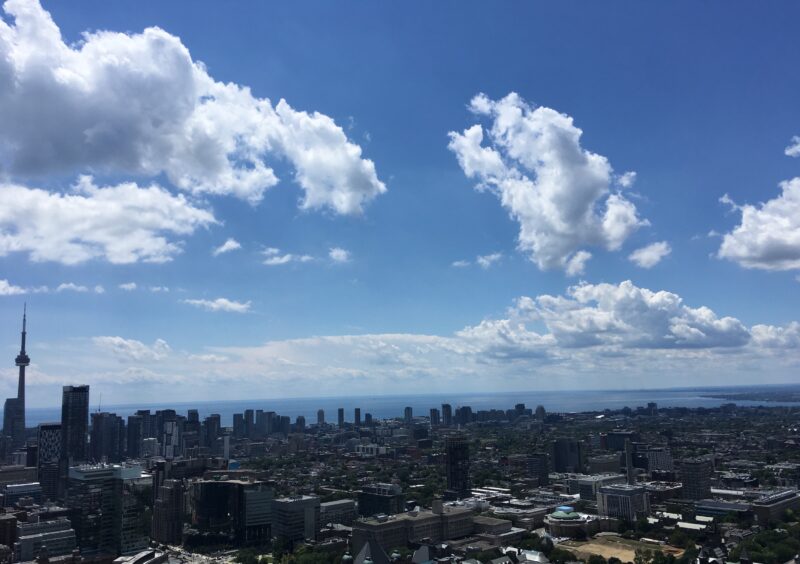 During the coronavirus pandemic, I have discovered that the principles of humanity, which are love, togetherness and health, exist as the ultimate purpose and meaning of life.
On January 27, 2020, the National Microbiology Lab in Winnipeg confirmed the first case of coronavirus in Toronto. Remembering the words of my mother to not fear and panic but be prepared and cautious in case of emergencies, I bought one of a few alcohol rub left at a pharmacy in Toronto. At my condo, I found one pack of 20 N95 masks for around 85 dollars with express shipping on Amazon. Although I could search for cheaper masks, future prices would likely increase, and then I might search longer to find no masks and sacrifice my health. I would work to recoup the price within hours; however, I would spend more time and energy to regain what was most important, my health. I purchased the N95 masks within three minutes.
When coronavirus cases rapidly increased after February 24, I had the proper procedures and supplies to calmly protect myself from the coronavirus while others began to panic. I still socialized with friends, studied at the libraries, and attended club events at the University of Toronto.
Then, the University of Toronto announced that, as of March 16, it would close, and move to online courses and examinations to limit coronavirus cases. I wore my N95 mask as I walked around the campus and a downtown Toronto that resembled an abandoned town devoid of energy and emotion.
Before the coronavirus pandemic, I huddled in a tight and quick one-way line of students to attend my classes on time. Now, I freely and slowly roamed past three students on my way to the library. I used to walk around for five minutes to find an empty library seat and to hear pencils and pens scratching on paper during midterm and final exam season; now, however, I found an empty seat and heard the hum of the air conditioner as soon as I walked into the library. I used to sit next to students who flipped through pages of homework, wrote mathematical equations and assignments, and coded programs. As I sat in one of the hundreds of empty seats, I remained two metres or more from other students because of my own preferences or because of tape placed between every two desks and in front of desks.
With the cancellation of on-campus classes and exams, I returned to my family home in Vancouver on March 21. Although the Canadian government did not require citizens to self-isolate on a domestic flight, I feared that someone might have coronavirus on the plane. I wanted to ensure that I had no symptoms and that I would not transmit the virus to family, especially my single mother and grandmother. At a young age, my father passed away. My mother and grandmother raised my siblings and me. If I transmitted the virus to my family, I would fail to mend my shredded heart.
Although I talked to my family and friends through my phone during isolation, I became an outsider who might have a disease that everyone feared. I yearned to be near my loved ones, especially my family who sacrificed their time and health to care for me. I did not want, and was not motivated by, my empty university scores and jobs, which for years I had desired most; instead, what I wanted and was motivated by was familial love and unity.
Once I left self-isolation, my family revealed that they struggled to obtain essential groceries and supplies. Before the coronavirus, my family and I might spend half an hour choosing organic and natural vegetables among full shelves. Now I wore ski goggles, plastic gloves and a N95 mask as I social distanced to purchase any supplies at a local grocery market.
Similar to food and supplies, before the coronavirus stole the simplest moments, I took daily and normal activities for granted in order to pursue my career and high marks. I carelessly walked, compared to now seeing someone and moving to the other side of the road. I carelessly talked to others, compared to now yelling over two metres to discuss the coronavirus lockdown. I carelessly socialized with friends compared to messaging them. I carelessly went anywhere to perform multiple activities compared to restricting myself to my home and grocery trips. Appreciating people and the simplest things are blessings of happiness. I am not measured by what I have, but who I am and how grateful I am to have what I have.
Once the lockdown ends, I will refuse to let fear control my life and I will experience the meaning of life: to be around loved ones and increase happiness activities. When will I get another chance, and who foresees the future?
The coronavirus pandemic has taught me how health is the most important quality and how everything else is minor, how people, and the smallest and simplest things, deserve appreciation, and how love and happiness are true life measurements. These essential human qualities are the purpose and goals of an amazing life and these human foundations will support the fight to defeat the coronavirus.
---
Read other InsightOut posts.