Susan Murray graduated from St. Michael's College in 1972, majoring in History. She received a Master of Library Science in 1976 and a Master of Arts in 1982. She was Director of the Film Archives Library in Ottawa, worked at the medical and dental libraries at the University of Toronto, was Director of the Film Reference Library for TIFF, was Head of the Consumer Health Information Service based at the Toronto Reference Library, and the Manager of the Life Sciences Library at McGill University in Montreal. She reviews books for Publisher's Weekly, sings in the Echo choir and volunteers at Bridgepoint.
---
I was a student at St. Mike's from 1968 to 1972. To say that this was a significant time in my life is an understatement. Many of the friends that I made during this period I still see, and was encouraged by Mrs. McGrath, the reference librarian at Kelly Library, to pursue a career in librarianship.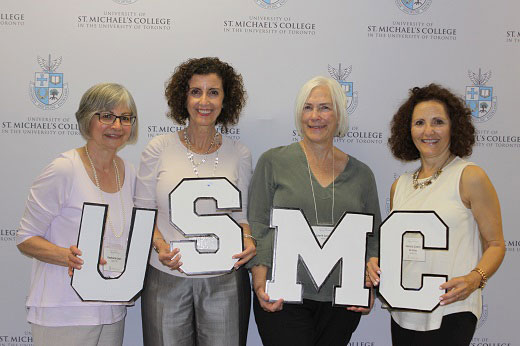 So many good memories…running across Queen's Park to take my Russian History and Literature classes, though I also took Philosophy and Shakespeare classes at St. Mike's. Dealing with colourful characters while working part-time at the library. For a break between studying and writing term papers, going to the Coop for a honeybun. Assisting and later co-running the St. Michael's College Film Club before the age of VCRs, DVDs and then film streaming.
Reunions are important: I regularly attend and have seen old friends from far away who have come back to connect at St. Mike's. For a number of years, I have written a welcome letter to the class of '72 with the addition of a pertinent song line, such as from Simon and Garfunkel's "Old Friends' and this year's "It doesn't matter what you wear just as long as you are there."
Hope to see you at this year's reunion!
---
St. Mike's annual alumni reunion is taking place both online and in person this year from Thursday, May 26 to Sunday, May 29. Special events are planned for honoured years ending in 2 and 7. For more information, please contact Brittany.davila@utoronto.ca.
Read other InsightOut posts.